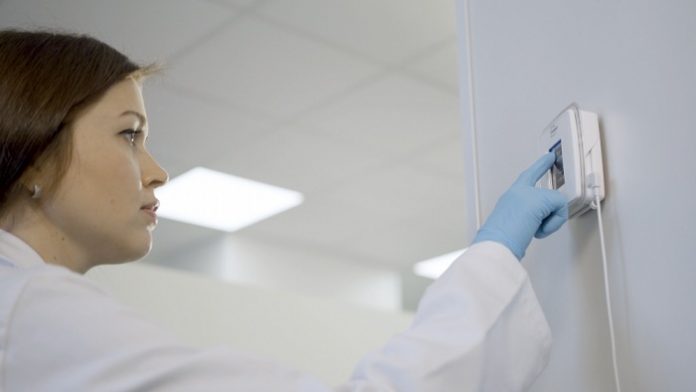 With its Cobalt X2 product launch, OCEASOFT brings a new dimension to solutions for monitoring physical parameters such as temperature, humidity, and more. Cobalt X2 focuses on simplifying and safeguarding daily monitoring operations for life science professionals.
OCEASOFT worked closely with the Fondation Jean-Dausset-CEPH international genetic research center, located in France, to carry out preliminary testing and develop a product that truly matches user needs.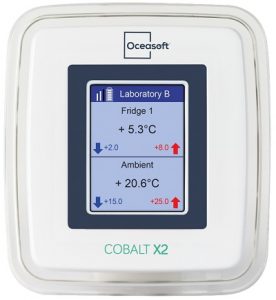 "We designed Cobalt X2 so that our customers could focus on their core activity and spend less time monitoring physical parameters that affect their products," explains Laurent Rousseau, CEO of OCEASOFT.
OCEASOFT created its new Cobalt X2 system for monitoring physical parameters to meet major challenges faced by life science professionals, including laboratories, hospitals, and pharmaceutical companies:

Oceasoft Cobalt X2 system
Simple to set up and use
Cobalt X2 simplifies daily tasks for users by enabling them to acknowledge alarms directly via the module's color touch-screen. Cobalt X2 also serves as a data collector and gateway for OCEASOFT's wireless sensors, further simplifying installation with automatic connection.
Robust wireless performance
Integrating LoRaWAN™ long-range connectivity, Cobalt X2 modules communicate wirelessly over very large sites and inside buildings easily, benefiting from completely automated deployment. Cobalt X2 features distinct sensor channels to support any combination of up to four wired Smart-Sensors (with calibration parameters stored directly on-board) or wireless Bluetooth® enabled sensors, giving users a cost-effective way to monitor up to four different pieces of equipment with a single module.
Helping ensure your product quality and compliance
Cobalt X2 includes features designed specifically to respect applicable sector-related regulations: 21 CFR Part 11, EN 15189, and good practices guidelines (GxP). To ensure optimal service to customers, OCEASOFT has its own sensor calibration laboratory, accredited according to the ISO 17025 standard.
Cobalt X2 beta tester: Fondation Jean Dausset-CEPH, France
Hélène Blanché-Koch, Head of Biological Resources Centre at Fondation Jean Dausset-CEPH (Human Polymorphism Study Center), was pleased to work with OCEASOFT through the design and testing phases of the new Cobalt X2 product: "We talked extensively before moving ahead with testing. We shared our issues and needs with OCEASOFT and discussed various development options. Our collaboration lasted several months before we actually started testing at our facility."
Tests were carried out in several steps from November 2017 to June 2018.
"By setting up Cobalt X2 modules, we can now manage alarms remotely using a smartphone, which is an undeniable benefit for us in terms of protection and operational practicality, especially for on-call staff. In addition, we can handle installation by ourselves, unlike a previous system that required our IT department to get involved to manage a special temperature server," adds Hélène Blanché-Koch.
New-generation Cobalt X2 solution: monitoring system overview
Key benefits

LoRaWAN™ long-range wireless communication technology
Data collection on up to 4 distinct sensor channels, any combination of Bluetooth®-enabled OCEASOFT sensors and wired OCEASOFT Smart-Sensors (with calibration parameters stored in their own memory to simplify recalibration)
2.4″ color touch-screen for easy interaction and control
Powered by USB port (with AC adapter) or battery
Low power consumption
For use with various sensors, including: temperature, humidity, %CO2, 4-20 mA, 0-5 V, 0-10 V, dry contact
Comprehensive web application
Cobalt X2 solution flow:
Stakes that demand relevant solutions
Traceability, quality control, and ensuring optimal storage and transport conditions for health products have become critical issues in the life science sector:
"In 2018, half of the 350 most sold medical drugs in the world will be temperature sensitive. Measuring, controlling, and generating alerts regarding these products' real storage and transport conditions are key requirements for obvious reasons of efficiency, patient safety, and of course, economic considerations," concludes Laurent Rousseau.