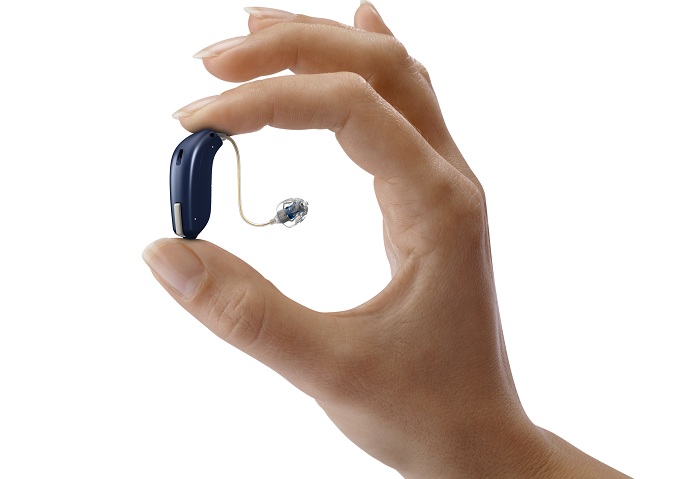 Oticon, industry leaders in advanced audiology and hearing aid technology, has announced the launch of Oticon Opn™, the world's first internet connected hearing aid that opens up a world of possibilities for IoT devices.
With Opn, Oticon introduces a number of 'world firsts':
TwinLink™ – the first dual communication system to combine binaural processing with streamer-free, internet connectivity, without compromising battery life or physical size.
The first listening device compatible with the web-based service IFTTT (If This Then That), unlocking a world of potential for connected device communication.
Opn revolutionises hearing aid technology with the platform Velox – the first sound processing system that allows users to more naturally follow multiple conversations in noisy environments without using traditional directionality.
The Internet of Things That Matter
With Opn, it is now possible to program hearing aids to talk directly with door bells, smoke detectors and baby alarms. Opn is the first hearing aid that connects to and interacts with the Internet.
With Opn, Oticon champions an "Internet of Things that matter", where devices and services people depend on for their health and safety join today's more entertainment and convenience-oriented offerings. That's why the company is launching project ON, a new technology that makes its latest-generation hearing aids Oticon Opn part of the Internet of Things through the online service If This Then That (ifttt.com).
"With Opn we've taken a giant leap forward – for both hearing aids and the Internet of Things," said Søren Nielsen, President of Oticon A/S. "The potential of IoT is vast, but on a consumer level we've largely seen devices that focus on convenience. With Opn, the Internet of Things starts to matter – you could say that this will change people's lives."
Advanced listening technology
Alongside this connectivity, Oticon has made giant strides with Opn's core function as a listening device. Powered by the ultra-fast Velox platform, Opn overcomes a challenge that even the most advanced solutions of today can't solve – the ability to handle noisy environments with multiple speakers. Through the use of precise sound analysis performed over 100 times a second, important sound such as speech can be located from any direction, with background noise deemphasised for optimum clarity.
"Oticon has always been about audiology and technology working in harmony, and with Opn we're introducing new and groundbreaking technology to address real issues that affect those with hearing loss," said Søren Nielsen. "Opn opens up a whole new world of sound, allowing users to manage multiple speakers in difficult situations such as dinner conversations, and to benefit from technological advances that were previously out of reach. Opn can make a real difference to the lives of people, young and old, who suffer from hearing loss."
For more information, please visit Oticon.global/Opn
ABOUT OTICON
500 million people worldwide suffer from hearing loss. It is Oticon's ambition that our customers – hearing clinics throughout the world – prefer to use our products for people with impaired hearing. The majority of people with hearing loss are over the age of 50, with 8 per cent under the age of 18. Based on passion, dedication and professional expertise, Oticon designs and manufactures hearing aids for both adults and children. Oticon supports every kind of hearing loss from mild to severe and we pride ourselves on developing some of the most innovative hearing aids on the market. Headquartered out of Denmark, we are a global company and part of William Demant Holding Group with more than 11,000 employees and revenues of over DKK 10 billion. http://www.oticon.global