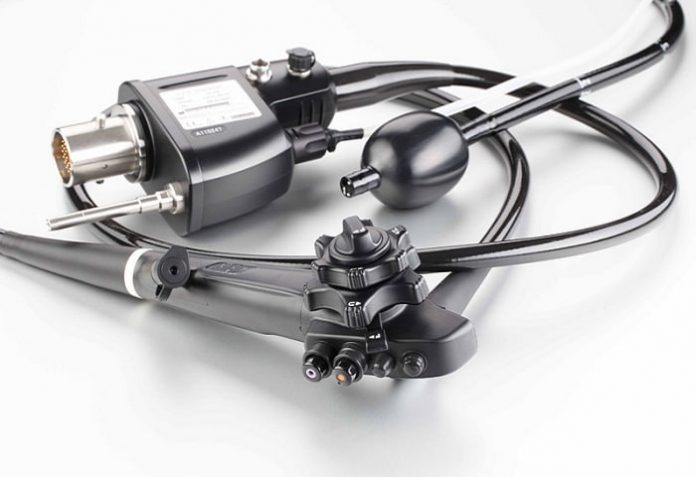 PENTAX Medical Europe, a leading company in the endoscopic field, has obtained a CE mark for its new duodenoscope with a Disposable Elevator Cap – the DEC™ Duodenoscope.
This innovative product provides a breakthrough solution in infection prevention with increased reprocessing operational efficiency, while ensuring reliable therapeutic performance.
The new DEC™ Duodenoscope (as the ED34-i10T2 will be known) will be presented for the first time during the EUS-ENDO congress, in Marseille, France, 28-29th September 2017. During the event, PENTAX Medical will be holding a lunchtime symposium (1:30-2:15pm, 28th September 2017) with a series of lectures from leading clinicians chaired by Prof. H. Neuhaus. The presentations will cover infection control (Prof. M. Bruno), experience and benefits of the DEC™ Duodenoscope (Prof. M. Barthet), and a live demonstration of this new product (Dr. M. Giovannini).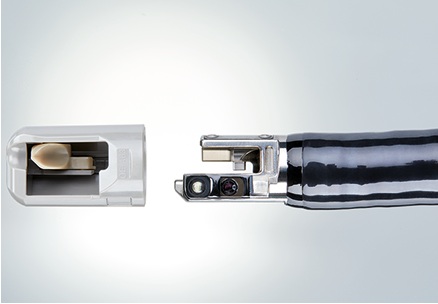 Innovative engineering from PENTAX Medical delivers a world-first combination of advanced cleaning capabilities for infection prevention, with the added advantage of high definition (HD) image quality and procedural performance in the new DEC™ Duodenoscope. It provides a pioneering solution for diagnostic and therapeutic endoscopic retrograde cholangio-pancreatography (ERCP) procedures.
The DEC™ single-use, sterile, distal end cap is unique in the market. This innovative feature responds to the need for single-use products in endoscopy as a result of increasing incidences of carbapenem-resistant Enterobacteriaceae (CRE) infections that may be linked to improper cleaning or disinfection of the elevator mechanisms of duodenoscopes. With patient safety and hygiene positioned at the forefront of PENTAX Medical's product design and development programs, the re-engineered duodenoscope has been designed to help enhancing infection prevention and reduce the risk of cross-contamination.
In addition, the improved design of the distal end of the DEC™ Duodenoscope allows easy access for brush cleaning with the exposure of critical surfaces of the device. Together with the disposable nature of the DEC™, the result is a decrease in reprocessing time with no compromise on the reprocessing outcome. This increased reprocessing operational efficiency can save on costs as well as time, facilitating departmental practice through optimized cleaning/reprocessing procedures.
The DEC™ Duodenoscope offers reliable therapeutic performance with unique and outstanding HD+ endoscopic image quality for routine and therapeutic ERCP procedures. Combined with i-scan and i-scan OE, detailed visualization of the mucosal structures is possible to support detection and characterization of lesions to help locate the minor papillae.
The improved elevator shape and ergonomic design of the new duodenoscope is conceived to facilitate easy cannulation and precise, controlled positioning of devices during ERCP procedures. Easy attachment and removal of the DEC™ further supports this increase in efficiency.
Rainer Burkard, President EMEA, PENTAX Medical commented, "The new DEC™ Duodensocope is a world-first, combining high quality imaging and therapeutic performance with pioneering patient safety features to help reducing the risk of cross-contamination and infection. Simplified reprocessing procedures also help to increase departmental productivity for confident reprocessing. With patient safety and hygiene a key focus for PENTAX Medical, we are proud to introduce such an innovative solution to enhance infection prevention for improved patient care."
About PENTAX Medical
PENTAX Medical is a division of HOYA Group. Its mission is to improve the standard of patient care and quality of healthcare delivery by providing the best endoscopic products and services with a focus on QUALITY, CLINICALLY RELEVANT INNOVATION, and SIMPLICITY. Through leading edge R&D and manufacturing, PENTAX Medical provides endoscopic imaging devices and solutions to the global medical community. Headquartered in Japan, PENTAX Medical has a worldwide focus and presence with R&D, regional sales, service, and in-country facilities around the globe.
For more information, please visit: www.pentaxmedical.com