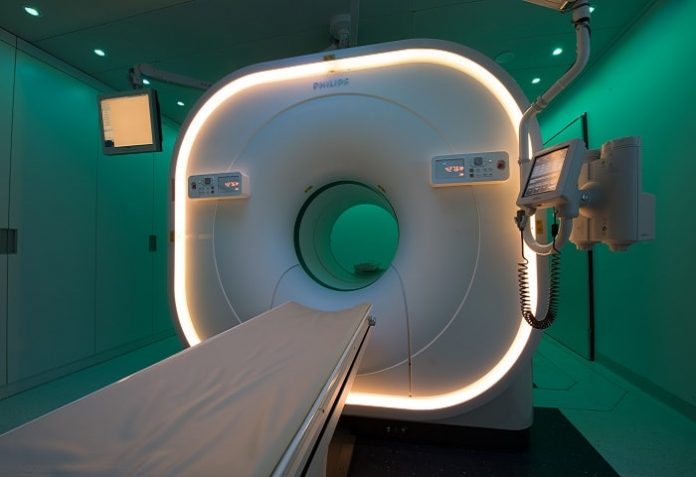 Royal Philips , a global leader in health technology, announced the successful installation of its Vereos digital PET/CT system, the world's first and only fully digital PET/CT system, plus its unique Ambient Experience solution, in the Clinique de Genolier, one of the largest private clinics in Switzerland.
The Vereos high-performance advanced molecular imaging system demonstrates Philips' commitment to enhancing patient care by improving the detectability and characterization of small lesions [1]. Vereos simplifies the clinical decision making process through a fast, more confident path to cancer treatment. At the same time, Philips' Ambient Experience solution uses dynamic lighting, video and sound to create a relaxing environment during PET/CT imaging procedures.
"Our innovations are designed to simplify the path to clinical decision making and enhance the patient experience," said Kees Wesdorp, business leader Diagnostic Imaging at Philips. "The advanced molecular imaging capabilities of Vereos allow physicians to make decisions with greater insight and confidence, bringing healthcare one step closer to precision medicine."
"The ability for patients to create their own room ambience from a selection of projected motifs, music and soft lighting, makes them feel included in the treatment and helps to overcome their fear," explained Dr. Jean-Pierre Papazyan, Specialist in Nuclear Medicine, Clinique de Genolier. "In close partnership with Philips, we have realized a unique state-of-the-art solution here in Genolier that has already attracted worldwide medical interest, making us the benchmark for digital PET/CT imaging."
The Philips Vereos PET/CT system is currently being installed in leading healthcare facilities worldwide, with the Clinique de Genolier being one of the first five hospitals in the world to have it available for the benefit of patients. Philips is producing and shipping its complete Computed Tomography (CT) and Advanced Molecular Imaging (AMI) portfolio from its sites in Haifa (Israel), Suzhou (China) and Cleveland (US), and will launch new CT/AMI products in the next few months.
Following the US Food and Drug Administration (FDA) inspection of the Cleveland facility in the third quarter of 2017, Philips submitted its response to the inspectional findings for review by the FDA. In the meantime, the company had a constructive meeting with the FDA. Philips will continue to drive its Quality Management System improvement program.
[1] Nguyen NC, Image Quality and Diagnostic Performance of a Digital PET Prototype in Patients with Oncologic Diseases: Initial Experience and Comparison with Analog PET, J Nucl Med 2015; 56:1378–1385.
About Royal Philips
Royal Philips is a leading health technology company focused on improving people's health and enabling better outcomes across the health continuum from healthy living and prevention, to diagnosis, treatment and home care. Philips leverages advanced technology and deep clinical and consumer insights to deliver integrated solutions. Headquartered in the Netherlands, the company is a leader in diagnostic imaging, image-guided therapy, patient monitoring and health informatics, as well as in consumer health and home care. Philips' health technology portfolio generated 2016 sales of EUR 17.4 billion and employs approximately 73,000 employees with sales and services in more than 100 countries. News about Philips can be found at www.philips.com/newscenter.