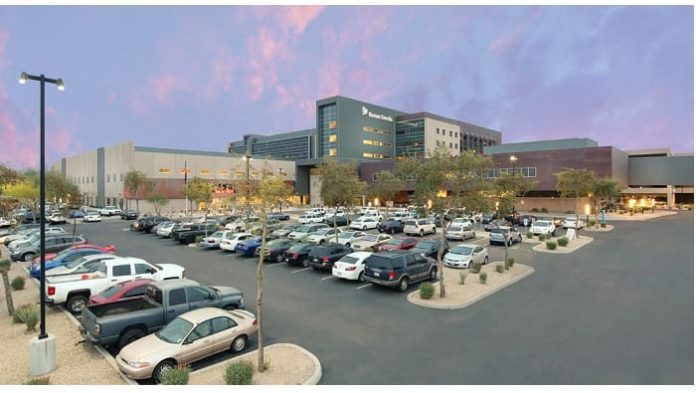 Royal Philips , a leading health technology company, and Arizona-based Banner Health, today announced they have extended their multi-year partnership to include adoption of Philips' PerformanceBridge Practice, helping Banner to accelerate its clinical transformation in radiology and further deliver on its goal of improving care for patients.

PerformanceBridge Practice is a part of the Philips PerformanceBridge portfolio, a suite of operational performance improvement software and services that assist radiology departments to deliver on the Quadruple Aim of enhancing productivity, improving the patient and staff experience, while delivering better value-based care.
Philips and Banner will work collaboratively to pinpoint improvement opportunities, and a dedicated Philips Solution Advisor will help Banner to develop solutions that address areas for improvement. Banner will roll out PerformanceBridge Practice in all 28 of its radiology departments in a two-phased approach, starting with its 16 Arizona and academic sites, then expanding to its 12 radiology departments in five other states.
Introduced last year, Philips' PerformanceBridge Practice is a vendor-agnostic connected solution that aggregates data from across different imaging modalities and information systems, to provide healthcare professionals access to customizable data on departmental performance. For Banner, this will include a customized user-interface to provide radiology teams with access to actionable information that can help administrators prioritize operational improvements in asset management, equipment uptime and utilization, peer-to-peer collaboration, accreditation compliance and practice management.
"The pressure to reduce costs while increasing operational efficiency in the current healthcare environment is intense, which requires us to look at performance improvement in imaging very differently," said Becky Kuhn, Chief Operating Officer for Banner Health.
"Investing in the right tools and technologies helps us to provide better service to our customers. Connecting our radiology assets, and getting a better view into the performance of our radiology departments, will help us to become more efficient, elevate patient safety and save on capital investments. Ultimately this allows us to reinvest in what matters most – our patients."
Because health systems typically need additional technology support in understanding, adopting and deploying new solutions, Philips offers support with its PerformanceBridge offerings via a diverse Solution Delivery team: Solution Architects, Solution Advisors, and IT Engineers with deep knowledge of radiology operations, clinical workflow, radiology IT, big data analytics, medical imaging technology and financial modeling.
This will give organizations like Banner the dedicated support they need from experts at Philips who can help their administrators understand how to leverage PerformanceBridge Practice, while implementing improvement strategies based on meaningful insights provided by the practice management tool.
The agreement builds upon the 15-year, long-term strategic partnership signed by Banner and Philips, which has allowed both organizations to identify solution delivery projects and innovative technologies that can help improve the patient experience and outcomes. Banner and Philips are committed to driving innovation in health management and are collaborating on how the healthcare network can take a more connected approach around health spaces such as cardiology by incorporating advanced imaging and interventional technologies, genomics, digital pathology, and data analytics.
Banner and Philips have collaborated on several successful pilot programs to transform care delivery. The adoption of Philips' PerformanceBridge Practice across Banner's network will help optimize its radiology departments to help Banner deliver on its commitment to make healthcare easier for its patients and its customers.
"Imaging plays a critical role in providing insight to physicians to reach a definitive diagnosis and determine the most efficient treatment pathway for patients," said Brent Shafer CEO of Philips North America. "Not only is it important to ensure that radiologists have the tools they need to get a diagnosis right the first time and delivery on the Quadruple Aim, it's essential that radiology departments can identify opportunities for operational improvements. By adopting Philips PerformanceBridge Practice, Banner continues to pioneer transformative healthcare by driving operational efficiency, including improving the patient and staff experience."
For more information on Philips PerformanceBridge Practice, please visit here and for more information on Philips' full portfolio of integrated imaging systems, devices, informatics and services at #RSNA17, and for live updates from the event, follow @PhilipsLiveFrom or visit www.philips.com/rsna.
Silvie Casanova
Philips North America
Tel: +1-978-659-7467
E-mail: silvie.casanova@philips.com
Kathy O'Reilly
Philips Group Press Office
Tel: +1 978-221-8919
E-mail: Kathy.Oreilly@Philips.com
Jennifer Ruble
Banner Health Network
Tel: +1 602-747-3583
Email: Jennifer.Ruble@BannerHealth.com
About Royal Philips
Royal Philips (NYSE: PHG, AEX: PHIA) is a leading health technology company focused on improving people's health and enabling better outcomes across the health continuum from healthy living and prevention, to diagnosis, treatment and home care. Philips leverages advanced technology and deep clinical and consumer insights to deliver integrated solutions. Headquartered in the Netherlands, the company is a leader in diagnostic imaging, image-guided therapy, patient monitoring and health informatics, as well as in consumer health and home care. Philips' health technology portfolio generated 2016 sales of EUR 17.4 billion and employs approximately 73,000 employees with sales and services in more than 100 countries. News about Philips can be found at www.philips.com/newscenter.
About Banner Health
Headquartered in Arizona, Banner Health is one of the largest nonprofit health care systems in the country. The system operates 28 acute-care hospitals, Banner Health Network, Banner – University Medicine, academic and employed physician groups, long-term care centers, outpatient surgery centers and an array of other services; including Banner Urgent Care, family clinics, home care and hospice services, pharmacies and a nursing registry. Banner Health is in six states: Arizona, California, Colorado, Nebraska, Nevada and Wyoming. For more information, visit www.BannerHealth.com.