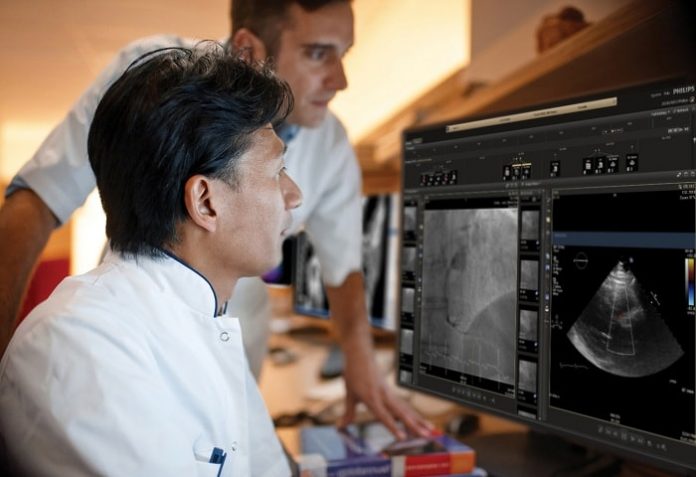 Royal Philips, a global leader in health technology, announced the launch of IntelliSpace Cardiovascular 4.1, its next-generation cardiovascular image and information management system. The latest version builds on the existing pediatric reporting capabilities, recognizing the important and unique nature of the pediatric environment.
Clinicians can now complete their workflows more efficiently in a web browser, while integration with Philips Forcare enables the sharing of patient data between health systems and hospitals. New features also include enhanced security, enterprise protocols and seamless access to Philips' QLAB and TOMTEC software tools.
In order to capture a complete view of a patient's condition, clinicians need to search across multiple programs, systems and healthcare institutions for specific information, like previous test results. Designed to help streamline workflow and improve operational performance, IntelliSpace Cardiovascular 4.1 aggregates patient information into one solution to provide a holistic view to facilitate better informed decision-making, while delivering on the quadruple aim of improved patient and staff experience, better health outcomes and lower costs of care.
"With IntelliSpace Cardiovascular, we now have a much more integrated application where Cardiology talks to Radiology," said John Hayes, Head of IT, Blackrock Clinic, Dublin, Ireland. "The integration with our patient management system and remote access means our internal workflows are more efficient and the housekeeping for the applications is far better."
Building on existing browser-based reporting capabilities for adult stress echocardiogram tests, the addition of the web-based pediatric module to IntelliSpace Cardiovascular 4.1 provides a complete echo solution that aggregates data into one system. The pediatric module also includes new z-score packages, which are a common way to chart serial measurements in pediatric cardiology practices. The new z-scores available through this solution provide clinicians with the most up-to-date information to respond to patients more quickly to help improve care delivery. Through deep integration with Philips Forcare, which provides open-standards-based interoperability software, IntelliSpace Cardiovascular 4.1 enables the seamless and secure sharing of patient data across systems and hospitals in near real-time.
"Treating pediatric cardiac patients can be a very emotional and challenging experience as they are one of the most vulnerable patient populations," said Amir Hasan, Business Leader, Cardiology Informatics at Philips. "With IntelliSpace Cardiovascular 4.1, we build on our commitment to provide fast and seamless data flow to enable clinicians to better care for these children with improved information access, data sharing and collaboration across the entire cardiology team."
IntelliSpace Cardiovascular is available globally. In North America and other select markets, Philips IntelliSpace Cardiovascular is also available as part of IntelliSpace Enterprise Edition, Philips' next-generation enterprise-wide health informatics platform, which combines Philips IntelliSpace Radiology and Cardiology portfolios, as well as PerformanceBridge, Oncology Informatics, IntelliSpace Genomics and IntelliSpace Exchange.