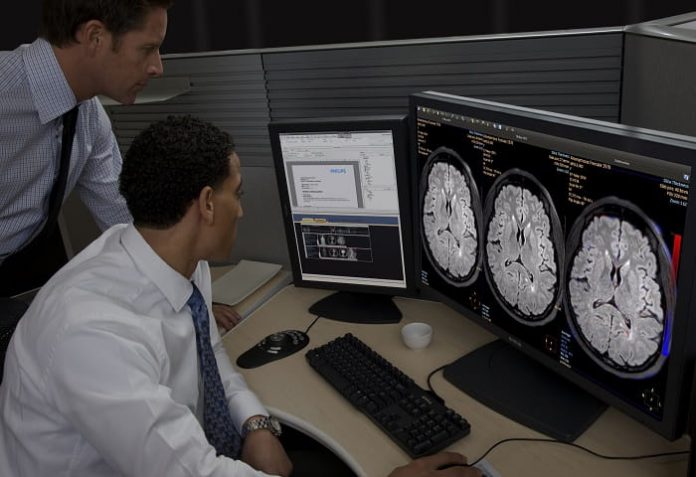 Royal Philips , a global leader in health technology, today unveiled intelligent and comprehensive connected radiology solutions that will be showcased at the 2017 Radiological Society of North America Annual Meeting (RSNA), November 26 through December 1 at McCormick Place in Chicago.
At the Philips booth (#6735), RSNA attendees will experience a new portfolio of digital imaging systems, and artificial intelligence (AI)-driven software and services that provide high quality imaging, with efficient workflow, driving seamless care and an improved patient experience.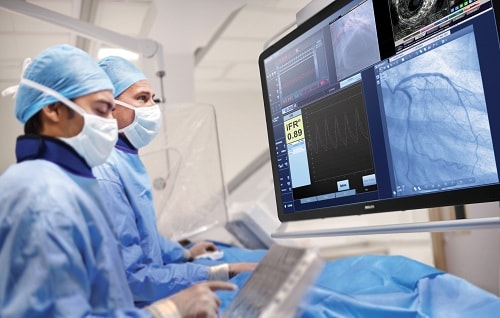 Connecting people, technology and data
As healthcare organizations continue to move toward value-based care, there is a growing need for intelligent solutions to help address the biggest challenges radiologists face in improving outcomes, simplifying data and insights gathering, lowering the cost of healthcare delivery, and enhancing patient and staff satisfaction. Philips' integrated portfolio of digital imaging systems, smart devices, informatics and services arm radiologists with the tools needed to overcome these barriers to break down the silos and deliver more seamless care.
"As radiologists navigate the road to value-based care, they face a simultaneous shift to a patient-centric model and a greater volume of cases," said Robert Cascella, Chief Business Leader Diagnosis & Treatment businesses for Royal Philips. "By addressing these burdens using artificial intelligence, Philips continues to develop new and intelligent technologies designed to augment the radiologist's expertise. Our ultimate goal is to enable them to obtain high quality images the first time."
By addressing these burdens using artificial intelligence, Philips continues to develop new and intelligent technologies designed to augment the radiologist's expertise.Robert Cascella. Chief Business Leader Diagnosis & Treatment businesses for Royal Philips
Improved diagnosis, treatment and outcomes
In an expansive presence at RSNA 2017, Philips will debut new imaging solutions, including the latest configuration of the IQon Spectral CT. As the world's first spectral detector-based Computed Tomography (CT) scanner, the new IQon configuration provides clinicians increased diagnostic certainty in every scan, with zero compromise. Also featured are recent innovations including Azurion Image-Guided Therapy platform, now available in Canada, Vereos fully digital PET/CT, and a series of OB/GYN ultrasound solutions that help clinicians streamline the path to a more confident diagnosis in the most complex and challenging cases.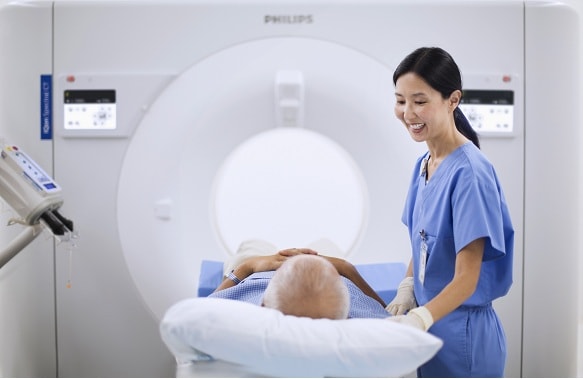 Combined with its intelligent Healthcare Informatics and services portfolio for decision support and workflow and operational performance improvement, Philips will showcase data-driven technology enabling radiologists to obtain quality images and improve patient care through integrated systems and software. At this year's RSNA, Philips will highlight advanced imaging technology including:
MR Solutions – Unveiling a new magnetic resonance (MR) imaging system and other solutions designed to support diagnostic confidence, enhance productivity and improve patient experience.
ProxiDiagnost N901 DXR – Philips' newest premium digital radiography-fluoroscopy (DRF) system supports high room utilization and throughput, accessible design and dose management features to benefit patients and staff.
Ultimate Ultrasound Solution for Small Parts Assessment – First-of-its-kind, single-transducer solution, featuring the eL18-4 PureWave linear array transducer for small parts imaging to help clinicians assess diseases and disorders of small organs such as breasts, testicles and thyroid, as well as musculoskeletal injuries like sprains and tears.
CardioMD IV and BodyMD2SPECT solutions – New cost-efficient cardiac and general purpose SPECT solutions provide quality images with an improved workflow and patient experience, and a small footprint.
Anatomical Intelligence for whole breast ultrasound – Enhances screening and diagnostic workflow, facilitating breast-screening exams while preserving superb image quality for full diagnostic studies.
Philips IntelliSite Pathology Solution – The first and currently only digital pathology solution in the U.S. to be marketed for primary diagnostic use.
Philips will also unveil its latest AI-driven intelligent solutions and advanced visualization in radiology including:
The debut of the next iteration of IntelliSpace Portal, featuring enhancements across the solution to provide radiologists with an improved set of applications and workflows to support the reading and follow up of complex cases.
The introduction of IntelliSpace Enterprise Edition for Radiology, Philips' comprehensive managed solution for enterprise imaging, which offers unique clinical products and services for radiologists through single sign-on access to IntelliSpace PACS, Illumeo, IntelliSpace Portal, Universal Data Manager, DoseWise Portal and PerformanceBridge, designed to assist users in turning insights into action for streamlined clinical decision making.
The collaboration between Philips and Nuance, bringing AI directly into radiology reporting, leveraging assets from Philips Illumeo with adaptive intelligence and Nuance PowerScribe 360 to help reduce discrepancies, and improve radiology reporting, accuracy and standardization.
New agreements with 3D printing industry leaders, 3D Systems and Stratasys, giving Philips customers seamless access to expedite 3D printing to create anatomical models to help physicians understand patient anatomy that is difficult to visualize, and deliver personalized medicine in the most unique, complex cases.
The growing adoption of Philips Performance Bridge, a flexible suite of continuous improvement solutions that assists radiology departments in enhancing productivity, improving the patient and staff experience, and delivering better value-based care.
Philips Live! Forum at RSNA
U.S. News & World Report presents Insight Night at RSNA
"Getting it Right the First Time: The Revolution in Diagnosis," sponsored by Philips and hosted by Ben Harper, Chief of Health Analysis and Managing Editor at U.S. News & World Report, features a fireside chat with Frans van Houten, CEO of Philips, and Lindsay Lyon, Deputy Editor, U.S. News & World Report, on Tuesday, November 28 at 6:30 pm at the Marriott Marquis. The evening also features a panel discussion with Sanjiv "Sam" Gambhir, MD, PhD, Chairman of the Department of Radiology for Stanford Medicine, Dr. Karen Cosby, M.D., FACEP, CPPS, Chair, Division and Observation and Quality, Emergency Medicine and Senior Attending, Cook County Health & Hospitals System and David E. Newman-Toker, MD, PhD, Director of the Armstrong Institute Center for Diagnostic Excellence, John Hopkins Medicine. Insight Night is open to all RSNA attendees. Register at: InsightNight.eventbrite.com.
For more information on Philips' full portfolio of integrated imaging systems, devices, informatics and services at #RSNA17, and for live updates from the event  or visit www.philips.com/rsna.
[1] ProxiDiagnost 510(k) pending in the U.S. Approved in CE regulated regions including EMEA, APAC and LATAM.
[2] CardioMD IV and BodyMDBody MD are not available in all markets. Please contact your local Philips sales representative for availability in your country.
Kathy O'Reilly
Philips Group Press Office
Tel: +1 978-221-8919
E-mail: Kathy.Oreilly@Philips.com
Steve Klink
Philips Group Press Office
Tel.: +31 6 10 8888 24
E-mail: steve.klink@philips.com
About Royal Philips
Royal Philips is a leading health technology company focused on improving people's health and enabling better outcomes across the health continuum from healthy living and prevention, to diagnosis, treatment and home care. Philips leverages advanced technology and deep clinical and consumer insights to deliver integrated solutions. Headquartered in the Netherlands, the company is a leader in diagnostic imaging, image-guided therapy, patient monitoring and health informatics, as well as in consumer health and home care. Philips' health technology portfolio generated 2016 sales of EUR 17.4 billion and employs approximately 73,000 employees with sales and services in more than 100 countries. News about Philips can be found at www.philips.com/newscenter.