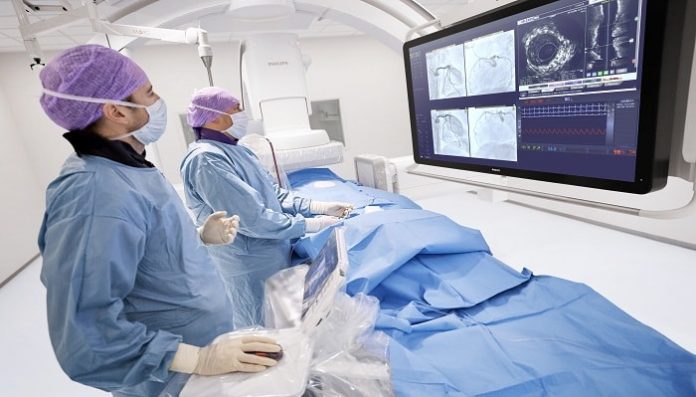 Royal Philips , a global leader in health technology, is showcasing its latest solutions in interventional cardiology at the EuroPCR 2018 annual event in Paris (May 22-25).

Philips is highlighting its integrated solutions in image guided therapy and ultrasound that enable seamless cardiovascular care, helping clinicians to find the optimal pathways for better clinical outcomes, as well as lowering costs and increasing patient and staff satisfaction.
"At Philips we have a unique portfolio of integrated solutions that enable clinicians to decide, guide, treat and confirm the appropriate cardiac and peripheral vascular treatment and provide the best care for their patients," said Bert van Meurs, Business Leader Image Guided Therapy, Philips. "Philips Azurion, our next-generation image-guided therapy platform, has strong momentum. We also continue to see strong interest from clinicians in our unique technology to support an iFR-guided strategy in the guidance of percutaneous coronary intervention for heart disease."
On-site at EuroPCR Philips will showcase its advanced interventional imaging systems, smart devices, planning and navigation software, and services, including:
Azurion, Philips' next generation image-guided therapy platform, which enables clinicians to easily and confidently perform a range of routine and complex procedures, helping them to optimize interventional lab performance and provide superior care. A recent study demonstrated the significant clinical workflow and staff experience benefits of the platform.
iFR Roadmap1exclusive to Philips' interventional labs, enables physicians to navigate coronary arteries and corresponding iFR data in real time.
Philips' SyncVision iFR co-registration solution, which couples iFR physiology measurement pull-back results to the coronary angio and can be utilized in the stenting process when lesions are more complex.
Health economic benefits of an iFR-guided strategy supported by strong trial data
At EuroPCR 2018 Philips is also highlighting health economic data which demonstrates that an iFR-guided strategy reduces costs and improves patient comfort compared to an FFR-guided strategy, while delivering consistent cost savings and patient outcomes.
The results from the DEFINE FLAIR trial, first announced at the 2018 American College of Cardiology conference, build on previous data from DEFINE FLAIR released in 2017. That data found that iFR-guided treatments reduced procedure time by 10 percent versus FFR-guided treatments, while reducing patient discomfort by 90 percent2. iFR is an innovative pressure-derived index unique to Philips, allowing a simplified hyperemia-free physiological assessment of coronary blockages.
Late-breaking trial: two-year clinical outcome data from SYNTAX II
On May 23, as part of the EuroPCR 2018 late-breaking trial program, professor Patrick Serruys of Imperial College London, UK, will present two-year clinical outcome data from the SYNTAX II trial. The trial, which included 454 patients from 22 centers across the United Kingdom, the Netherlands, Spain, and Poland, evaluated a state-of-the-art percutaneous coronary intervention (PCI) procedure that incorporates physiology, intravascular ultrasound (IVUS) imaging, drug-eluting stents and contemporary optimal medical therapy.
See Philips' calendar of events for EuroPCR, including its Training Village program of hands-on experiences, live demonstrations and a symposium, here. Visit the Philips booth (F16, Level 1) to experience its innovative cardiology portfolio. Follow the #EuroPCR conversation on @PhilipsLiveFrom throughout the event.
[1] iFR Roadmap is not a standalone technology. It can only be purchased as part of the Dynamic Coronary Roadmap package.
[2] Davies JE, et al., DEFINE-FLAIR: A Multi- Centre, Prospective, International, Randomized, Blinded Comparison of Clinical Outcomes and Cost Efficiencies of iFR and FFR Decision-Making for Physiological Guided Coronary Revascularization. New England Journal of Medicine, epub March 18, 2017