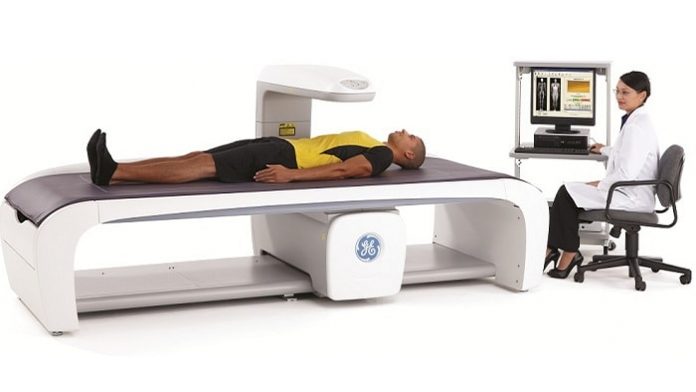 GE Healthcare announced a joint marketing collaboration agreement with FitTrace™, a leading cloud-based body composition analysis and reporting software company. As a global leader in dual energy X-ray absorptiometry (DXA) and quantitative ultrasound (QUS) technology, this collaboration integrates the reliability and versatility of GE Healthcare's DXA technology with cloud-based reporting, sharing and advanced analytics capabilities from FitTrace to equip sports and fitness communities with actionable information to enable them to be smarter athletes.

"The sports performance and metabolic health industries are on a mission to improve human peak health and performance through better understanding of body composition, metabolic disorders, nutrition and genetics," said Claudio Mejia, General Manager of GE Healthcare's Bone and Metabolic Health business. "We are excited to combine our innovative and leading technology with FitTrace's analytics to help athletes better understand their bodies so they can give their best possible performances and meet their goals."
DXA technology is the gold standard for measuring accurate and reliable body composition and a convenient method adopted by top researchers and professionals in the sports performance and metabolic health industries. DXA body composition systems from GE Healthcare provide insights into health and athletic performance for athletes, such as measuring the distribution of fat and lean mass throughout the body or analyzing changes in body composition over time to help sports medicine professionals monitor the impact of training and dietary programs of their athletes. This technology is used by both professional and college teams to optimize athletic performance.
FitTrace is an easy to use cloud-based app that provides unique visualization and analysis of DXA-based body composition measurements. Athletes can be tracked, compared and benchmarked with other professional athletes. The "Team Edition" provides advanced analytics to help trainers, strength coaches and sports dietitians gain insights regarding training, nutrition and their athletes' body compositions on any laptop or mobile device.
"We are excited to collaborate with GE Healthcare to offer a comprehensive solution to athletes and sports teams to optimize their performance and health," said Mike DiChiappari, CEO of FitTrace. "This collaboration enables a seamless DXA body composition measurement to performance monitoring experience for healthcare providers and their athletes. We hope it will help athletes better understand their bodies."
GE Healthcare DXA systems are also widely available to consumers at metabolic testing centers globally.
About FitTraceTM
FitTraceTM is a software company based in Los Angeles, CA that provides cloud based body composition analytics solutions for the sports performance and metabolic health industry. The FitTraceTM body composition software app allows users to store, access, compare, and analyze body composition results on the cloud for anytime, anywhere access and enable better health monitoring by sports performance professionals and athletes.Learn more at: www.fittrace.com