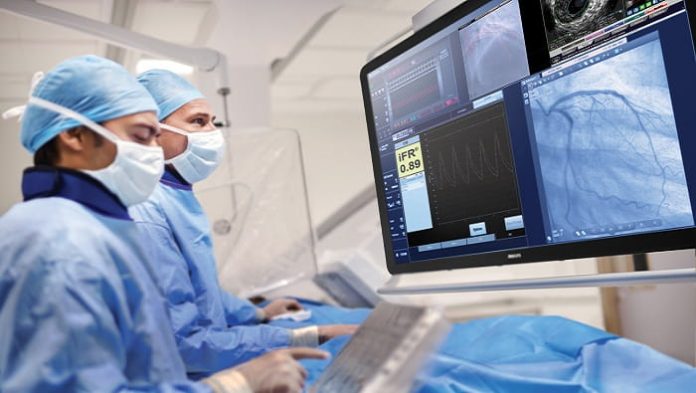 Philips' image-guided therapy solutions is comprised of interventional X-ray and ultrasound systems, diagnostic and therapeutic devices, and clinical informatics and services designed to achieve improved patient outcomes and greater efficiency
Amsterdam, the Netherlands and Denver, Colorado – Royal Philips (NYSE: PHG, AEX: PHIA), a global leader in health technology, today announced that it will showcase its recently expanded image-guided therapy portfolio at the Transcatheter Cardiovascular Therapeutics (TCT) annual event in Denver, Colorado (October 29 – November 2, 2017).
With a focus on cardiac and endovascular care, at TCT Philips will highlight its advanced interventional imaging systems, diagnostic and therapeutic devices, planning and navigation software, and services. Philips will be showcasing its latest cardiac care solutions in ultrasound and image guided therapy to provide enhanced patient care across the health continuum. Philips will also display its Dynamic Coronary Roadmap 2.0 with FFR/iFR Roadmap feature, which it recently received 510(k) clearance from the U.S. Food and Drug Administration (FDA) to market. Philips' unique portfolio enables clinicians to decide, guide, treat and confirm the appropriate procedure, with the aim to enhance patient care at lower costs.
Next-generation image-guided therapy platform
Every day, about 2,200 Americans die of cardiovascular disease, averaging one death every 40 seconds [1]. In the United States alone, 92 million adults are living with cardiovascular disease. Now more than ever, the need for integrated image-guided therapy solutions that connect interventional staff members, technology and data is critical.
Harnessing vital procedural information from various sources, such as imaging systems, interventional devices, navigation tools and patient health records, Philips' Azurion next generation image-guided therapy platform offers a solution to provide interventional staff members with the control and information they need to perform procedures efficiently. Complementing Philips' interventional X-ray systems, Philips also offers next generation 3D TEE technology, which provides for new levels of live 3D imaging. Its features include a new acoustic design with higher frequencies and bandwidth to provide increased resolution and tissue filling. Additionally, fast, easy and confident transthoracic and transesophageal echo allows clinicians to diagnose surgical pathology in real time.
Diagnostic devices
Philips will also debut its Refinity ST, the next-generation rotational intravascular ultrasound (IVUS) catheter. With exceptional deliverability, 5F guide compatibility, and 45 MHz high-resolution image, Refinity ST is designed to help clinicians meet the needs of their most complex percutaneous coronary interventional cases. The recently FDA-cleared iFR Roadmap technology, exclusive to Philips' interventional labs, enables physicians to navigate vessels and coronary arteries in real time, guiding decision-making in the treatment of coronary artery disease.
Philips' CoreVision iFR co-registration solution coupled with the Core IVUS and physiology technology, can be utilized in the stenting process when lesions are more complex. CoreVision can be used in any interventional lab to map pressure gradients onto the angiogram for precise lesion location, severity and length measurements.
Therapeutic devices
The recent acquisition of Spectranetics expands Philips' range of therapy devices for coronary and peripheral artery disease. At this year's congress, Philips will feature the Stellarex drug-coated balloon. Stellarex delivers top-tier clinical results for common to complex patients, targeting an underserved need in the fast growing peripheral vascular market. As the only commercially available drug-coated balloon with two reported randomized controlled trials, Stellarex has demonstrated durability with consistently high patency rates in a wide range of patients.
"TCT provides the opportunity for us to share our expanded portfolio that aims to help those affected by cardiovascular disease to get back to living their lives," said Bert van Meurs, Business Leader Image Guided Therapy for Philips. "At the congress this year, we'll demonstrate how we're furthering our goal to help clinicians decide, guide, treat and confirm the right therapies for their patients and provide safe and personalized treatments to enable faster recoveries while reducing costs."
In its TCT booth this year, Philips will also host a series of short, daily presentations and live case demonstrations on optimizing patient care for cardiovascular disease. Additionally, Philips and Spectranetics will hold a lunch symposium each day of TCT on various topics including, "State-of-the-art" PCI approach (learnings from SYNTAX II), imaging technologies for new valve therapies, and optimizing outcomes in coronary artery disease.
For the full calendar of daily presentations, as well as general information about Philips' presence at the show, visit www.philips.com/tct. Visit the Philips and Spectranetics booths (#1029 and #4133) to experience innovative cardiac solutions that deliver across the full health continuum. Follow the #TCT17 conversation on @PhilipsLiveFrom throughout the event.
[1] Heart Disease and Stroke Statistics 2017. At –a– Glance. American Heart Association, January 2017
For further information, please contact:
Alicia Cafardi
Philips Group Press Office
Tel: +1 412-523-9616
E-mail: alicia.cafardi@philips.com
Fabienne van der Feer
Philips Image Guided Therapy
Tel: +31 6-22698001
E-mail: fabienne.van.der.feer@philips.com
About Royal Philips
Royal Philips is a leading health technology company focused on improving people's health and enabling better outcomes across the health continuum from healthy living and prevention, to diagnosis, treatment and home care. Philips leverages advanced technology and deep clinical and consumer insights to deliver integrated solutions. Headquartered in the Netherlands, the company is a leader in diagnostic imaging, image-guided therapy, patient monitoring and health informatics, as well as in consumer health and home care. Philips' health technology portfolio generated 2016 sales of EUR 17.4 billion and employs approximately 73,000 employees with sales and services in more than 100 countries. News about Philips can be found at www.philips.com/newscenter.