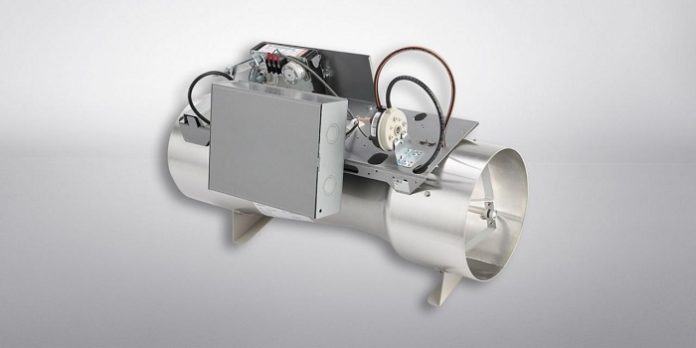 Phoenix Controls, a leader in precision airflow control solutions for critical environments, announced the launch of the Theris™ Flex venturi valves to support healthcare facilities control directional airflow with high precision. The new Phoenix Controls' Theris Flex venturi valve is designed to help healthcare facilities use directional airflow and pressurization to control airflow based on a space's demands – limiting the spread of airborne pathogens, improving indoor air quality (IAQ) and increasing room-state flexibility.
The valve, an expansion of the Theris Airflow Control family, offers a versatile, cost-effective way to introduce pressurization and directional airflow into sensitive spaces where such capabilities may have previously seemed cost prohibitive. The consistent directional airflow created by the valve can minimize dead zones of stagnant air, reducing the risk of cross-contamination from pathogens and pollutants. In addition, healthcare facilities equipped with the precision of the Theris Flex venturi valve can see a reduction in energy consumption from a lower air volume without compromising room pressurization needs.
The valve is ideal for a wide variety of specialized spaces and applications, such as healthy building initiatives, patient rooms, pandemic readiness, ER departments, procedure rooms and imaging spaces.
Phoenix Controls Theris Flex venturi valves can also perform to meet the ever-growing needs of isolation spaces requiring negative pressure. The onboard controller can be programmed to change room pressurization from neutral to negative pressure in response to containment or the isolation needs of any pandemic situation.
"Today's healthcare facilities are faced with tremendous pressure to provide the safest environment possible while keeping flexibility in mind to prepare for the demands of the future," said David Gagnon general manager, Phoenix Controls. "On top of this, today's patients are more aware of the air they breathe. As a solution, we engineered a valve to combat a hospital's burgeoning air quality needs and maintain the integrity of patient rooms with dependability and repeatability."
UF Health Shands Hospital, located in Gainesville, Fla., recently implemented the Theris Flex venturi valve technology to create more accurate and responsive airflow controls. "We knew bringing in the venturi technology would be a great option within our facility and benefit our operational costs while optimizing energy usage throughout the entire hospital," said Mark Dykes, energy manger, UF Health Shands Hospital. "It afforded us with a cost-effective, mechanically pressure independent product that allows us to better control airflow and pressurization in non-critical spaces like patient rooms."
Theris Flex venturi valves are designed to meet the demands of non-critical spaces with a cost-competitive factor. The valves are equipped with a high-grade steel spring inside the restrictor that enables them to adjust instantly to static pressure, eliminating the need for positioning, labor or balance to maintain the valves.
Since 1985, Phoenix Controls' precision airflow control systems have been used in critical environments, such as pharmaceutical companies, universities, hospitals and government research facilities. With a global network of partners to assist with design and space requirements, Phoenix Controls provides a complete system solution.