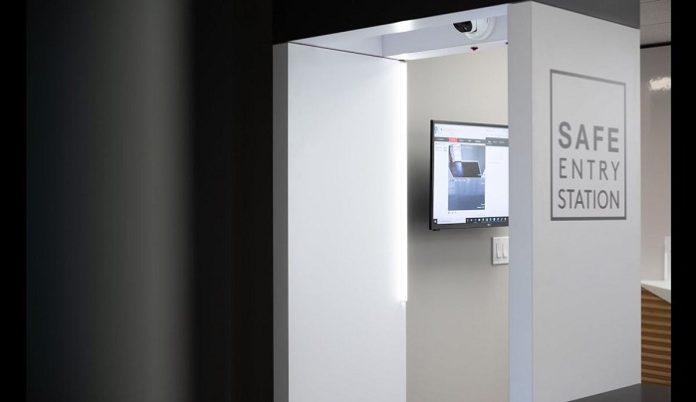 Predictmedix Inc., an emerging provider of rapid health screening solutions powered by a proprietary artificial intelligence (AI), announced a clinical study set to begin in February 2022 with researchers and doctors at a North American hospital to use the Company's patent-pending, proprietary AI technology to detect symptoms of infectious diseases.
Predictmedix is providing one (1) Safe Entry Station to be used to screen staff to provide protection, and two (2) units to screen incoming patients along with collecting symptom data from COVID-19 positive patients, whom will be validated by PCR tests. The hospital study will provide a third-party independent validation of the Company's Infectious Diseases Detection Solution ahead of a commercial launch, fulfilling a prerequisite for certification with the U.S. Food and Drug Administration (FDA).
The results of the study will be published in a peer-reviewed medical journal. Predictmedix has engaged an accredited consulting firm to assist the Company in seeking classification of the technology as a Class II Medical Device in the United States. Class II devices are FDA approved for the market through the Premarket Notification, or 510(k) process. The 510(k) process entails a complex application to the FDA, which demonstrates that a device is safe and effective by demonstrating that the device is equivalent to another device which is on the market. While individual aspects and features of the Safe Entry Station are comparable to FDA class II devices, it is important to note that the Safe Entry Station differs from other medical devices as it is assimilating multiple features and combining it with the artificial intelligence driven decision making, which has wide ranging applications in healthcare.
"Usage of our technology in a hospital setting to protect staff and patients while gathering important data is key step as we seek to expand our business into the North American healthcare sector," said Dr. Rahul Kushwah, Interim Chief Executive Officer of Predictmedix. "The data and results from the study will be crucial for our application as a Class II Medical Device and can additionally be used to fine-tune our AI algorithms, further improving efficacy."
"With the already strong results from our previous work, we are confident this study will further validate the abilities of our technology in detecting symptoms of infectious diseases – moving us closer to commercialization of this highly promising application as a medical device. We look forward to providing additional updates as we work to expand upon our existing markets across North America, India and beyond," concluded Kushwah.
About Predictmedix Inc.
Predictmedix is an emerging provider of rapid health screening and remote patient care solutions globally. The Company's Safe Entry Stations – powered by a proprietary artificial intelligence (AI) – use multispectral cameras to analyze physiological data patterns and predict a variety of health issues including infectious diseases such as COVID-19, impairment by drugs or alcohol, or various mental illnesses. Predictmedix's proprietary remote patient care platform empowers medical professionals with a suite of AI-powered tools to improve patient health outcomes.