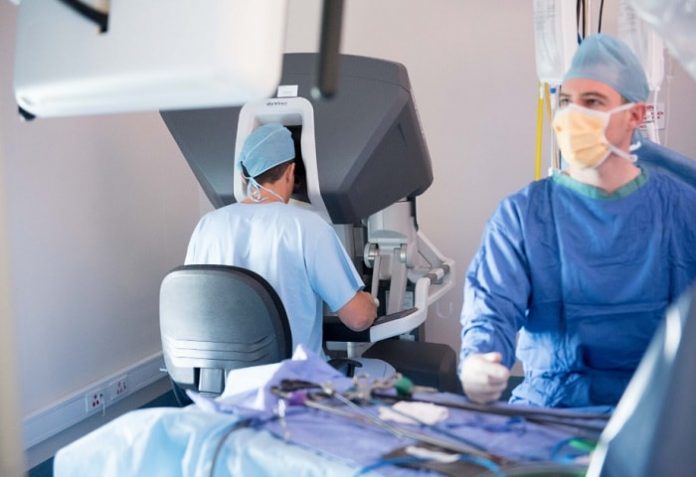 Life Healthcare has enlisted state-of-the-art robotics to help fight the scourge of cancer. Life Kingsbury Hospital is the first Life Healthcare hospital to open its doors to the da Vinci X system, which aids surgeons in minimising the invasiveness of prostate cancer surgery and drives quicker recoveries.
The da Vinci X is one of the latest models of the da Vinci surgical robotic systems and Life Kingsbury Hospital has acquired the very first of this model in Africa.
The more technologically advanced system allows surgeons to expand their capabilities and benefit patients through precision surgery, minimising post-operative pain, reducing the hospital stay and recovery time.
"The technology is one of the world's most advanced surgical systems currently available and has benefited more than five million patients worldwide1. The technology translates surgeon's hand movements through tiny instruments which allow for smaller, more precise movements. The technology is practically the extension of a surgeon's eyes and hands at the surgical site," says Dr Conray Moolman, Urologist and Registered da Vinci® Training Surgeon at Life Kingsbury Hospital.
How the equipment works
During surgery the surgeon sits at a nearby console to view 3D images (x 10 magnification) of the surgical site and manipulate the arms of the robotic instruments. One of the system's instruments is a laparoscope – a thin tube with a tiny camera and light at the end. The camera sends images to a video monitor in the operating room to guide the doctor during surgery. What makes the da Vinci X different to older da Vinci models is the significantly improved high definition vision to allow the surgeon to visualise anatomy even better. "The surgeon can now visualise and protect tiny nerves next to the prostate with greater care," added Dr Moolman.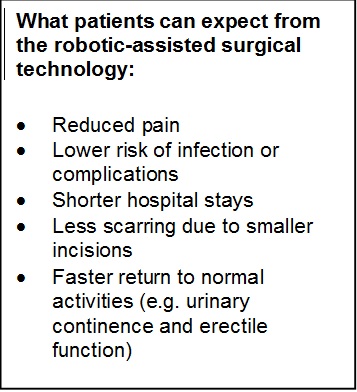 The system's camera is also more advanced than older models whereby the surgeon is able to change the camera lens angle from 30 degrees up to 30 degrees down at the press of a button. In older models the camera would have to be removed manually each time a new view was needed. Dr Moolman added that the technology also includes an integrated "GPS" system to assist the surgeon in controlling instruments not in their view. He highlighted the technology's safety aspects saying that the da Vinci X has new improved safety specifications that reduce the risk of any complications during the surgical procedure.
"Our main priority is to treat the disease area, while also helping our patients have smoother recoveries and a better quality of life. Through the surgical system we can offer an alternative surgical option with less scarring and pain while also assisting patients with a speedier return to their daily activities," explains Dr. Moolman.
Life Kingsbury Hospital is initially offering robotic-assisted surgery for prostate cancer and kidney cancer patients and in time will expand the surgical offering to other surgery types.
Benefits of the technology
In the last ten years, there has been a growing need for automation and technological advancements in healthcare due to growing incidences of chronic disease, an increasing geriatric population, the complexity of surgical procedures, and increasing demand for non-invasive surgeries with more precision and flexibility.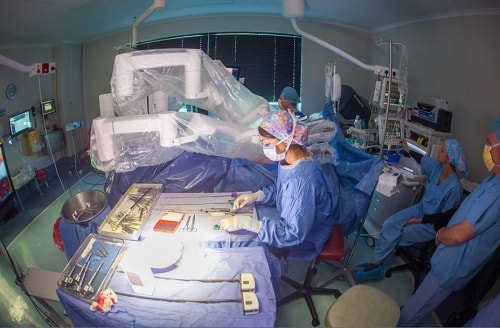 Robotic-assisted surgery is one area that is already benefitting from these advancements and will continue to grow. Benefits of robotic-assisted surgery are significant for patients and include a reduced need for blood transfusion, less post-operative pain, less risk of wound infection, a shorter hospital stay and faster recovery. "Seventy-five percent of my patients will go home the day after a robotic prostatectomy" says Dr. Moolman.
"Life Healthcare is proud to make this first investment into robotics, which aligns with our strategy to invest in appropriate and proven technologies, remain technologically relevant and drive clinical quality and improved outcomes for our patients," says Adam Pyle, Life Healthcare South Africa CEO. "Life Healthcare strives to deliver market-leading quality care across our service offerings and one of the ways this can be done is through the use of technology."
About Dr Conray Moolman:
Dr Conray Moolman is a Urologist at Life Kingsbury Hospital having obtained his undergraduate medical degree (MBChB) at the University of Free State in December 2000. He then worked in the UK and in 2010 completed his Urology training (FC.Urol) at Groote Schuur Hospital, University of Cape Town. In 2011 he also completed his Master's degree (MMed) at UCT. Dr Moolman is an experienced fully qualified da Vinci Robotic Surgeon having received his training in Belgium and performs robotic nerve sparing prostatectomies for the management of prostate cancer and partial nephrectomies for kidney cancer.
About Life Kingsbury Hospital:
The hospital has 227 beds, 12 theatres, an accident and emergency unit with a doctor on duty 24/7, as well as the state-of-the-art diagnostic and monitoring equipment. There is a dedicated team of first-class health professionals at this hospital dedicated to delivering a special brand of healthcare to patients. Through their ongoing quality training, hospital employees are able to deliver excellent healthcare and embrace the principles of empathy, ethics, excellence and empowerment.