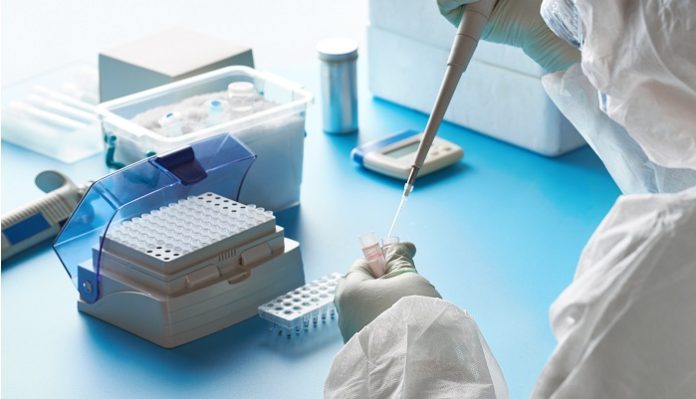 Roche announced the launch of its Elecsys® Anti-SARS-CoV-2 S antibody test for markets accepting the CE Mark. Roche has filed for Emergency Use Authorisation (EUA) from the U.S. Food and Drug Administration (FDA).

The Elecsys Anti-SARS-CoV-2 serology test can be used to quantitatively measure antibodies in people who have been exposed to the Severe Acute Respiratory Syndrome Coronavirus 2 (SARS-CoV-2) and can play an important part in characterising a vaccine-induced immune response.
Specifically, the test targets antibodies which are directed against the particular region of the viral spike protein responsible for binding to the host cell receptor, which is required for the virus to enter the host cell. The majority of current candidate vaccines aim to induce an antibody response against the spike protein.
"As the possibility of an effective SARS-CoV-2 vaccine becomes a reality, quantitative measurement of antibodies will be crucial in the evaluation of any potential vaccine. The new quantitative Elecsys antibody test can play a pivotal role in vaccine clinical trials as well as helping clinicians assess patients immune response.This will be instrumental in protecting people most vulnerable to the virus, as well as in overcoming COVID-19 for society in general." said Thomas Schinecker, CEO Roche Diagnostics. "This new test, the twelfth in the Roche SARS-CoV-2 testing portfolio, is another essential addition to support healthcare systems and patients as we jointly fight COVID-19."
Before a vaccine is administered it is important to know the starting level of antibodies a person has, in order to evaluate any change in antibody levels that the vaccine induces, especially the development of antibodies directed against the SARS-CoV-2 spike protein. These antibodies have been shown to have potent antiviral activity and correlate to potential immunity.2 Measuring antibody levels could also be vital in establishing vaccine efficacy in the prevention of infection and/or the development of severe COVID-19.1
Alongside its importance to vaccine design and efficacy evaluations, the Elecsys Anti-SARS-CoV-2 S serology test can be used to determine antibody levels in plasmapheresis donations. Performing a combination of the Elecsys Anti-SARS-CoV-2 S and Elecsys Anti-SARS-CoV-2 tests can also help to more effectively define what percentage of a given population has developed antibodies (seroprevalence) against SARS-COV-2, especially in low to moderate seroprevalence settings.3 Knowing a given population's seroprevalence is important in understanding how to contain the spread of the virus, as well as how to safely ease lockdown restrictions.
The test is the latest addition to the comprehensive Roche diagnostic portfolio to help healthcare systems combat COVID-19 through testing in the laboratory and at the point of care. Currently, this portfolio includes molecular, serology and digital solutions which help diagnose and manage COVID-19 during the initial stages of infection, during the recovery phase, as well as following the resolution of infection.
About SARS-CoV-2
Coronaviruses (CoV) are a large family of viruses that cause illness ranging from the common cold to more severe diseases such as Middle East Respiratory Syndrome (MERS-CoV) and Severe Acute Respiratory Syndrome (SARS-CoV). The novel coronavirus (SARS-CoV-2) is a new strain which has not previously been identified in humans.
Signs of infection include respiratory symptoms such as cough, shortness of breath, difficulty breathing, and fever. In more severe cases, pneumonia, severe acute respiratory syndrome, kidney failure and death can occur.
About Roche
Roche is a global pioneer in pharmaceuticals and diagnostics focused on advancing science to improve people's lives. The combined strengths of pharmaceuticals and diagnostics under one roof have made Roche the leader in personalised healthcare – a strategy that aims to fit the right treatment to each patient in the best way possible.
Roche is the world's largest biotech company, with truly differentiated medicines in oncology, immunology, infectious diseases, ophthalmology and diseases of the central nervous system. Roche is also the world leader in in vitro diagnostics and tissue-based cancer diagnostics, and a frontrunner in diabetes management.
Founded in 1896, Roche continues to search for better ways to prevent, diagnose and treat diseases and make a sustainable contribution to society. The company also aims to improve patient access to medical innovations by working with all relevant stakeholders. More than thirty medicines developed by Roche are included in the World Health Organization Model Lists of Essential Medicines, among them life-saving antibiotics, antimalarials and cancer medicines. Moreover, for the eleventh consecutive year, Roche has been recognised as one of the most sustainable companies in the Pharmaceuticals Industry by the Dow Jones Sustainability Indices (DJSI).
The Roche Group, headquartered in Basel, Switzerland, is active in over 100 countries and in 2019 employed about 98,000 people worldwide. In 2019, Roche invested CHF 11.7 billion in R&D and posted sales of CHF 61.5 billion. Genentech, in the United States, is a wholly owned member of the Roche Group. Roche is the majority shareholder in Chugai Pharmaceutical, Japan.