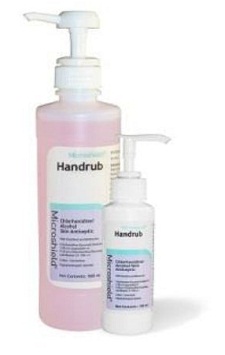 Schulke India Pvt Ltd, 100% subsidiary of the French groupe Air Liquide celebrated today, in the presence of the Ambassador of France in India, H.E. Alexander Ziegler, 25 successful years of Microshield. The company specializes in hygiene and preservation and their mission is to fight disease and contamination before they emerge.
Schulke welcomed Microshield® into its family of infection prevention products in February this year. For more than a century Schülke has been working towards fighting disease and contamination. This association promises to further bring innovation and new products to market and reduce the risk of infection.
"India is a strategic market for Schülke. We will continue to further develop the strong Microshield brand in India and we are committed to add value to our customers, whether it is through products or through services.
We have an excellent team in place. Customers can expect from Schülke innovative Hygiene Solutions from Experts – for Experts!"says Alexander Mueller, General Manager,Asia Pacific
Since India is such an important market for the company, Schulke has also launched a state of the art molecule called Octenidine which is a result of the company'sinvestment & commitment to R&D. Due to its excellent antimicrobial efficacy and tissue compatibility, Octenidine may be used for different topical applications applicationsin the field of infection prevention /product contamination in the form of Drugs, Medical devices & Cosmetic products, where fast action and a long lasting effect are required.
Examples for such applications are the decontamination of skin of patients colonised with MRSA, the treatment of acute and chronic wounds heavily colonised or locally infected by pathogenic bacteria and the care of central venous catheter insertion sites. With octenidine a highly effective and compatible innovative antimicrobial compound for topical use is available.
Schulke currently has some products based on Octenidine available in India like Octenisan Wash Lotion, Octenisan Wash Mitts and Octenidol Mouthwash. The company plans to launch more products in the near future reaching out to more patients.
According to the World Health Organisation, hands are a major source that lead to the spreading of hospital acquired infections and in 2009 the WHO published guidelines on hand hygiene in Health Care. Therefore, a lot of emphasis and awareness has been placed on the importance of proper hand hygiene.
About Schülke India:
Schülke and Mayr GmbH was founded in 1889 by Rudolf Schülke and Julius Mayr. Since 1996, we have been a 100 % subsidiary of the *Air Liquide Group, world leader in gases, technologies and services for industry and health. Our headquarters in Norderstedt near Hamburg are the focal point of all our activities. Here, all of our central divisions work hand in hand: from Research and Development, Management, Production and Marketing, to Sales and Logistics. As one of the market leaders in infection control, we provide major impetus from here: for our continuous global growth and for successful hygiene solutions for our customers. The quality of a whole hygiene chain is equal only to that of each link within that chain. That is why we are uncompromising in our holistic approach. In this way, we create more than economic success: sustained value for the environment and society.
Schülke has been driving its transformation from a tradition-steeped chemical enterprise to a modern partner for the pharmaceutical and chemical industries. With 15 international subsidiaries and a presence in more than 80 countries, the company generates an annual turnover of more than 250 million Euro. Disinfectants, antiseptics, preservatives, biocides, medical skin care products, active ingredients for deodorants and system cleaners form the main focus of the range of products that the company develops and produce.
They have a national presence in all the major cities in India to support Healthcare Professionals in Hospitals and Nursing Homes and offices in Delhi, Mumbai and Chennai".
For more about the history and heritage of the company, you can visit our website: http://www.schuelke.co.in/in-en/
*Air Liquide Healthcare Supplies medical gases, home healthcare services, hygiene products, medical equipment and specialty ingredients.In 2015, it served over 7,500 hospitals and more than 1.3 million patients at home throughout the world. The Group's Healthcare business reached € 2,799 million in revenues in 2015, with the support of its 13,500 employees
About Business France:
Business France is the national agency supporting the international development of the French economy, responsible for fostering export growth by French businesses, as well as promoting and facilitating international investment in France.It promotes France's companies, business image and nationwide attractiveness as an investment location, and also runs the V.I.E international internship program. Business France has 1,500 personnel, both in France and in 70 countries throughout the world, who work with a network of public- and private-sector partners.For further information, please visit: www.businessfrance.fr and youbuyfrance.com.in .
Company contacts:
Mr.Deep Sharma
Managing Director
Schulke India Pvt Ltd
@: Deep.Sharma@schuelke.com
Press contact:
Ms.Purva Marwaha
Business France, French Trade Commission in India
Trade Officer. Tel: 011 4319 6306
@: purva.marwaha@businessfrance.fr