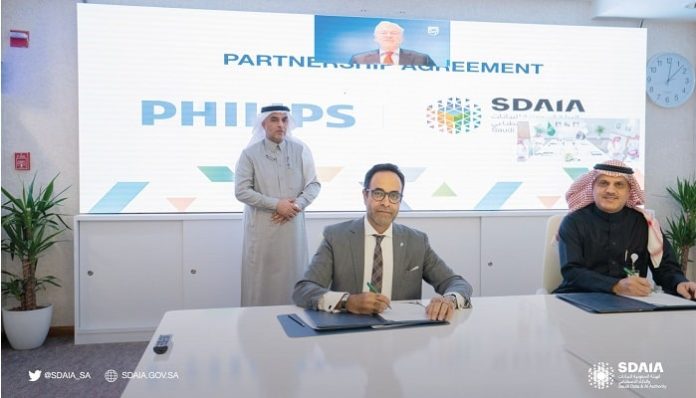 The Saudi Data and Artificial Intelligence Authority (SDAIA) today announced it has partnered with Royal Philips, a global leader in health technology, to further support Saudi Arabia's goal of becoming a leader in driving Artificial Intelligence (AI) in healthcare. The Memorandum of Understanding between Philips and the SDAIA, which underpins the partnership, is in line with the Kingdom's Vision 2030 blueprint for diversifying the economy and enhancing public service sectors, including healthcare, by employing the most advanced technologies available.
The joint effort will create an AI ecosystem that incorporates education, science and technology, supported by knowledge sharing and worldwide collaborations. Philips combines AI with in-depth knowledge of clinical and operational context to develop integrated solutions that improve the performance and productivity of healthcare systems. The collaboration, which includes a scientific exchange program and investment in local training, aims to empower Saudi Arabia's data scientists and healthcare professionals with the latest health technologies, enabling them to pass on the benefits of AI in healthcare to the Kingdom's citizens, making Saudi Arabia one of the world's most technologically advanced countries.
To create an AI ecosystem for the healthcare sector, the collaboration will focus on five key areas:
Philips will help to harness AI capabilities in healthcare on a national scale in support of the Vision 2030 digital transformation goals.
A dedicated AI Knowledge Hub will be established aimed at elevating local talent pool and expertise to develop local AI applications.
Priority introduction of health technology solutions that integrate AI into clinical workflows. Philips IntelliSpace AI Workflow Suite will host and enable the deployment of multiple AI applications on a single platform in healthcare facilities. Philips' IntelliSpace Discovery will facilitate the process of generating new AI applications by supporting data integration, training and deployment in research settings.
Access to a network of key opinion leaders from Philips' top-level partners to facilitate knowledge exchange, best-in-class collaborative research, and support for certification of new AI applications.
Enabling new business opportunities around AI in healthcare that will drive a robust start-up culture.
About Royal Philips
Royal Philips is a leading health technology company focused on improving people's health and enabling better outcomes across the health continuum from healthy living and prevention, to diagnosis, treatment and home care. Philips leverages advanced technology and deep clinical and consumer insights to deliver integrated solutions. Headquartered in the Netherlands, the company is a leader in diagnostic imaging, image-guided therapy, patient monitoring and health informatics, as well as in consumer health and home care. Philips generated 2019 sales of EUR 19.5 billion and employs approximately 81,000 employees with sales and services in more than 100 countries.