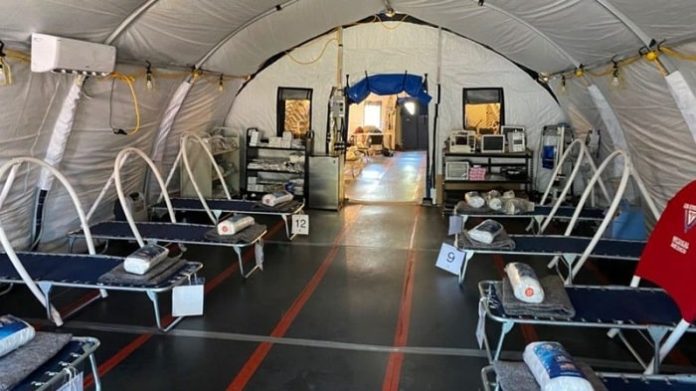 SimpliPhi Power, a leading U.S. manufacturer of safe, cobalt-free lithium ion energy storage systems, has partnered with non-profit Footprint Project to supply and deliver a clean energy microgrid field hospital for the Matamoros migrant camp in Mexico on the U.S. border to power the camp's first mobile medical ICU to treat COVID-19 patients. The camp is comprised of approximately 3,000 asylum seekers living in overcrowded tents with little infrastructure and no access to basic medical care or hygiene, enhancing the threat of COVID-19 contagion.
SimpliPhi's 3.8kWh PHI batteries are part of a containerized mobile solar and energy storage trailer that serves as a primary power source for the ICU.
The 'pop-up' ICU provides 20 beds with both diagnostic and treatment-ready medical equipment with an HVAC system to deliver temperature control for the two-tent clinic.
The renewable energy microgrid is critical given the remote location of the mobile ICU clinic within the migrant camp. Additionally, the microgrid provides critical power with clean air, instead of the toxic fumes from the exhaust generated by diesel or gas generators, which would serve to further exacerbate the respiratory condition of patients already struggling to fight off COVID-19 infections.
The mobile clean energy microgrid also supports significant savings for the Global Response Management (GRM) team, the NGO that is operating the facility and providing free medical care to the migrants. As first responders coordinating care, the solar + PHI storage allows GRM to dedicate its resources to providing critical and quality medical care instead of deferring precious funding to monthly fuel costs averaging $2,000 that would have been necessary if the ICU was powered by a diesel generator.
Footprint Project is also building capacity at the camp by training staff and volunteers on how to operate and maintain the microgrid independently.
"COVID-19 knows no border, affecting all nationalities regardless of whether people live in a permanent dwelling or a tent," said SimpliPhi Power CEO Catherine Von Burg. "Renewable energy microgrids for humanitarian needs like the Matamoros migrant camp can play a critical role during this global pandemic, ensuring reliable, uninterrupted access to clean power, allowing medical teams to focus on treatment and medicine, not purchasing fuel over medical supplies."
"Thank you to the Mexican government for helping us to provide this critical clean-air microgrid and associated medical equipment to the Matamoros migrant camp. We appreciate their support and efforts to ensure asylum seekers have access to medical care to help stop the spread of COVID-19," shared Will Heegaard, founder and director of Footprint Project.
Beyond Matamoros, SimpliPhi Power and its partners are deploying portable and containerized microgrids in the United States and around the world as part of the COVID-19 emergency response to provide clean energy security to hospitals and clinics on the frontlines battling the pandemic.
About SimpliPhi Power
With a mission to create universal access to reliable, safe and affordable energy, SimpliPhi Power designs and manufactures efficient, non-toxic and enduring energy storage and management systems that utilize environmentally benign lithium ferro phosphate (LFP) battery chemistry. Based in Oxnard, California, SimpliPhi combines the non-hazardous LFP energy storage chemistry with its proprietary cell and battery architecture, power electronics, Battery Management System (BMS) and manufacturing processes to create safe, reliable, durable and highly scalable on-demand power solutions for the residential, commercial, military, emergency response and film industries.
About Footprint Project
Footprint Project's mission is to help communities build back greener after environmental disasters. Footprint Project (FP) mobilizes pools of distributed clean energy assets to support disaster first responders and meet emergency power needs. We help relief groups integrate sustainable technologies into their missions through hands-on training, design, and deployment support. In 2019, FP deployed mobile solar stations to 5 environmental disasters, distributed over 1,200 solar panels, donated 2 solar trailers to first responders, and launched our Solar Energy Rapid Response Team (SERRT). Since Jan 2020, we've dispatched ten mobile solar stations to environmental disasters in Puerto Rico and Tennessee, providing direct access to emergency solar recharging for over 12,500 people during grid outages.