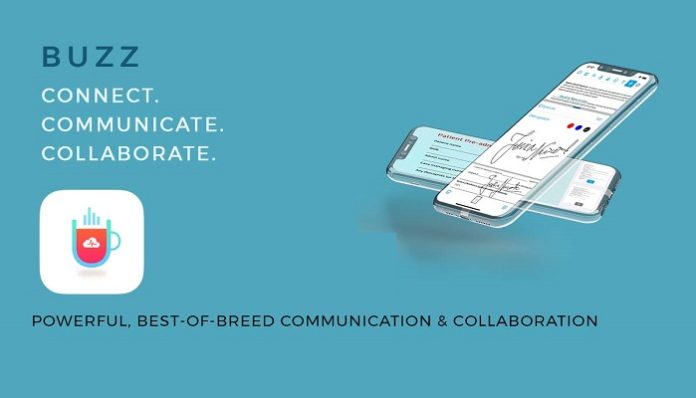 HIPAA-Secure Care Provider Collaboration and Patient Communication Digital Platform Simplifies Care Coordination, Improves Workflows, Reduces Administrative Burden and Improves Business Outcomes for Value-Based Care Providers.
MARLBOROUGH, MA (February 15, 2023)
–
Skyscape
®, the leader in trusted medical information and collaboration software, announces the public launch of
Buzz
®, a secure collaboration and patient communication digital platform that simplifies case management for care providers. The
Buzz
platform offers a cost-effective, customizable suite of tools to improve workflows, reduce administrative burden and improve business and patient outcomes. 
Buzz
seamlessly connects healthcare provider teams across traditionally siloed organizations to streamline scheduling, onboarding, and patient management and supports numerous modalities commonly used for coordination between healthcare professionals.
Buzz
is an
all-in-one, HIPAA-compliant
encrypted communications, collaboration, and information-sharing application that supports chat, instant messaging, texting, dictation, images, bi-directional faxes, audio, video, telephone and video calls, calendar appointments, surveys, integrated sms messages, as well as electronic signature/consent and is compatible with leading Electronic Health Records (EHR) software platforms.
"Today's healthcare organizations must streamline business operations to serve patients better and increase efficiency on the administrative side," said Sandeep Shah, Founder & CEO of

Skyscape

. "Having worked on digital transformation for healthcare providers for over two decades, we were conscious of avoiding the technology fatigue caused by new platforms. We took the novel approach of 'client-sourcing' the innovation and launched Buzz Test Kitchen to demonstrate, validate and augment the platform's capabilities."
As a result,
Buzz
incorporated numerous client-requested enhancements for a highly validated and scalable product launch. "Our approach accelerated the platform's adoption, encouraging a high degree of collaboration between staff, averaging several millions of messages per year between care teams of even small agencies," Shah added. The benefits include avoiding hospital readmissions, staff satisfaction, medication errors, or other miscommunication mishaps.
Buzz
is available on all popular platforms, including iPhone and Android devices. It offers a comprehensive suite of unique workflow features designed in an intuitive and
provider-friendly
format. Healthcare executives and staff have played a role in Buzz's exceptional ability to handle collaboration and continuous case management by combining messaging, virtual phone with caller-ID, fax, SMS, telehealth video, and document collaboration with e-signatures within a single, unified environment.
The Buzz team helps healthcare organizations reimagine their workflows and create a customizable communications experience with easy onboarding and integration into existing infrastructure and EHR systems. 
"The healthcare marketplace needs a tool to help simplify the rapid innovation of the consumer experience," said Kartik Shah, co-founder, and COO of

Skyscape

. "We know our early adopters have saved money and resources through streamlining administrative processes and expediting more efficient communications channels, directly supporting the implementation of value-based care tools." 
Marcus Orlowski, Co-founder and CEO of Higher Standards Home Health, a Medicare-certified group delivering skilled home-based care to the greater Dallas area in Texas, agrees. 
"Since implementing Buzz, our group has grown 58%, and we anticipate our group will grow an additional 71% in the coming year," says Orlowski. "A happy, supportive clinical environment is vital to attracting talent in this industry."