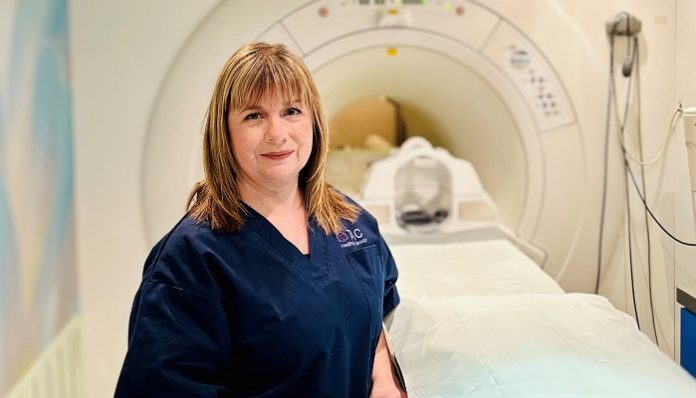 Aberdeen-based TAC Healthcare Group announces today (Thursday 16th February 2023) that it has taken delivery of its first MRI scanner in partnership with InHealth, the UK's largest specialist provider of diagnostic and healthcare solutions.
With demand for MRI increasing year on year, this new service will provide the people of the North East with faster access to imaging, thus allowing them a more rapid return to normality following injury and reducing the stress of waiting a prolonged period of time for diagnosis or with long-standing or acute conditions.
The new MRI scanner is located at TAC's Dyce headquarters on Wellheads Road in Aberdeen and sits alongside its specialist diagnostic endoscopy suite already in place. The scanner adds valuable additional capacity to available imaging services in NE Scotland and is led by TAC's specialist MRI Team.
Speaking of the new MRI scanner, Bev MacLennan, Lead MRI Radiographer at TAC Healthcare Group, says, "Following the pandemic, MRI waiting times have increased significantly across Scotland. By taking delivery of the scanner, we can now offer an alternative location in Aberdeen, at which we can support patients, quickly and effectively."
Bev continues, "We will be a private referral point for medical and surgical consultants, including orthopaedic and neurology specialists working within the private sector, GPs, and advanced practice physiotherapists, as well as our in-house physiotherapy and occupational health teams. Having the technology and specialist teams under one roof at TAC means we can provide a full treatment plan in a fast timeframe from a multidisciplinary team, working across departments to provide new and existing patients with an enhanced patient experience. Our ultrasound department offers a vast range of ultrasounds. Our partnership with InHealth enables us to bring about a comprehensive diagnosis by integrating ultrasound and MRI imaging findings for a comprehensive diagnosis, so that tailored and appropriate treatment pathways, where possible, can be commenced without delay.  This will enhance our multidisciplinary comprehensive sports injury services, from diagnosis to treatment plans, which can include ultrasound-guided joint injections or monitoring of a healing process utilising our available imaging services."
Bev concludes, "Ultrasound is utilised in diagnosing pathology within gynaecological and abdominal organs, and musculoskeletal, vascular and superficial structures. It is also frequently used in the fertility process, including those undertaking IVF or pharmacological induced cycles. And as everyone classically thinks of ultrasound, we also support antenatal care, providing supplementary obstetric medical ultrasounds."
Jenni Butler, Lead Physiotherapist at TAC Healthcare Group, says, "Taking delivery of the MRI scanner also allows us to expand our relationships with sporting teams and gives fast access imaging for local athletes. From sports professionals to weekend warriors, we can now offer patients rapid appointments following a healthcare professional's referral. Having the MRI scanner on-site allows us to expand the current physiotherapy department, giving fast access imaging for individuals and local sporting teams."
Ken Park, Clinical Director at TAC Healthcare Group, says, "Taking delivery of our first MRI scanner not only develops our range of services at TAC but also provides consultants, specialists, GPs, and advanced practice physiotherapists, with alternative options for their patient care. As many will have seen in recent news, there is an urgent need to have alternative scanning options in place outside of the NHS to support the ongoing strain on the NHS and to provide a more rapid service to patients. The team at TAC continue to work together with a common aim of providing excellence in healthcare."