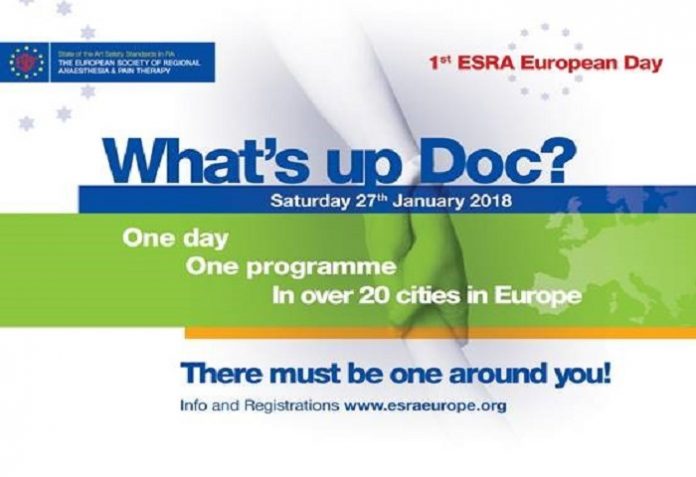 Saturday the 27th of January 2018 marks the first ESRA European Day of Regional Anaesthesia, delivered simultaneously in over 20 training hubs across the continent.

FUJIFILM SonoSite is delighted to be backing this new initiative by providing point-of-care ultrasound devices to many of the workshops.
Dr. Jonathan Womack, an anesthetic consultant at the Royal Victoria Infirmary (RVI), Newcastle, and one of the event organizers, said: "This is the first time we've put together something this big; the programme is the same across all the sites and the varied content will have broad appeal. We've been able to secure a number of expert speakers – including Dr. Nat Haslam, Honorary Secretary of RA-UK – and we've limited numbers to 30 delegates per site to foster a hands-on, workshop atmosphere and deliver the best experience."
The day-long programme offers a range of lectures, live demos and workshops, covering everything from ultrasound for obstetric anesthesia to novel abdominal wall blocks. Jonathan continued: "The morning sessions are fairly open ended, allowing each city to tailor the live demos around the interests of the delegates and – thanks to social media – respond to questions and participate in the conversations taking place at the other sites. I've run training courses with SonoSite in the past and it's great to have access to the company's devices during the afternoon workshops. They really are the best systems for ultrasound-guided regional anesthesia.
For more information about FUJIFILM SonoSite products, please contact:
FUJIFILM SonoSite Ltd
T +44 (0)1462 341151,
ukresponse@sonosite.com
www.sonosite.com/uk
About FUJIFILM SonoSite
SonoSite helped pioneer the concept of portable, point-of-care ultrasound, and it continues to be a world-leading manufacturer and innovator of bedside ultrasound systems as well as an industry leader in ultra-high frequency micro-ultrasound technology. Headquartered near Seattle, the company is represented by 26 subsidiaries and a global distribution network in over 100 countries. SonoSite's portable, compact systems are expanding the use of ultrasound across the clinical spectrum by cost-effectively bringing high-performance ultrasound to the point of patient care. For more information, go to: www.sonosite.com
FUJIFILM SonoSite, Ltd., a wholly owned subsidiary of FUJIFILM SonoSite, Inc. oversees a direct sales distribution network in the UK and provides sales and marketing support.
FUJIFILM Holdings Corporation, Tokyo, Japan, brings continuous innovation and leading-edge products to a broad spectrum of industries, including electronic imaging, digital printing equipment, medical systems, life sciences, graphic arts, flat panel display materials, and office products, based on a vast portfolio of digital, optical, fine chemical and thin film coating technologies. Fujifilm is committed to environmental stewardship and good corporate citizenship. For more information, please visit www.fujifilmholdings.com
Editorial contact for further information or follow-up
Sarah Ballard at kdm communications limited, St Neots, UK
Tel. +44 (0) 1480 405333
email ideas@kdm-communications.com
kdm communications limited
Yew Tree House, Ground Floor,
10 Church Street, St Neots, PE19 2BU
Tel +44.1480.405333
Skype kdm.communications.ltd