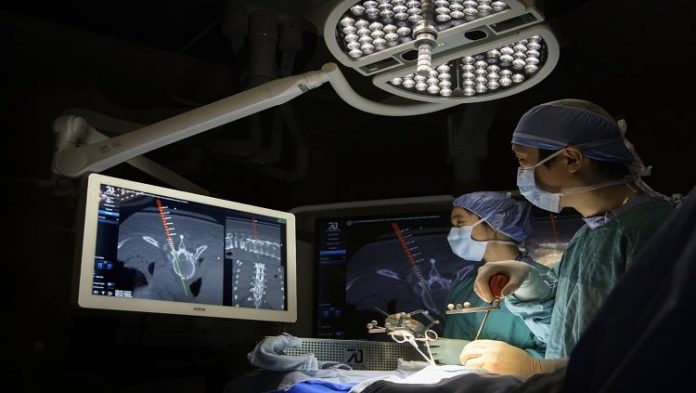 7D Surgical, developer of ground breaking surgical navigation technologies, announced that Spartan Medical has purchased the 7D Surgical System to support its strategic sales plan in Maryland, Washington D.C. and Virginia.
7D Surgical has entered into an exclusive sales representative agreement with Spartan Medical for many of the premier medical facilities within those markets.
"Our new partnership with Spartan Medical is another important step in our rapid growth strategy in North America," said Beau Standish, Chief Executive Officer of 7D Surgical. "Their expertise and unique relationships with federal facilities will be critical in bringing the most advanced machine-vision based navigation technologies to DoD spine surgeons and the U.S. military personnel and veterans they serve."
The 7D Surgical System is the first and only Machine-Vision Image Guided Surgery (MvIGS) platform. For the first-time spine surgery patients can be automatically registered using only visible light in just seconds with 7D Surgical's Flash™ Registration technology. Unlike time-consuming conventional image guided surgery (IGS) systems that depend on intraoperative radiation, this new MvIGS platform can achieve an incredibly fast surgical workflow for spine procedures. Continuing to leverage the capabilities of machine-vision, 7D Surgical's soon to be released Flash™ Fix technology can also update and correct the registration at any time during the procedure in just seconds.
"To me, this is similar to the invention of the X-ray," said Vince Proffitt, President of Spartan Medical. "Those of us that have been in surgeries supporting our implants know the real challenges of accurate and reproducible imaging and navigation. We know how dependent the surgery may be on the equipment technicians' skills and training, and we also know the incredible risks of daily radiation. The 7D Surgical System eliminates these critical concerns and creates a surgeon controlled, real-time, radiation-free, simple and accurate imaging and navigation system…truly a technological marvel!"
About 7D Surgical
7D Surgical is a privately-owned Toronto based company that develops advanced optical technologies and machine vision-based registration algorithms to improve surgical workflow and patient care. 7D Surgical's flagship FDA 510(k)-cleared and Health Canada-approved MvIGS system delivers profound improvement to surgical workflows in spine surgery, providing the promise of similar future advancements in other surgical specialties. www.7Dsurgical.com
About Spartan Medical
Spartan Medical Inc. was founded in 2008 by a former Air Force Intelligence Officer to provide an extensive armamentarium of advanced medical devices and technologies focused on the needs of the VA and DoD surgeon. Spartan Medical is considered a top priority vendor in the VA as a certified Service-Disabled Veteran-Owned Small Business (SDVOSB), and has secured multi-year Blanket Purchase Agreements at 30 major military treatment facilities. With a core staff possessing over 200 years of combined expertise and experience in the field, and numerous highly trained and skilled consultants across the nation, Spartan Medical assures no single points of failure. Consistent with its mission to provide the best products and services to our nation's wounded warriors and veterans, Spartan Medical has recently collaborated with 7D Surgical to provide the most innovative, state-of-the-art, image-guided spinal navigation system – with zero radiation – to meet the incredible need to improve implant placement accuracy in real-time while eliminating radiation in the operating room.
Contact:
Beau Standish, CEO
7D Surgical
+1 647 484-0078
www.7Dsurgical.com
Vince Proffitt, President
Spartan Medical Inc.
+1 888 240 -8091
www.spartanmedspine.com