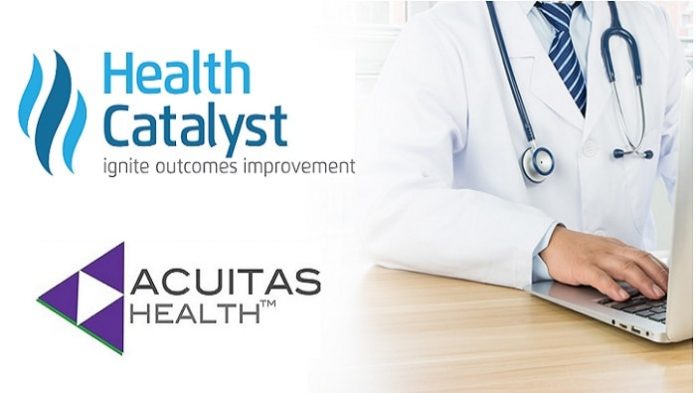 With physicians under increasing cost pressure from commercial health insurers and government payers, Acuitas Health, LLC announced it will provide physician groups in New York's Capital Region with technology from Health Catalyst that is used by the nation's largest health systems to lower costs while improving quality.

Acuitas Health, formed of a partnership between CapitalCare Medical Group and Capital District Physicians' Health Plan, Inc., provides expertise, technology and resources in practice intelligence, care management and advanced analytics to support physicians in transitioning to value based health care. The agreement with Health Catalyst will enable Acuitas Health's physician clients in the Capital Region to more easily and quickly discover, manage and engage in health outcomes focused initiatives, and to "sprint to value."
"The biggest challenge in value based health care, population health and care management is identifying the right patients and engaging them so that the resources invested achieve the greatest improvement in outcomes,'" said Brian Morrissey, President of the Board of Managers for Acuitas Health. "That's why we're excited to augment our technology and expertise with Health Catalyst's proven data analytics and care management solutions. This positions Acuitas Health to significantly streamline and accelerate the population health management and value based capabilities of Capital Region physicians." The Acuitas Health solution combines years of value based health care expertise and proven processes, powered by market-leading Health Catalyst technology. "We couldn't be more energized to bring the best to physicians and other providers of care, and the entire Capital Region," said Joan Hayner, Secretary and Treasurer of the Board of Managers for Acuitas Health. "We are now well positioned to take our years of population health experience to the next level of clinical and financial outcomes."
Acuitas Health's agreement with Health Catalyst gives the area's physicians access to the health care industry's first end-to-end value based health care solution, supported by a proven data warehousing, analytics and decision support platform. As part of the platform, Acuitas Health customers will be enabled by the Health Catalyst Care Management Suite™ which synthesizes advanced analytics and concepts from Customer Relationship Management and social networking to automate the five key elements of care management:
Integrating data from up to 150 different IT systems including multiple practice
management systems, and acute and ambulatory electronic health records
Stratifying and enrolling patients
Coordinating patient care across multiple settings
Engaging patients in their own care including creating a social support network
Measuring the program's performance
A Full-Spectrum Solution for Care Management
To empower the care management process, physicians and care team members need access to data from multiple EHRs and other IT systems that span the continuum from doctor's offices, hospitals, clinics, pharmacies, payers and patients themselves. Acuitas Health will deploy the Health Catalyst Data Warehousing and Analytics Platform™ to integrate, analyze and make this data available to the right care team members at the right time within the Health Catalyst Care Management Suite™.
Among the most important innovations within the Health Catalyst Care Management Suite is the Patient Impact Predictor™, a unique process and technology that dynamically generates portfolios of patients, prioritized by actionable suggestions for risk intervention.
The Patient Impact Predictor dynamically generates portfolios of patients, prioritized by actionable suggestions for risk intervention. The solution takes stratification to the next level with advanced client-configurable algorithms and variable weighting that analyze not only claims and EHR data together, but also socio-economic determinants, high-risk medication utilization, acuity of conditions, high-utilization predicted, HCC scores, and the ability to develop trusted risk models. This innovative approach uses sophisticated analytics to be able to reveal additional, normally hidden, subsets of patients who might benefit from care management, or other health interventions more than some of the traditionally selected high-risk or rising-risk patients.
About Acuitas Health, LLC
Acuitas Health is an outcomes driven organization that empowers physicians to make the transition to a value based care delivery system. The company supports practices by preparing them to engage in value-based payment arrangements. Acuitas Health also provides the necessary expertise and resources in practice intelligence, care management and advanced analytics to successfully deliver high-value health care. For more information about Acuitas Health, visit www.acuitashealth.com .
About Health Catalyst
Health Catalyst is a next-generation data, analytics, and decision-support company committed to being a catalyst for massive, sustained improvements in health care outcomes. We are the leaders in a new era of advanced predictive analytics for population health and value-based care with a suite of machine learning-driven solutions, decades of outcomes-improvement expertise, and an unparalleled ability to integrate data from across the healthcare ecosystem. Our proven data warehousing and analytics platform helps improve quality, add efficiency and lower costs in support of more than 85 million patients for organizations ranging from the largest US health system to forward-thinking physician practices. Health Catalyst's technology and professional services help to keep patients engaged and healthy in their homes and workplaces, and to optimize their care when it becomes necessary. We are grateful to be recognized by Fortune, Gallup, Glassdoor, Modern Healthcare and a host of others as a "Best Place to Work" in technology and healthcare. Visit www.healthcatalyst.com.
Media Contacts:
Keegan Bailey
Acuitas Health
keegan@acuitashealth.com
Todd Stein
Amendola Communications
916-346-4213
tstein@acmarketingpr.com