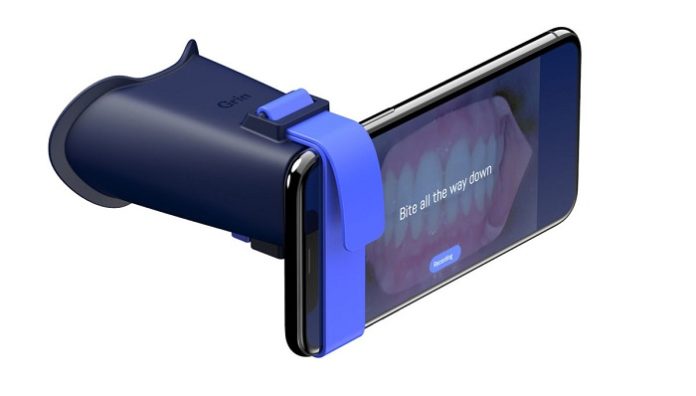 Grin, a comprehensive digital orthodontic platform that provides remote monitoring solutions in partnership with trusted local specialists, announced a strategic collaboration with the 3M Oral Care Solutions Division to enable orthodontists to monitor patient oral health from anywhere. The Grin experience consists of the Grin App and Grin Scope, which is an FDA listed medical device. Together, under the supervision of partner orthodontists, Grin will provide a suite of capabilities including the Grin Remote Monitoring Platform for teeth straightening.
The Oral Care Solutions Division of 3M, a leading manufacturer of innovative dental products, is the first nationwide distributor for thousands of Grin Scopes. The collaboration includes a COVID-19 initiative, where 3M will distribute complimentary Grin systems to assist orthodontists across the United States in need of remote monitoring solutions during the pandemic.
The Grin Scope is an orthodontist created, proprietary device that serves as an intraoral adapter. It is designed to retract the cheeks in order to allow a full view of a patient's mouth. After easily affixing the Grin Scope to any smartphone, patients self-scan their teeth using the guided Grin App experience to achieve an orthodontist-ready video. Once scanned, specialists assess a patient's teeth straightening progress via their Grin online doctor portal. This virtual access makes following patient progress seamless, while ensuring the highest level of care from a distance. Practitioners can now reduce in-person office visit frequency and adhere to COVID-19 social distancing recommendations, all while maintaining treatment schedules and best in class observational care.
"Grin gives patients maximum convenience and cost-effective remote monitoring solutions that keep orthodontists in the care loop," said Grin CEO Adam Schulhof, DMD. "Last year, my team started creating the Grin experience and I first beta tested the platform in my own practice. When COVID-19 began to spread, Grin dramatically helped me to continue responsible patient treatment from anywhere. We're thrilled to be collaborating with 3M to get our cutting-edge technology into as many orthodontist hands as possible."
"With coronavirus, we recognize the need for our orthodontic practices to connect with patients remotely," said Jay Issa, Orthodontic Global Business Director, 3M. "The Grin platform will fulfill this need for 3M on a trial basis, helping provide orthodontists with a valuable tool to monitor patient progress."
About Grin
Grin is a comprehensive digital platform that provides orthodontic solutions for all types of teeth straightening needs. The Grin App and Grin Scope connect patients to real orthodontists in their community. Patients can access quality professional care from the convenience of their smart device. Doctors can remotely monitor patients via virtual check-ins for complete visibility—reducing chair time, increasing patient volume, and ensuring safety.