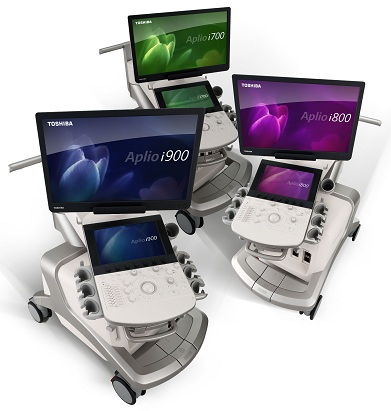 Radiologists can now enjoy the crystal-clear images they need for fast and reliable musculoskeletal (MSK) diagnoses with Toshiba Medical's premium AplioTM i-series ultrasound platform. The Aplio i-series' powerful performance expands the utility of ultrasound for MSK imaging with enhanced resolution and penetration, and innovative tools to enhance clinical workflow.
Offering healthcare providers a more cost-effective, less invasive and safer solution than traditional imaging modalities, the Aplio i-series is a highly advanced and scalable ultrasound solution made up of the Aplio i700, Aplio i800 and Aplio i900. The systems include iPerformance technologies that deliver extreme processing power and allow healthcare providers to see more. A new beam-forming technology, iBeam, optimizes efficiency of the beam, increasing penetration for shoulder and deep muscle imaging, while maintaining outstanding spatial and contrast resolution, and at the same time reducing artifacts and clutter.
The i800 offers advanced clinical applications and matrix transducers, including an ultra-high frequency transducer (24 MHz) that makes it easier for clinicians to image superficial MSK structures and also expand the utility of diagnostic ultrasound in a variety of clinical situations.
The Aplio i-series' innovative iSense design provides intuitive ergonomics to boost productivity for both daily routine and complex exams. The systems offer an image-guided user interface, which visually guides the clinician through the exam to simplify system operation and help improve efficiency. To make ultrasound exams faster, the systems feature touch control screens and real-time Quick Scan, which makes automatic image adjustments without pushing a button.
"With the Aplio i-series, our customers have access to the high-quality imaging they rely on for confident diagnoses without sacrificing clinical efficiency or patient safety," said Dan Skyba, director, Ultrasound Business Unit, Toshiba America Medical Systems, Inc. "By combining excellent image quality with brand new controls and ergonomic features in a real-time workflow, the Aplio i-series systems make ultrasound the go-to solution for musculoskeletal imaging, as well as for a wider array of imaging needs."
Toshiba Medical is showcasing the Aplio i-series at this year's Society of Skeletal Radiology (SSR) 2017 annual meeting in Santa Barbara, Calif., March 19 – 22, 2017.
About Toshiba America Medical Systems, Inc.
Toshiba America Medical Systems, a Canon Group company headquartered in Tustin, Calif., markets, sells, distributes and services radiology and cardiovascular systems, including CT, MR, ultrasound, X-ray and interventional X-ray equipment. For more information, visit Toshiba Medical's website at www.medical.toshiba.com .
About Toshiba Medical
Toshiba Medical offers a full range of diagnostic medical imaging solutions including Ultrasound, CT, X-Ray, and MR, across the globe. As of December 2016, Toshiba Medical became a member of the Canon Group. In line with our continued Made for Life philosophy, patients are at the heart of everything we do. Our mission is to provide medical professionals with solutions that support their efforts in contributing to the health and wellbeing of patients worldwide so that together our industry-leading solutions deliver an enriched quality of life.