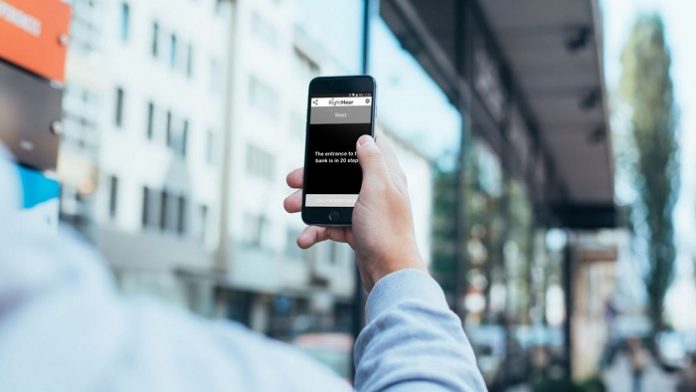 RightHear, developer of an innovative solution for accessibility and orientation of blind and visually impaired persons, announced a dedicated version of the system for hospitals and clinics, making them accessible to people with sight impairments and allowing them to orient themselves independently inside the hospital/clinic. The announcement follows a successful implementation in four Israeli hospitals: Assuta Ramat HaHayal, Assuta Ashdod, Herzliya Medical Center and HaEmek Medical Center.
RightHear addresses the accessibility, orientation and navigation needs of blind and visually impaired persons (as well as orientation challenged individuals), providing them with real-time audio descriptions, through their own smartphone, about their precise indoor location, directing them and narrating their surroundings. The voice notifications are based on information received from Bluetooth beacons (sensors) located in the area. The sensors are installed by the on-site staff, by simply attaching them to the wall with a sticker.
The hospital/clinic dedicated solution implements lessons learned at the Israeli hospitals that deployed the system. Lessons learned include location of the sensors and scripts of various instructions given to the blind/visually impaired persons, directing them during their visit to the hospital or clinic, or even hospitalization.
The smartphone app alerts users whenever they are near a RightHear-enabled hospital/clinic and picks up the signals automatically from the beacons. When the user approaches the hospital/clinic, she/he is told where the entrance is, and is directed by audio descriptions to the various departments, outpatient clinics, elevators, counters, etc. The user is alerted when he/she reaches the desired department and floor, and then, inside the department, he/she is directed to the various counters and rooms.
In addition, the system includes an administrator dashboard, allowing the staff to program and control the system optimally, according to the needs of blind and visually impaired visitors.
"Blind and visually impaired persons come to hospitals and clinics both as patients and as visitors. Today, they usually need guidance to orient themselves in the vast space of hospitals or large clinics. RightHear's system allows them to move and orient themselves independently," said Idan Meir, RightHear's CEO. "Hospital/clinic managers can set the administrator dashboard to a maximum level of detail in every department and corridor."
The RightHear system is suitable for any type of building, including complex buildings (interconnected buildings) like malls, corporations, universities, hospitals, municipalities, airports, museums, supermarkets, hotels, restaurants, QSRs and more.