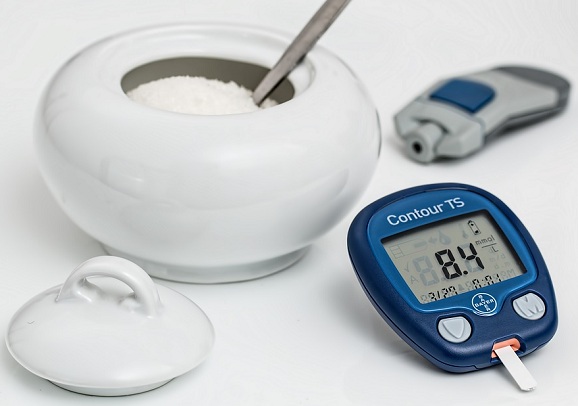 An analysis of over 100659 samples tested on Indians for Fasting Blood Glucose* at Metropolis Healthcare Ltd, a leading chain of multi-national diagnostics, resulted worrying figure of 21% diagnosed as Diabetic and 20% Pre Diabetic.
Mumbai, November 10, 2016: Diabetes is fast gaining the status of a potential epidemic in India. According to an estimate drawn by the Indian Medical Council of Research in 2014, there are about 77.2 million people in India suffering from pre-diabetes and over 65.1 million diabetes patients. India is second only to China in the number of reported cases of diabetes. By 2030, India is estimated to be the diabetes capital of the world.
The aetiology of diabetes in India is multifactorial and includes genetic factors coupled with environmental influences such as obesity associated with rising steady urban migration and lifestyle changes. An upsurge in number of early-onset diabetes cases is also responsible for the development of various diabetic complication
due to longer disease duration. Despite increasing awareness of diabetes and its life-altering complications, very few people undergo regular screening tests proactively to prevent disease.
In an analysis of over 100659 samples tested for Fasting Blood Glucose* at Metropolis Healthcare Ltd, a leading chain of multi-national diagnostics, the following are the findings.

 Out of the 100,659 samples processed between the age group 20 to 80years, over 21520 samples were found to be positive for Diabetic Mellitus
and over 20180 samples were found to be in a pre-diabetic condition which constitutes high risk group for developing diabetes.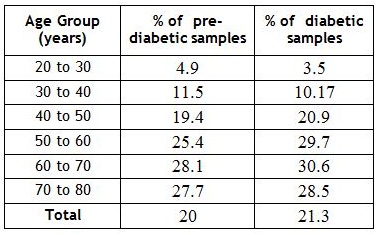 In a % analysis of overall samples, we observed an increasing trend with progression in age. 21.3% are found positive for Diabetic Mellitus , whereas 20% have Pre-diabetes conditions.

17.9% of females were found to be pre-diabetic and 17.8% were found to be diabetic
Over 22% of the samples in males were found to be pre-diabetic and another 25% were diabetic which brings to a conclusion that 1 in 2 males are either pre-diabetic or are suffering from diabetes
Out of the 100659 samples, the following are the gender wise findings.

American Diabetes Association, 2015, recommends Fasting plasma glucose levels below 100 mg/ dl. A pre-diabetic (Increased risk for Diabetes) condition measures 100 – 125 mg/dl and values above >= 126 mg/dl is diagnostic of Diabetes.
Commenting on the study, Dr. Deepak Sanghavi, Deputy Chief of Lab, Metropolis Healthcare, said, "India is already infamous as the diabetic capital of the world, It is absolutely necessary for people to do intensive lifestyle modifications, especially in the cities & develop healthy diet habits to prevent Diabetes in the population. Screening for diabetes should begin when you hit 30 to prevent disease. Regular walks & exercise for adults; Physical activity / outdoor activities for children should be part of the lifestyle modifications. Timely health checks & regular blood glucose monitoring is essential for Glycemic control and prevention of Diabetes.
In increasing trend is noticed both in male and females with a progression in age. Males are seen at a marginally higher risk for diabetes from the data analysis.
Diabetes Mellitus is reaching potentially epidemic proportions in India. The level of morbidity and mortality due to diabetes and its potential complications are enormous, and pose significant healthcare burdens on both families and society. Worryingly, diabetes is now being shown to be associated with a spectrum of complications and to be occurring at a relatively younger age within the country.
*Fasting Blood Glucose
Fasting blood glucose is usually the preliminary test to check for pre-diabetes or diabetes. Fasting of 8-12hrs is required for blood glucosetesting. Diabetes is a complex, chronic illness requiring continuous medical care with multifactorial risk-reduction strategies beyond glycemic control. Diabetes is a serious health condition and if left untreated may damage eyes, kidneys, nerves and blood vessels.
About Metropolis Healthcare Ltd
At Metropolis, what we believe is what we say and what we say is what we do. Being empathetic to our customers and being committed to their needs is in our DNA. Metropolis has grown to harness a culture that is open, synergistic, progressive and scientific in nature.
We are the Pathology Specialists delivering over 30 million tests a year, catering to more than 10,000 Laboratories, Hospitals, Nursing homes and 2,00,000 Consultants. With 34 years of experience in delivering accurate reports, Metropolis has earned the reputation of being India's most respected and only multinational chain of diagnostic centers with presence in Sri Lanka, Kenya, Mauritius and Ghana.
Driven to make a difference, our wide network includes 130 state-of-art Laboratories across India with over 1000 collection centers, processing over 4500 varieties of tests and supported by an efficient team of more than 3500 people. Equipped with cutting edge technology, innovative work equipment, expansive logistics network and rigorous processes, Metropolis ensures and delivers precision and accuracy in every single test; each time, every time.
In the last 10 years, Metropolis has expanded into new service lines like Clinical Trials, Hospital Lab Management, Home Health Services, Preventive Health Check-ups and Corporate & Wellness Solutions. Metropolis is at the forefront in adopting cutting edge technologies and services that contribute new revenue streams and has positioned the company on the pedestal it is today.
Today, we are one of the few laboratories that has received the CAP (College of American Pathologists), accreditation, the global gold standard in Laboratory Accreditation. We have also received the NABL Accreditation (National Accreditation Board for testing and Calibration Laboratories). Our unit in South Africa is accredited by SANAS (South African National Accreditation System is the only accreditation body approved by South African Government).
At Metropolis, we believe in unveiling the inner health of individuals and this motto extends to our corporate social responsibility activities as well. Giving back to the society is embedded in the value system of Metropolis and we believe and aim to bring about a positive change in the nation. Metropolis has been at the forefront in conducting impactful camps and driving numerous workshops for different sections of the society for the past 3 decades. We partner with societies, corporates, educational institutions, government bodies, NGOs, wellness foundations and a host of other organisations to make a difference to the lives we touch. Our camps and awareness workshops emphasize on preventive healthcare and early screening of diseases. Some of our most recent associations include Epilepsy Foundation, Hep Free India, Mumbai Traffic Police, Kishori Foundation, Children of Blind School and JeevanJyot Cancer Trust.
Metropolis has been awarded numerous accolades like the 'Best Diagnostic Company of the year' by Modern Medicare in 2006 and 'Best Diagnostic Company of the Year' in 2010 by Frost & Sullivan. Metropolis was also bestowed with 'Best IT Integration in Customer Service Management' at the e-Health World Expo 2011. Metropolis was also honoured with the 'Quality Brand Award' by NEHRDO in 2012. Metropolis won the 'CMO Asia Award' for Best IT practices in Healthcare in 2012. Metropolis recently bagged the 'India's most promising brand award' at Global Indian Excellence Summit 2014 held in London. Metropolis Healthcare is led by Ameera Shah, Managing Director & CEO. An International & National Award winner, she was conferred with 'The Young entrepreneur of the Year Award' by GE in 2006 and 'The Young Achiever of the Year Award' at the CMO Asia Awards in 2011. She was also the recipient of the prestigious 'Young Entrepreneur of the Year Award' in 2011 organised by Entrepreneur India and Bloomberg. She has been honoured with 'Exemplary Women Leadership award' at the World Women Leadership and Congress awards 2014.  Recently she has been chosen as one of the most respected leaders under 40 years by Economic Times & Spencer Stuart (2014). Metropolis recently being awarded "Diagnostic Services Company of the year" at Vccircle Healthcare awards 2015.
For more information:
Hetal Shah Mehta
9820900740
hetal@communicateindia.com
Varan Sehgal
9699191425
varan@communicateindia.com