Boston Scientific Corporation announced the  U.S. and European launch of the Dakota™ Nitinol Stone Retrieval Device with OpenSure™ Handle  at the 34th World Congress of Endourology conference in Cape Town, South Africa. This kidney stone retrieval device is designed to allow physicians to release and capture kidney stones of multiple sizes, from complex stones as large as 10 millimeters to fragments as small as one millimeter.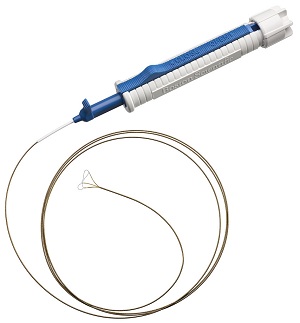 Kidney stones are one of the most common disorders of the urinary tract, affecting one out of every 11 people and resulting in more than a million visits to healthcare providers and 300,000 emergency room visits in the United States each year.1 Treatment options for kidney stones are determined based on the size, location, and composition of the stone, as well as the associated symptoms. Ureteroscopy is the most common procedure to treat large kidney stones, and involves the use of a ureteroscope and basket retrieval device, such as the Dakota Device, to remove kidney stones.
"The Dakota Retrieval Device with OpenSure Handle offers innovative technology that helps me solve some of the challenges faced during ureteroscopy procedures," said Roger Sur, M.D., director, Comprehensive Kidney Stone Center, UC San Diego Health, San Diego, CA. "I can extract a variety of stone sizes and compositions and make multiple passes during one procedure to help patients become stone free."
The Dakota Device design includes multiple features for physicians to address quickly kidney stones with different clinical qualities. The OpenSure Handle is designed to release a large, complex stone which may help reduce procedure time and potentially eliminate complications that can occur during ureteroscopy. Additionally, the nitinol hybrid grasper basket can allow a physician to capture, reposition and remove multiple stones and small fragments in the same procedure. The three-arm nitinol hybrid basket is designed to open and close at full deflection to help physicians reach stones in challenging anatomic locations.
"The Dakota Device with OpenSure Handle is a great complement to our portfolio of stone retrieval devices and builds on other advancements we have made in the field," said David Pierce, senior vice president and president, Urology and Pelvic Health, Boston Scientific. "As a hybrid basket and grasper, it can help streamline the most challenging stone removal procedures and improve patient outcomes."
For more product and important safety information, please visit: www.bostonscientific.com/Dakota
About Boston Scientific
Boston Scientific transforms lives through innovative medical solutions that improve the health of patients around the world. As a global medical technology leader for more than 35 years, we advance science for life by providing a broad range of high performance solutions that address unmet patient needs and reduce the cost of healthcare. For more information, visit www.bostonscientific.com .
Media:
Catherine Brady
508-683-4797
Media Relations
Boston Scientific Corporation
Catherine.Brady@bsci.com
Investors:
Susie Lisa, CFA
508-683-5565 (office)
Investor Relations
Boston Scientific Corporation
mailto:investor_relations@bsci.com