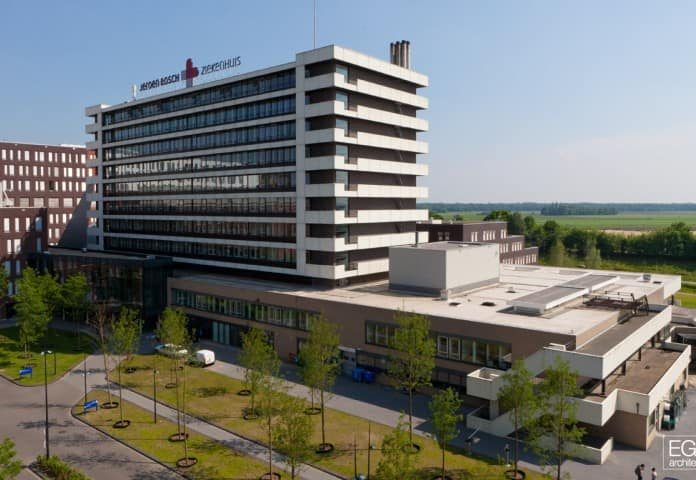 Situation
In 2011, the Jeroen Bosch Hospital (JBH) moved to a new state-of-the-art facility located in 's-Hertogenbosch, the Netherlands. One of the largest nonacademic hospitals in the Netherlands, its specialties include oncology, cardiovascular treatment, and endoscopic surgery. JBH expects to serve approximately 66,000 patients annually.
JBH administrators spent several years planning the new hospital, paying careful attention not only to clinical capabilities but also to the patient environment. The hospital envisioned intelligent systems that would enhance healthcare by helping hospital staff and patients to communicate and share information more efficiently. For example, instead of installing conventional televisions and phones at bedsides, JBH wanted interactive terminals that patients could use for multiple purposes, including Internet access, multimedia entertainment, communication, and meal selection.
JBH also wanted a system that patients and hospital staff could use to collaborate on healthcare. "We see the patient as a partner in our new hospital," says Cor-Jan van der Wal, Director of Services and Facilities at Jeroen Bosch Hospital.
"We want to deliver personalized information to patients at their bedside, so that we can plan treatment together"
In looking for a solution, JBH had multiple requirements,including a touch-screen, single-sign-on access to an Internet protocol (IP) network, meal choice technology, and access to electronic health records (EHR). The system would need to integrate well with the hospital's IT environment and provide a better environment for connecting with healthcare records, specialized applications and emerging  technologies. Equally important, was an interface that would be comfortable and familiar so patients could be an active partner in their treatment.
Solution
After an extensive selection and testing process, JBH chose Patientline, a globally recognized leader in hospital bedside and entertainment products to implement the solution. PL was already working with 50 hospitals in the Netherlands to replace more than 17,000 conventional television and telephony systems with bedside terminals powered by the Windows Embedded Standard 7 operating system, Windows Server, Microsoft SQL Server software, Internet Information Services (IIS), and the Microsoft .NET Framework.
PL chose Microsoft technology for several reasons, including optimal connectivity with multiple systems, better manageability, and superior ease-of-use with a familiar interface. PL also believed it could develop service-oriented applications faster and more affordably in a Windows-based environment than it could with competitors such as Linux. "There are multiple advantages to designing service-oriented applications based on Windows Embedded," says Marco van Kouwen, Product Manager at Patientline. "For example, we can reuse software components, and it's easier to integrate older, existing systems in the hospital with a state-of-the-art hospitality solution."
Dutch partner Patientline used a Microsoft platform for JBH based on Windows Embedded Standard to create an interactive environment with 800 bedside terminals connected to online resources and healthcare records.
"This solution anchored by Windows Embedded is a wonderful combination of a positive business caseand better patient service. Quality healthcare and profitability go hand in hand."
The terminals connect to a nationwide IP network that provides access to the Internet, telephony, healthcare records,hospitality services, and multimedia content. PL centrally manages the terminals from its data center, which helps hospitals control costs and ease administration. "We have built an infrastructure that remotely manages our installations, which are currently used in half of the hospitals in the Netherlands, including JBH." says Knol. "We chose to build this infrastructure with Microsoft technology because of its rich support for multimedia, its stability, and the depth of the partner ecosystem."
The new bedside terminals were installed at more than 800 beds by the time JBH opened in June 2011. The web-based applications accessed from terminals run on IIS servers, and data is maintained in SQL Server. The entire back-end solution runs on Windows Server at the Patientline data center.
While the solution simplifies management, it is equally easy for patients to use. "We wanted a seamless experience from the home to the hospital," says Knol. "When patients use the Internet on our system, it should look like the interface they are using at home."
Media content can be customized to meet the unique demands of each hospital ward. When patients sign on to their terminal, they gain immediate access to television, radio,and other entertainment media. In addition, patients can use the terminals to select meals and call nurses, or connect to the outside world through email and instant messages. Skype functionality is enabled as well.
The platform also gives access to EHR. In the near future, the solution will be able to offer a comprehensive view of the patient's history, from care provided by local practitioners to the most recent treatment at the hospital. And by using a radio frequency identifier (RFID) tag, doctors and nurses can immediately access relevant patient records, including diagnostic images.
Benefits
With interactive bedside terminals based on Windows Embedded, JBH is connecting patients to a healthcare ecosystem and communications environment that extends beyond the hospital. Its partner Patientline has reduced time-to-market and maintenance costs, and the hospital expects to increase revenue and cut operational costs as well. Most importantly, the easy-to-use solution, which is based on the familiar Microsoft interface, empowers patients to collaborate with their care givers.
Empowers patients by connecting them with doctors and hospital
Increases ROI 50 percent with added services and cuts costs
Saves U.S.$100,000 annually per 500 occupied beds
Cuts Patientline time-to-market in half; reduces related IT costs by 40 percent
Transforms Services
At JBH, patients are part of an intelligent system that extends beyond hospital walls. Patients can benefit from a healthcare continuum that includes local doctors, the hospital, and the home. In addition, they have multiple communications tools that help them stay connected to both hospital staff and the outside world. "When you take advantage of an intelligent system powered by Windows Embedded, the physical building isn't as important," says van der Wal. "It's not about the hospital, it's not about a bed; it's about the concept of a partnership with the patient."
Accelerates Time-to-Market and Cuts Maintenance Costs by 40 Percent 
The extensible solution is also easier for Patientline to implement and manage. "The flexibility and security of the Windows Embedded platform played a key role in enabling us to build and then continually manage and upgrade this multifaceted, multimedia solution," says Knol. "Further, we reduced our time-to-market by 50 percent and cut our ongoing IT maintenance costs for the JBH solution by 40 percent."
"There are multiple advantages to designing service-oriented applications based on Windows Embedded. For example, we can reuse software components, and it's easier to integrate older, existing systems in the hospital with a state-of-the-art hospitality solution."
Benefits Increases ROI by 50 Percent
Now, instead of spending time and money designing an in-house solution and maintaining back-end IT infrastructure,the hospital can focus on enhancing an intelligent system by connecting to more applications and services. The hospital also looks forward to increased profitability as well as reduced maintenance costs. "We expect JBH will realize approximately 50 percent return on investment over the next few years by offering additional options through bedside terminals powered by Windows Embedded," says Knol. "For instance, patients could choose to pay for more entertainment features, such as access to special programs or live sports events."
Reduces Costs
The hospital also expects to cut costs by reducing manual processes. "By choosing a Windows Embedded platform,hospitals can automate processes such as data collection, meal-plan selection, and patient communications," says Knol. "As a result, they can save an average of about $100,000 per 500 occupied beds annually."
By using bedside terminals for both healthcare and hospitality capabilities, JBH is improving the well-being of patients while improving its own bottom-line. "This solution anchored by Windows Embedded is a wonderful combination of a positive business case and better patient service," says Peter Langenbach, Chief Financial Officer of Jeroen Bosch Hospital. "Quality healthcare and profitability go hand in hand."
Provides Familiar Environment
JBH reports that patients of all ages work easily with the solution. "We live in a mobile world with online solutions, so using a bedside terminal based on Windows Embedded feels natural to patients," says Corine van Buren, Senior Communications Advisor at Jeroen Bosch Hospital. "They can continue doing what they do at home in the hospital—and  staying connected is also part of the healing environment."
Enhances Patient Health
The hospital believes that collaborative healthcare is more effective. With access to more information and better communication capabilities, patients feel less isolated and more empowered. "With the information available through Patientline terminals running Windows Embedded, patients have more control, and they can also include family and friends in their treatment," says van der Wal. "We believe that the outcome is a healthier patient and fewer visits to the hospital, which is ultimately our goal."
"With the information available through Patientline terminals running Windows Embedded,patients have more control…. We believe that the outcome is a healthier patient, which is ultimately our goal."