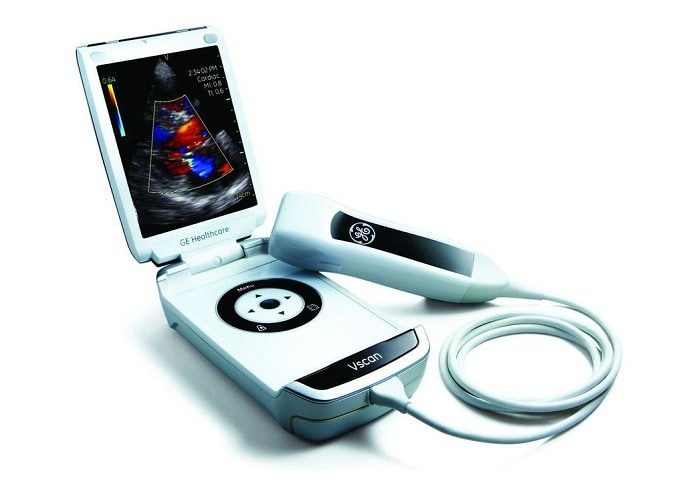 Pocket-size visualisation tool allows doctors to provide immediate bedside assessment and care at Ipswich Hospital which is a 341-bed teaching hospital situated at Ipswich, 40 kilometres west of Brisbane in Queensland, Australia. Ipswich Hospice is a six-bed facility located nearby.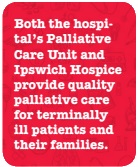 Both the hospital's Palliative Care Unit and Ipswich Hospice provide quality palliative care for terminally ill patients and their families.
The Palliative Care Unit at Ipswich Hospital and Ipswich Hospice manage patients in all phases of their terminal illness including symptom control, ongoing care options and end-of-life care.
Both Ipswich Hospice and hospital's Palliative Care Unit take patient referrals from any public or private hospital in Brisbane. An outreach scheme is also provided whereby healthcare professionals look after terminally ill people in their home.
The healthcare team cares for patients ranging from teenagers to people in their late 90's and who have progressive, generally symptomatic disease, usually related to cancer. Staff have cared for patients with most types of cancer with the most common cases being cancer of the breast, lung, bowel and prostate. More than 80% of cancer cases seen are for advanced malignancy.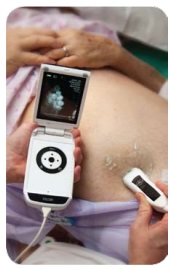 For these patients, the service provides pain relief and all management methods. Complications of a patient's underlying illness can include pleural effusion and ascites. A pleural effusion or collection of fluid in the space between the two linings of the lung, can lead to shortness of breath or difficulty breathing. While the accumulation of fluid in the abdominal cavity or ascites causes abdominal pain, discomfort and bloating. Shortness of breath can also occur if pressure builds on the patient's diaphragm.
To alleviate a patient's discomfort and pain caused by pleural effusion and ascites, medical staff use ultrasound to assess the cavity site prior to fluid drainage. Before the availability of Vscan, patients in the hospice or Palliative Care Unit were transferred to the hospital's X-ray department for formal ultrasound.
Results:
Medical team uses Vscan to undertake an immediate assessment at the bedside, enabling them to operate independently of the X-ray department.
After using Vscan to identify drainage sites for pleural effusion and ascites, only about one in 10 still proceeds to a formal ultrasound.
Vscan is a pocket-size visualisation tool that can be carried by medical staff and used at the point-of-care. Roughly the size of a smart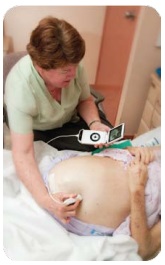 phone, it houses powerful ultrasound technology that can be used in any clinical, hospital or primary care setting. It offers image quality that until recently was only available with a console ultrasound. The Ipswich medical team initially acquired Vscan as part of their plans to expand its Outreach Service so that more people can be treated at home rather than being admitted as a hospital inpatient for acute events. In this way, if the patient can be effectively treated at home or in the hospice, avoiding the time and cost involved in a formal hospital admission, hospital resources are preserved for other cases.
According to Dr Judith McEniery, medical staff use the Vscan to undertake an immediate assessment of patients at the bedside, enabling the palliative care team to operate independently of the X-ray department although on some occasions, the treating physician has made the decision to use both.
I have been able to satisfactorily identify the appropriate drainage site for pleural effusion and ascites in a number of patients on numerous occasions, saving patients from going to the X-ray department. According to our records, only about one in 10 still proceeds to a formal ultrasound, Dr McEniery said.
"I think it is reassuring for patients to know that the doctor can reassess them at the time of the drainage procedure. It's quick and easy and doesn't produce any discomfort for the patient whatsoever," she said.
"I've had some people who wish to see the image of what is causing their pain and their apprehension can be allayed by seeing the fluid inside their chest or abdominal cavity. We can then easily insert a needle and withdraw the fluid.
A condition such as ascites can impact a patient's quality of life. One patient with carcinoma of the breast, also developed metastatic involvement of the lungs and abdomen and over a few months, developed a problem with gross ascites. Prior to the condition developing, she had been able to move around but the large collection of fluid in her abdomen, caused pain and great discomfort and prevented her from getting out of bed.
By using Vscan at the patient's bedside, the procedure was undertaken quickly and easily without the patient having to be moved. After a fluid drainage, the patient was much more comfortable and able to move from bed to chair. She was also able to eat more easily because her abdomen was not so swollen and tense.

By using Vscan, the medical team can visualise what they feel and hear with traditional palpation or auscultation techniques. In addition to assessing fluid drainage sites, the medical team have also used Vscan to elucidate complicated situations such as finding undiagnosed hydro-nephrosis on one patient.
In another instance, the liver metastasis was clearer on the ultrasound than on CT. On other occasions, the medical team have used the Vscan to scan a patient's bladder when a bladder scanner was not available on the ward.
Typically, the medical team have used Vscan to minimise the number of additional procedures required by their patients. These have included chest X-rays for patients with recurrent pleural effusion or the need for a formal ultrasound in the management of ascites. It has become a nice adjuvant to my care, Dr McEniery said.