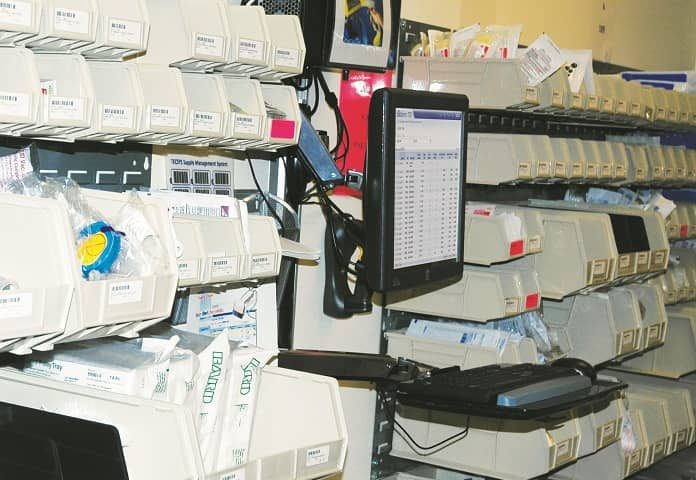 "The SMS tool frees the floor staff to focus on patient care. We no longer have to order products, assign someone to count MedSurg products or call other nursing stations if we run short or need any unstocked product."

Challenges of the Hospital Supply Chain
Supply chains for healthcare are becoming increasingly complex. Every day, these supply chains strive to deliver the right product to the right consumer at the right time. They face daily challenges of volatile customer demand, limited visibility of inventories, diverse patient care processes, and a complex payment structure all spanning geographical dispersed facilities.
In an effort to efficiently manage their supply chain, hospitals in recent years have been aligning themselves with clinics and other providers under a common management infrastructure or IDN (Integrated Delivery Network), intended to facilitate improved efficiency, cost savings and higher quality service to patients.
The new paradigm has presented materials managers with a new set of supply chain challenges. In the past, a hospital that managed its purchasing costs well could operate efficiently. Today, the cost associated with materials management can exceed 35% of a hospital's operating budget, with 20-25% attributable to supply costs alone. Moving products directly from manufacturers to providers; the prospect of disintermediation, is a fast moving trend in the hospital supply chain. It is a self-distribution model that offers important and vital economic benefits to IDNs. For example a mere 3% percent reduction in inventories can equate to at least 1% reduction in total hospital expenses – a substantial benefit that is turning the heads of hospital CFOs.
Supply Chain Challenges at Parkview
A year and a half ago, Parkview was in need, just like most IDNs, for a significant change in its supply chain strategy and infrastructure. Led by Donna Van Vlerah, a 25-year veteran in the government and commercial sector, Woman of the Year and decorated veteran from the Department of Defense, Parkview embarked on a search initiative for a warehouse-centric solution with a clear objective:
"To transform Parkview's supply chain to deliver safe, high-quality, patient-centered service that seamlessly supports clinicians in the direct care of patients."
Some of the many concerns of a hospital supply chain include:
Unofficial or unaccounted for" inventories found throughout hospital floors, representing as much as 50% of total inventories;
Obsolesce of inventory;
Accurate, real-time information systems that can talk to the hospital's financial and clinical systems;
Collaborative, efficient support from nursing and other internal customers; and
Conversion from the traditional "pull" or customer ordering model to a "push" or automated anticipation of customer requirements model.
Hospitals can achieve substantial benefits by not only changing purchasing practices, but also by improving how they manage and support their diverse facilities.
In any given IDN, nurses are the primary frontline caregivers; maximizing their efficiency is critical to a hospital function and to safe patient care. Research has shown that up to 70 percent of nurses spend between 5 to 20 percent or more of their time in each shift searching for patient care supplies. That could represent between thirty minutes to two and a half hours in a 12-hour shift—an alarming number!
Furthermore, today's management of hospital supply chain is starved for accurate and accessible data in real time. Access to the desired business intelligence is seen as the primary barrier to achieve optimum efficiency and quality patient care.
As Donna Van Vlerah, Vice President, Supply Chain, Parkview Health puts it: "What I cannot see, I cannot manage."
Donna Van Vlerah needed to:
Make sure that Parkview's supply chain infrastructure delivers the right supplies at the right place, with little or no intervention by its clinical staff.
Manage inventories across all Parkview's hospitals and clinics at the lowest possible cost and highest possible efficiency.
Enable central control of the purchase, movement and replenishment of supplies into the hospital network.
"I wanted to significantly drive down the level and cost of our inventory and improve support to our clinicians," stated Donna Van Vlerah.
Parkview was using a MMIS system for purchasing and inventory control. The MMIS system fell short of providing proper inventory management, demand forecasting, system-directed functionality for warehouse operations and most importantly, it had no capability to provide visibility for the hospital's inventories across the IDN.
"Traditional practice has hospital staff ordering larger than necessary quantities and stockpiling them on the floor. This results in overstocking, obsolesces and the inability to charge these items to each patient.
Our supply chain staff simply processed requisitions and delivered products. We did not take an aggressive inventory consulting or management role."
Solution
Following research for a warehouse-centric solution for its IDN, Parkview decided in favor of TECSYS because it enabled a comprehensive virtual inventory management solution not only in the warehouse, but also in hospitals and clinics.
Van Vlerah's supply chain strategies included:
Collaboration with suppliers to manage flow of goods and achieve cost reduction for Parkview's supplies.
Deploy Parkview Health's Distribution Center (PDC) enabling centralized purchasing activities, consolidated receiving functions, and enhanced distribution management practices across all of its hospitals and clinics with "Point-of-Use" technology.
Automation and management of inventory at each Point-of-use to support clinical staff's on-going needs and facilitate just-in-time delivery.
Global, real-time visibility across the hospitals' network, including "virtual inventory" for supplies used at clinics and nursing stations, with the ability to see and track what, where and when supplies are available or needed. Parkview CSC – a strategic infrastructure.
Parkview's CSC – a strategic infrastructure
In the Spring of 2011, Parkview deployed TECSYS' CSC (Consolidated Service Center) solution; a warehouse-centric software and business process model specific for IDNs. The solution was coupled with TECSYS' DMS (Distribution Management System) and the newly-released SMS (Supply Management System) for point-of-use. With Parkview being the first end-user customer of SMS, the product, a breakthrough technology for the point-of-use setting, was met with an astounding success, positively impacting the lives of clinicians and nurses alike.
"The SMS tool frees the floor staff to focus on patient care. We no longer have to order products, assign someone to count MedSurg products or call other nursing stations if we run short or need any unstocked product."
Parkview leveraged TECSYS' expertise for the design and configuration of its PDC's warehouse operation that enabled it to go live with confidence, in the least amount of time, and at the same time be able to start reaping the financial and operational benefits sooner.
Parkview's PDC is an internally-owned and managed entity that provides demand planning, purchasing, customer service, inventory management and warehousing/ distribution, and transportation for Parkview's entire health system on a daily basis.
Through its PDC, Parkview directly purchases from manufacturers allowing them to eliminate third-party mark-up fees. In addition, the PDC's ample warehouse capacity permits bulk purchasing discounts and contracting for economies of scale.
Orders [or requisitions] are received electronically at the PDC through TECSYS' SMS on a daily basis from Parkview's point-of-use locations; they are picked, packed in a tote and delivered to each clinic or nursing station the next morning.
"With the TECSYS system, we are now able to have a low unit of measure, which means a lower cost of inventory and lower cost for transportation, while freeing up valuable physical space at the hospital. Most important, we can now see the virtual inventory and appropriately manage that stock," stated Donna Van Vlerah.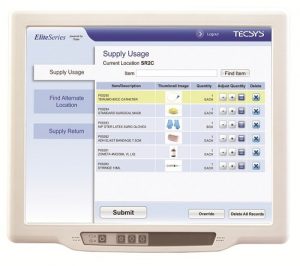 Point-of-Use
Before deploying TECSYS, the supply chain process at Parkview's hospital network point-of-use was not integrated into an automated inventory management system. In many locations, the human step of nurses and clinical staff having to physically go into the hospital's storage area and count everything manually is a very time-consuming and error-prone process. In addition, every item that was used on any given procedure was written off as an expense, accumulating millions of dollars in unclaimed revenue.
Today, the supply chain process is completely automated. Products are captured via barcode and stored in the TECSYS system, enabling Parkview to track usage, re-order to minimums and plan the demand accordingly.
The concept of an inventory store; a walk-in room, with close proximity to point-of-use, that enables clinicians to walk in, pick up what they need, scan it and walk out and is "automatically" refilled with the system is what TECSYS' SMS is all about.
"Now we know where the inventory is, stated Donna Van Vlerah. If a clinician ran out of supplies for some reason, TECSYS' SMS enables nurses to easily look up and cost transfers any item from any location."
TECSYS' SMS, a nurse-friendly supply chain execution solution, immediately responds to the point-of-use challenge. The TECSYS SMS tool offers a variety of checkout methods: wireless RF barcode reader, handheld RF or docking reader, auditory voice feedback or touch screen entry capabilities, all supporting various customer needs and circumstances. TECSYS' SMS enables hospitals and clinics to become significantly more efficient at point-of use, freeing up clinical staff to focus on patient care.
"We just went live on SMS and this system will enable Parkview to capture patient chargeable items. The potential gross revenue for expensed items per year could exceed $17 million. In the past many of these items were simply not captured and shared with the finance area. With TECSYS' SMS we will turn these expenses into revenue," stated Donna Van Vlerah.
Overall Benefits
In about a month from going live, Parkview had already felt the significant benefits of TECSYS' supply chain execution solutions:
With self-distribution, reduced/eliminated distributor fees, minimized distribution cost.
Reduced non-catalog items by 8%.
With SMS:

Reduced manual work by 50%, reassigned manual workers to warehouse operations.
Ability to reclaim over $17 million of uncharged supplies to become billable items.
Incorporated Demand Forecasting to anticipate customer requirements.

The ability to minimize obsolescence with a potential savings of over $8 million per year.
Right sized customer needs with the ability to provide Low Unit of Measure.
"TECSYS' suite of software brings government and commercial best practices to your doorstep. It will revolutionize how business is conducted in the healthcare arena. The Return on Investment is solid. If you are looking for innovation to become a front-runner in the industry, then you should look at TECSYS' portfolio of products. I did look and did not find anyone with the same depth and breadth of a superior Warehouse Management System solution as TECSYS."