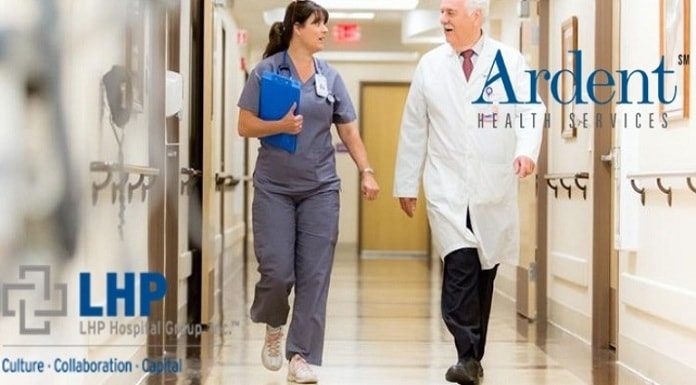 Ardent Health Services announced it has completed the previously announced acquisition of LHP Hospital Group, Inc. ("LHP").
The Company is now the second largest private, for-profit hospital operator in the U.S. with 19 hospitals in six states and $3 billion in revenues. Terms of the transaction were not disclosed.
"Today marks the beginning of an exciting new chapter for our company," said David T. Vandewater, president and CEO of Ardent Health Services. "With a shared focus on local partnerships and collaboration, and the additional scale and market persity we gain through this merger, Ardent is well positioned to compete in a rapidly changing healthcare environment. We are pleased to welcome our new employees, physicians and partners and look forward to working together to continue investing in the communities we serve."
Ardent will continue LHP's emphasis on joint venture partnerships with top-tier, not-for-profit and academic health systems, and the Company has assumed LHP's management and operational responsibilities within each of its existing partnerships.
Former LHP Interim CEO Paul Kappelman has been appointed executive vice president and chief operating officer for Ardent. Kappelman will oversee day-to-day operations of the hospitals, clinics and business units within each of the company's markets, as well as Ardent's quality, financial operations and physician recruitment efforts.
About Ardent Health Services
Ardent Health Services invests in people, technology, facilities and communities, producing high-quality care and extraordinary results. Based in Nashville, Tennessee, Ardent's subsidiaries own and operate 19 hospitals in six states with 18,000 employees including 500 employed physicians. Ardent facilities exceed national averages in Overall Hospital Quality Star Rating as ranked by the Centers for Medicare & Medicaid Services; 87 percent of its hospitals received a three-star rating or above in comparison with 78 percent of all hospitals ranked. Five of the company's hospitals were recognized by Modern Healthcare as "Best Places to Work" in 2016 – more than any other system in the country.
Ardent operations are owned by an affiliate of Equity Group Investments (EGI), a Chicago-based private investment firm; Ventas, Inc., a leading real estate investment trust; and members of Ardent's executive management team. For more information, visit www.ardenthealth.com.
Contact:
Tyra Palmer
Ardent Health Services
(615) 296-3146
tpalmer@ardenthealth.com