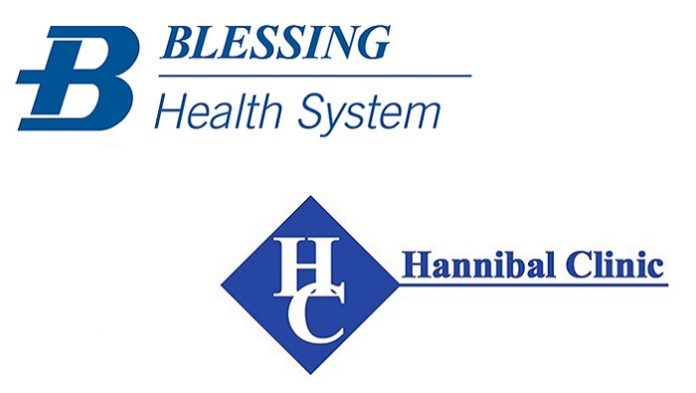 Having recognized the benefits of their recent affiliation, Blessing Health System and Hannibal Clinic have taken the next step and agreed to merge the two organizations. The merger places all Hannibal Clinic physical assets, physicians and staff under the Blessing Health System corporate structure as a taxable entity, and will retain the Hannibal Clinic name.

"Blessing Health System and Hannibal Clinic share a common vision for building a resilient and sustainable local healthcare system so that people do not have to leave the area to seek the care they need," said Maureen Kahn, president and CEO of Blessing Health System. "Over the past year, leaders of both organizations determined that merging would allow for better coordination and provide for greater access to capital and other resources to expand services," she said.
Hannibal Clinic providers will continue to see patients at Hannibal Regional Hospital and Hannibal Clinic locations, in addition to becoming members of Blessing Health System.
"As one organization, Hannibal Clinic and Blessing Health System can better coordinate building a vibrant practice of physicians so that patients will have greater access to advanced, specialty care close to home," said Erik Meidl, MD, internal medicine physician and Hannibal Clinic CEO.
Since first affiliating in February 2017, the partnership between Blessing Health System and Hannibal Clinic has resulted in several benefits, including:
Adding a dedicated, full-time cardiologist to Hannibal Clinic.
Expanding breast reconstructive surgery at Blessing Hospital with three Hannibal Clinic general surgeons.
Development of a bariatric surgery and weight management program.
"As the region's leading healthcare provider, it is Blessing Health System's goal to work collaboratively with physicians and other providers in our region who share our commitment to deliver superior outcomes, innovative care and unparalleled experiences," said Kahn. "We are proud to have the physicians and staff of Hannibal Clinic join Blessing Health System.
Blessing Health System
Blessing Health System consists of two award-winning hospitals, a nationally-recognized physician group, an accredited college of nursing and health sciences, a network of medical specialty businesses and a charitable foundation. Serving a primary market area of west central Illinois, northeast Missouri and southeast Iowa, Blessing Corporate Services, Inc., is the parent company of the System providing support and direction to Blessing Hospital; Illini Community Hospital; Blessing Physician Services; Denman Services, Inc.; The Blessing Foundation and Blessing-Rieman College of Nursing & Health Sciences. The Mission of Blessing Health System is to improve the health of our communities.
Hannibal Clinic
Hannibal Clinic was founded by four local physicians in 1957. Through an extensive series of moves and expansions, Hannibal Clinic has become a large multi-specialty group practice serving the healthcare needs of the surrounding community for the past 60 years. Hannibal Clinic boasts more than 50 high-quality physicians and nurse practitioners, and employs more than 300 staff members and professionals in the local area. Hannibal Clinic provides services at its main clinic in Hannibal; at the James E. Cary Cancer Center, and the Northeast Missouri Ambulatory Surgery Center, both also in Hannibal; and at satellite facilities in Bowling Green, Center, Monroe City, and Palmyra.