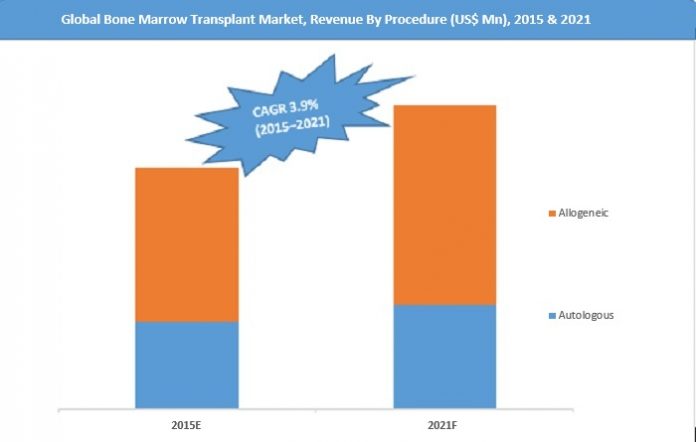 The worldwide market for bone marrow transplant will foresee a market growth owing to the increasing occurrences of anemia as well as blood cancers, increasing investing in logistic services, growing registries of bone marrow transplant and rising survival figure after treatment.

In addition, aspects for instance, growing per capita healthcare costs, technological advancements along with betterment in healthcare infrastructure are moreover likely to boost the overall market. This transplant generally concerns with the replacing of damaged or else diseased bone marrow with bone marrow stem cells or healthy tissue to treat various cases of anemia or blood cancer.
The worldwide market is anticipated to increase at a firm 3.9% CAGR all through assessment period 2015–2021 as well as will be evaluated at US$10.3 Billion in revenue terms towards 2021 end. However, region-wise, the European market will be dominant in volume and value terms all through the assessment period as a result of rising amount of bone marrow transplant centers along with increase in registry of bone marrow. The MEA regional market is highlighted to be foreseeing a sluggish expansion all through the assessment period moderately as a result of the comparatively lower existence of bone marrow transplant centers. Latin America regional market is likely to grow at robust 6.0% CAGR.
On the basis of stem cells or bone marrow, the transplant procedures include conventional bone marrow transplant or peripheral stem cell transplant (PSCT). The procedure types included in the overall market are allogeneic bone marrow transplant and autologous bone marrow transplant. The latter category will remain the dominating category in volume terms over the six years forecast period. Due to comparatively less concern of risks, the procedures of autologous bone marrow transplant are widely accepted at a higher rate.
However, there are various types of disease indication such as, lymphoma, leukemia, myelodysplasia, myeloma, thalassemia, aplastic anemia, myeloproliferative neoplasms, sickle cell anemia, solid tumors along with others. Of these, leukemia is considered to lead the market, capturing around 26.5% of the overall market share in revenue terms towards the end of 2021. The revenue share of thalassemia is anticipated to increase at the fastest 8.9% CAGR all through the assessment period.
In terms of the end users, the overall market is categorised into ambulatory surgical centers (ASC)multispecialty clinics and hospitals. Market players are required to set in motion innovative and advanced products to gain from the probable chances estimated to be generated by the worldwide market for bone marrow transplant.
The prominent market players manufacturing in the worldwide market are Merck Millipore Corporation, Lonza Group Ltd., AllCells LLC, Sanofi-Aventis LLC, American Type Culture Collection (ATCC) Inc and STEMCELL Technologies.
Visit More Information: https://www.persistencemarketresearch.com/samples/4288