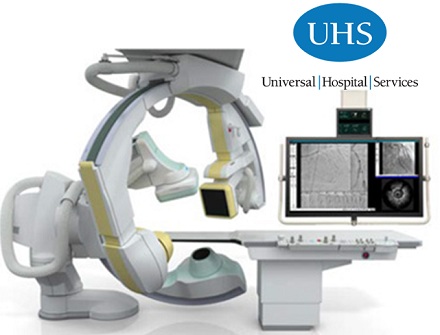 Universal Hospital Services, Inc. ("UHS"), a leading, nationwide provider of health care technology management and service solutions announced it has acquired Radiographic Equipment Services ("RES"),a San Diego-based provider of medical imaging solutions."
The addition of RES further strengthens our growing clinical engineering segment and enables us to deliver a higher value service offering to customers," said Tom Leonard, CEO of UHS. "The business complements our model for outsourced and supplemental biomedical equipment repair and maintenance services with advanced capabilities in medical imaging, localized service delivery and a shared commitment to high-quality customer service. Together, we will have opportunities to better serve customers in Southern California and to work together to make a difference in health care."
RES specializes in diagnostic imaging services for high-end modalities, including MRI, CT, PET/CT, Cardiac Cath, Interventional Radiology,Nuclear Medicine, Mammography, Ultrasound and other Diagnostic Radiology. The company serves several major health systems in Southern California, along with other regional care providers, and helps to minimize equipment downtime and ensure patient-ready technology for advanced diagnostic procedures.
"Since forming RES in 1980, we have been focused on creating a high-value, high-quality service offering for health care providers in Southern California," said Mark Trouw, founder and CEO of RES. "UHS shares our commitment to customer service and to putting patients first.We look forward to taking our growth to the next level as a combined company."
"We at RES are eager to continue advancing our service offering as part of UHS," said Cary Lucian, Vice President of Business Development at RES. "We believe there will be opportunities for us to leverage our combined expertise to deliver a more comprehensive, high-value solution to customers."
The acquisition is part of UHS' strategy to accelerate growth by advancing its capital-enabled, medical equipment service offerings including on-demand medical equipment rental services, onsite equipment management programs and general biomedical repair and maintenance services for acute and alternative care providers. With a network of 83 service depots covering all major U.S. markets, the company provides end-to-end medical equipment management solutions that help health care providers reduce the total cost of equipment ownership and deliver safer and more efficient patient care.
About Universal Hospital Services, Inc.
Universal Hospital Services, Inc. is a leading, nationwide provider of health care technology management and service solutions. UHS owns or manages more than 700,000 units of medical equipment for more than 7,000 national, regional and local acute care hospitals and alternate site providers across the U.S. For more than 75 years, UHS has delivered medical equipment management and service solutions that help clients reduce costs, increase operating efficiencies, improve caregiver satisfaction and support optimal patient outcomes.
About RES
Radiographic Equipment Services (RES) is a San Diego-based regional provider of clinical engineering services with a focus on high-end imaging modalities. The company provides comprehensive asset management solutions, as well as diagnostic imaging service and equipment sales in Southern California. RES employs a team of specialized, highly trained engineers who support a broad range of medical imaging modalities including: MRI, CT, PET/CT, Cardiac Cath, Interventional Radiology, Nuclear Medicine, Mammography, Ultrasound and other Diagnostic Radiology.
Universal Hospital Services, Inc.
6625 West 78th Street,
Suite 300
Minneapolis, MN 55439
952-893-3200
www.uhs.com
Contact:
Universal Hospital Services, Inc.
James Pekarek, 952-607-3054
Executive Vice President and Chief Financial Officer