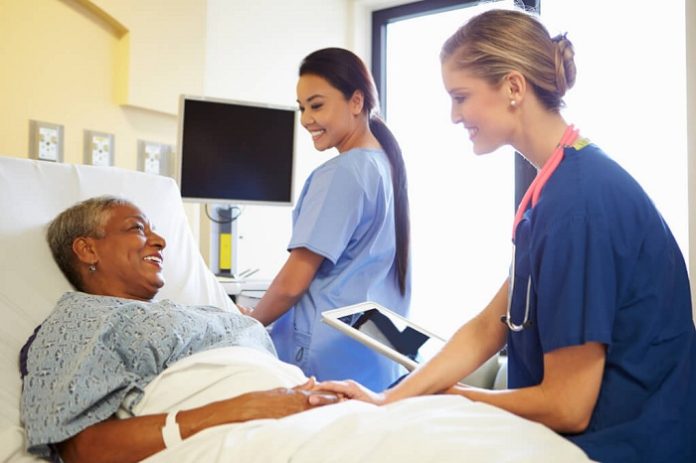 The healthcare world has massively changed and adapted over the past year. With the pandemic, nurses and other professionals within the industry were flung unexpectedly into the liamelight. But this new attention on the medical field is opening up the potential for drastic, positive change for both patients and nurses.
In this guide, we're going to dive into a number of emerging nursing trends for 2021 and beyond.
More students will choose to study online
The Committee on the Future of Nursing provided the Institute of Medicine with a number of recommendations to improve working conditions for nurses. One suggestion was to increase the number of nurses in the workforce who hold a BSN degree by 30%.
Now, several states across the US have implemented laws that require licensed nurses to earn their BSN within 10 years.
In light of this, and in light of the pandemic, many nurses and non-nurses are looking to pursue higher education. Click here to see the range of online nursing degree courses on offer at Carson-Newman. These courses allow nurses to study for their degree while staying in full-time work. This is the perfect solution to ensure that as many nurses as possible are able to qualify without contributing to the shortage of nurses in the workforce.
COVID-19 has also limited the number of students allowed onto campus courses, meaning online degrees are becoming a hugely popular choice for nurses and other aspiring students.
The demand for Family Nurse Practitioners is higher than ever
The Association of American Medical Colleges estimates that there will be a shortage of 55,200 primary care physicians by 2032. This is down to a number of factors, one of which is the US's aging population. Another is the fact that rural hospitals have either closed or are at risk of closing – making access to healthcare for society's most vulnerable even harder.
To bridge the gap, there is now more demand for Family Nurse Practitioners (FNPs). Some states are turning to the idea of allowing FNPs the authority to have their own full practices, which allow those in rural areas to access healthcare once again. Nurse Practitioners are able to offer the same services as GPs, performing check-ups, physicals and prescribing medication to those that otherwise would be stuck on waiting lists or struggling to get an appointment.
Full practice authority for Nurse Practitioners will become the norm
To manage the shortage of physicians, more and more states will allow FNPs full practice authority. Currently, 28 states are on board, while others require a supervising physician in place. More pressure is being added to the remaining states to follow suit.
Unprecedented times call for unprecedented growth
One major problem the pandemic highlighted was the significant shortage of Registered Nurses across the globe. As the Baby Boomer generation reaches retirement age, this shortage is only going to get worse. There will be fewer nurses and more seniors to care for.
Pairing the aging population with the number of nurses retiring and the shortage of primary care physicians creates a huge problem in the medical field – with nurses and FNPs expected to bridge the gap.
However, another issue lies in the shortage of nurse educators. Without people to teach new students, the shortage of nurses in the workforce cannot increase.
After a year of publicity, there is hope that there will be a significant uptake in online degrees and nursing qualifications so that new graduates can fill the roles the country so desperately needs.
Prior to the pandemic, the Bureau of Labor Statistics estimated that nursing occupations would grow by 12% by 2028, with 371,500 new jobs added in the final year.
RN Salaries will increase
The financial impact of the pandemic has been detrimental across a number of industries – especially the healthcare sector. Despite this, most nurses have benefitted from the same salary or a steady increase. Nurses with a degree can also enjoy a much higher salary than those without. Nurses in the US are already paid some of the best nursing wages in the world, but with the high demand and staff shortages, these salaries are set to stay steady or increase.
The Nurse Licensure Compact will give more freedom to nurses
The Nurse Licensure Compact makes it much easier for nurses to cross state lines and work elsewhere without re-registering or re-qualifying. Established in 2018, there is hope that over the next few years, more and more states will join the compact, giving nurses the freedom to fill gaps and shortages across different states. Currently, 34 states have enacted the compact, with others are approving partial implementation.
Telehealth will continue to make healthcare more accessible
With the need for social distancing over the past year, along with organizations trying to find a solution to serving more rural areas, telehealth advancements will continue.
Chatbots, video conferencing, and other telehealth technologies allow patients to access healthcare, schedule appointments, request medication, and see their test results without booking a physical appointment with the GP. This has been lifesaving during the pandemic but will continue to help more and more people access services in the future.
Bilingual nurses will be more valued in the workplace
According to the US Census, over 350 languages are spoken by families across the country, with Spanish being the second most popular language.
Nurses that speak a fluent second language could benefit from more freedom in the job field. Employers will likely find bilingual nurses more attractive in areas where multiple languages are spoken.
A holistic approach to care will become the core focus
The holistic approach to care considers the whole patient; their individual physical, spiritual, emotional, and mental strengths and weaknesses. The amount of evidence to prove that holistic care is the way forward is increasing, meaning more and more organizations will look to implement the approach long term. Holistic care is now taught through MSN and FNP degrees, making the learning more accessible for nurses.
Nowadays nursing is getting more and more popular among students. Do you probably need help with nursing writing? You can check nursing essay writing services here provided by professional academic writers to get your papers written from scratch.
It's an exciting time to join the nursing workforce. With advancements in technology and education, paired with increasing salaries and more autonomy, there's no knowing where a career in nursing could take you.