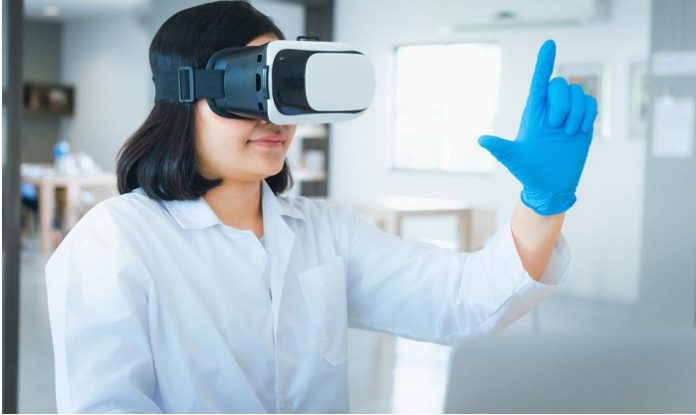 Accenture has made a strategic investment, through Accenture Ventures, in BehaVR, a leading innovator in virtual reality (VR) digital wellness and digital therapeutics experiences.
On the same day, BehaVR announced a merger with OxfordVR, a spin-out of Oxford University and a leader in science-based virtual reality treatments for serious mental illnesses. The newly combined entity will offer comprehensive, cross-acuity, VR-based therapeutic interventions for mental health, part of a digital therapeutics market expected to exceed $13B by 2027.
Through its proprietary delivery platform for creating, validating, and operating digital therapeutics solutions, the BehaVR platform enables personalized, dynamic experiences that are governed and adapted in real-time based on biometrics, protocols, and machine learning models.
Healthcare leaders expect virtual reality and the metaverse to positively impact the future of care, according to the Accenture Digital Health Technology Vision 2022 report, which explains how more meaningful, tailored experiences can further humanize healthcare by aligning the right technology, operating model, data, and culture to deliver more efficient and empathetic care.
"Providing people with the flexibility to decide when, where, and how they want to receive mental health care will help to improve access, experience, and outcomes," said Rich Birhanzel, senior managing director and Health practice global lead at Accenture. "BehaVR offers people choice and clinicians options to expand how they care for patients."
BehaVR is now part of Accenture Ventures' Project Spotlight, an engagement and investment program that connects emerging technology startups with the Global 2000 to fill strategic innovation gaps. Project Spotlight offers extensive access to Accenture's domain expertise and its enterprise clients, helping startups harness human creativity and deliver on the promise of their technology.
"Mental health issues in the U.S. and around the world have never been more prevalent, and there is an urgent need for increased resources and treatment," said Tom Lounibos, managing director, Accenture Ventures. "BehaVR is using the immersive power of virtual reality to activate and rewire neural pathways to treat people suffering from anxiety, stress, fear and other conditions."
"Around the world, providers and employers are grappling with how to enhance the depth, breadth and efficacy of their mental health service offerings, and we believe virtual reality-based digital therapeutics can play a vital role in helping them do all of those things," said Aaron Gani, founder and CEO of BehaVR. "Joining Accenture Ventures' Project Spotlight is a powerful way to drive increased awareness of BehaVR's VR-powered mental health services as we continue our work to lower barriers and deliver advanced care to the people that so desperately need it."