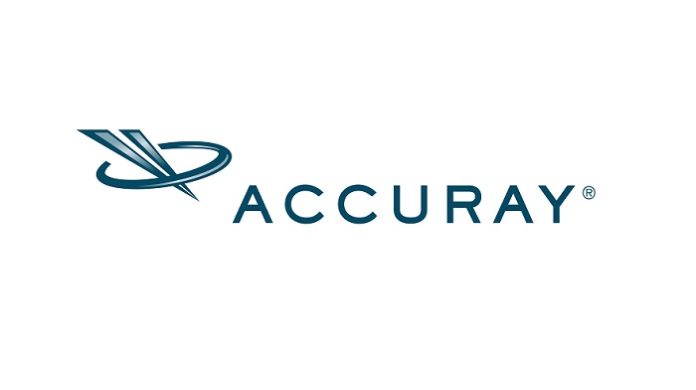 Accuray Incorporated announced that MedTech Breakthrough, an independent market intelligence organization that recognizes the top companies, technologies and products in the global health and medical technology market, has selected the AccuraySynchrony® Real-time Adaptive Technology for the Radixact® System as the winner of its "Best Overall Medical Device Solution" award in the fourth annual MedTech Breakthrough Awards program.
The Radixact® System, the next-generation TomoTherapy® platform, is a radiotherapy system designed to provide oncology clinical teams with the imaging capabilities, treatment flexibility and precise dose delivery they had come to expect with its predecessor device, with the addition of components that can significantly enhance interoperability and increase patient throughput.
Originally developed to expand on the AccurayCyberKnife® System's unique automatic motion tracking and synchronization capabilities, Synchrony for the Radixact System is designed to adapt for tumors that move as a result of bodily processes, including respiration and digestion, as well as patient movement. Some tumors may be located in areas of the body that move regularly, such as the lungs. Also, filling of the bladder, gas in the bowel or even slight patient movements can shift the tumor target by a millimeter or more.
Tracking tumor movement — and synchronizing precise treatment delivery with that movement using the Accuray Synchrony Real-time Adaptive Technology — helps to maximize treatment effectiveness and minimize dose to surrounding tissues. The beams of radiation are delivered continuously throughout the treatment session as the patient breathes naturally. In comparison, gating methods deliver radiation only when the tumor is close to the expected location and pause treatment delivery when the moving tumor is outside of the "treatment window." This lengthens the time the patient needs to be on the treatment table.
"Cancer is increasingly being managed as a chronic condition. With this will be a corresponding rise in the use of radiation therapy, and a need for technology that can precisely and accurately treat each patient's unique tumor," said Joshua H. Levine, president and CEO at Accuray. "Our one-of-a-kind, artificial-intelligence driven Synchrony software combined with the Radixact System delivers a breakthrough in precision radiation therapy treatments. Synchrony is the only technology that uses image guidance to automatically adapt and synchronize the radiation beam to the position of the tumor if and when it moves during treatment. When used with the Radixact System, it facilitates the efficient and effective delivery of both hypofractionated and standard radiation therapy, making it easier for clinical teams to provide treatments tailored to meet each individual patient's needs."
The mission of the MedTech Breakthrough Awards is to honor excellence and recognize the innovation, hard work and success in a range of health and medical technology categories, including Robotics, Clinical Administration, Telehealth, Patient Engagement, Electronic Health Records (EHR), mHealth, Medical Devices, Medical Data and many more. This year's program attracted more than 3,750 nominations from over 15 different countries throughout the world.
"The Synchrony® Real-time Adaptive Technology for the Radixact® System embodies the spirit of the MedTech Breakthrough Awards program by delivering a true breakthrough for cancer patients and the clinicians who treat them," said James Johnson, managing director, MedTech Breakthrough. "Accuray has developed a powerful portfolio of advanced technology solutions that is revolutionizing radiation therapies for patients, minimizing the amount of healthy tissue exposed to high-dose radiation and, ultimately, helping to improve patient outcomes. We are thrilled to award Accuray with the marquee "Best Overall Medical Device Solution" designation for their breakthrough technology that is strengthening and advancing the toolkit for cancer-fighting solutions. Congratulations to the entire Accuray team on their well-deserved industry recognition with this 2020 MedTech Breakthrough award."
About Accuray
Accuray Incorporated develops, manufactures and sells radiotherapy systems that are intended to make cancer treatments shorter, safer, personalized and more effective, ultimately enabling patients to live longer, better lives. Our radiation treatment delivery systems in combination with fully-integrated software solutions set the industry standard for precision and cover the full range of radiation therapy and radiosurgery procedures.
About MedTech Breakthrough
Part of Tech Breakthrough, a leading market intelligence and recognition platform for global technology innovation and leadership, the MedTech Breakthrough Awards program is an independent program devoted to honoring excellence in medical and health related technology companies, products, services and people. The MedTech Breakthrough Awards provide a platform for public recognition around the achievements of breakthrough health and medical companies and products in categories that include Patient Engagement, mHealth, Health & Fitness, Clinical Administration, Healthcare IoT, Medical Data, Healthcare Cybersecurity and more.