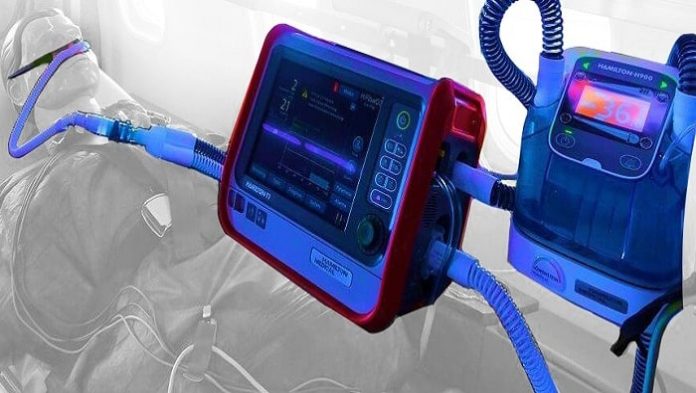 AirCARE1 announces their newest medical capabilities of offering High Flow Oxygen therapy to their patients during Air Medical Transports out of the west coast. As a leading Air Ambulance provider to bring this new medical intervention into the air, AirCARE1 can now transport patients with respiratory conditions such as COVID-19 or Pneumonia that require higher flow rates for long distances despite the limited oxygen capacity onboard their Learjet aircraft.
High flow oxygen therapy has been primarily used in the hospital setting and has helped reduce the need of invasive ventilation. This method has proven to be an effective, non-invasive solution that allows patients to receive oxygen while reducing strain on the body and support healing. The AirCARE1 medical crew took notice of this new trend taking place in the hospitals and read studies that showed it to be extremely beneficial. Embracing the company's progressive culture, the AirCARE1 medical crew took it upon themselves to find a way to incorporate high flow into the company's Air Ambulance services.
How High Flow Oxygen Therapy Works
High flow oxygen therapy, typically delivered via a high flow nasal canula (HFNC), is a form of respiratory support used primarily in the hospital setting. HFNC is a blended air and oxygen mixture that provides more constant inspiratory oxygen concentrations to the patient with minimal breathing effort. During the recent pandemic, high flow oxygen therapy gained popularity on COVID patients due to its multiple benefits while remaining noninvasive.
While oxygen remains a common intervention to treat numerous conditions, it can be delivered through noninvasive methods such as nasal cannula or non-rebreather or through more invasive methods such as c-pap, bi-pap or even mechanical ventilation. High flow oxygen therapy is now bridging the gap between traditional noninvasive and invasive methods and proving to be effective in improving gas exchange and decreasing the patient's work of breathing with the hope of patient improvement without the need for mechanical ventilation.
Patients that benefit from HFNC?
AirCARE1 transports patients of all ages and medical conditions. This new capability will allow the transport of adult, pediatric and even NICU patients that require higher flow rates than 15 liters per minute in cases of hypoxemia caused by multiple disease processes which include but are not limited to COVID, Acute Respiratory Distress Syndrome (ARDS), Pneumonia, Bronchitis, Pulmonary Disease (COPD), or Congestive Heart Failure (CHF).
Oxygen in the Air
Oxygen is limited in the long-range medical transport environment. AirCARE1's fleet of Learjet aircraft act as an ICU unit in the air that is equivalent to a hospital room, however oxygen carrying capacity is limited as only a set amount of it is allowed onboard. Since the HFNC uses a blend of air and O2 to achieve flow rates, it requires less oxygen on board while simultaneously increasing oxygen flow rate up to 60 Liters per minute
How AirCARE1 provides HFNC in the Air
AirCARE1 has paired the sophisticated HAMILTON T1 ICU transport ventilator with the HAMILTON-H900 humidifier via a proprietary module that provides the same functionality as the HIFLOW devices utilized in the hospital setting. They use this innovative equipment to provide care for multiple patient modalities using both the high flow nasal canal, oxygen mask, and Amron International NIPPV Helmet.
About AirCARE1
AirCARE1 is an Air Ambulance and Medical Escort service provider headquartered in Albuquerque, NM. AirCARE1 also has additional bases in the Phoenix, AZ. and Melbourne, FL areas. Their company vision takes a different approach to medical air transport. This approach is founded on the belief that providing the highest level of medical attention, combined with compassion and a holistic approach to care will transform the flight experience for their patients. The vision and approach taken by AirCARE1 provides an important sense of comfort and well-being for patients and their family members throughout the medical transportation process.