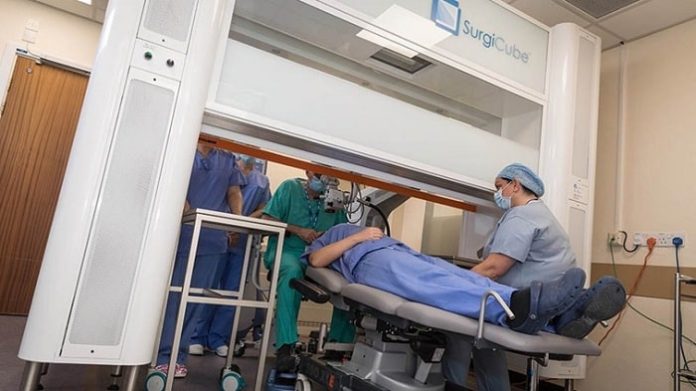 AIREDALE NHS Foundation Trust is the first hospital in Yorkshire and one of the first trusts in the country using the latest pioneering technology for patients having cataract surgery. The opening of Airedale Hospital's brand new SurgiCube operation unit, means patients can now have microsurgeries, like cataract surgery, quickly, easily and safely as day patients in the Dales Suite.
The £100,000 Surgicube creates a clean operating room by using a mobile surgical hood which gives an ultra-clean airflow directly around the operating area where it's needed, significantly reducing the risk of infection for the patient. The team will be able to treat more patients each week as a result.
For patients it also means they don't have to prepare for surgery in the same way. The patient can be placed under the ultra-clean air flow of the SurgiCube in various ways allowing for a 'small surface surgery' to be performed on various parts of the body. They don't need to dress for surgery and the fact that they can sit down themselves on the treatment chair and the surgery is completed quickly creates a much more relaxing experience.
Mr Paul Brogden, Consultant Ophthalmologist and specialist in cataract surgery said: "Cataract surgery is one of the most common surgical procedures done by the NHS and because of our older population, a higher number of people will be at risk of eye problems in the future, which means an even greater need for our service.
"We need to continue providing a walk in, walk out service and the state of the art Surgicube allows us to continue offering this service. We are proud to be one of the first hospital Trusts to use the Surgicube which ensures a safe clean environment to perform cataract surgery."
By expanding operating capacity it means the Dales Suite will be able to accommodate minor surgical procedures in the future, such as minor hand and foot surgeries. By performing the procedures in the SurgiCube, it means the main theatre operating rooms can be used more effectively for other procedures. Preparation time for surgery is also much less than in a conventional operating room, making it more efficient and a perfect alternative treatment environment for many smaller procedures.
David Crampsey, Medical Director at Airedale NHS Foundation Trust said: "This is a fantastic state of the art piece of equipment for Airedale and we are very pleased to be able to offer this new facility to our patients.
"We are one of the first Trusts in the UK to have this. It is part of our ambition to be at the forefront of NHS care; developing, innovating and transforming the services we provide to our community – and equipping our clinical teams with cutting edge technology."