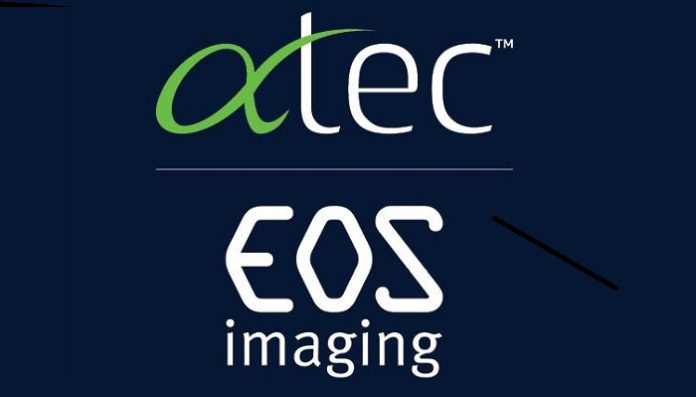 Alphatec Holdings, Inc. , a medical device company dedicated to revolutionizing the approach to spine surgery, announced that it has entered into an agreement to acquire EOS imaging, SA, for a purchase price of up to $88 million, plus debt retirement of $33.9 million, in a combination of cash and equity.
EOS imaging is a leader in outcome-improving orthopedic medical imaging and software solutions, and is globally recognized for its rapid, low dose, biplanar full-body imaging and 3D modeling capabilities. The EOS technology informs the entire surgical process by capturing a calibrated, full-body image in a standing (weight-bearing) position, enabling precise measurement of anatomical angles and dimensions. The resulting imaging drives a more accurate understanding of patient alignment during diagnosis, elevates the likelihood of surgical goal fulfillment by integrating a fully informed plan into surgery, and enables a post-operative assessment against the original surgical plan.
"This is a monumental transaction for ATEC," said Pat Miles, Chairman and Chief Executive Officer. "While spine's large players are investing in enabling technologies, we are thinking differently. We created a conduit to deliver information into the operating room with AlphaInformatiX. This transaction will integrate spine imaging and anatomical modeling onto the platform to actually inform the operative experience. By pairing ATEC's approach-based solutions with imaging founded on Nobel Prize-winning technology, we expect to significantly increase demand for ATEC hardware and EOS systems and create a formidable competitive advantage."
"EOS is a fabulous, game-changing technology that has unquestionably improved the treatment of children, adolescents and adults with spinal deformity," said Dr. Christopher Shaffrey, MD, Chief of Spinal Surgery and Spine Care at Duke University Medical Center.
Once closed, the transaction is expected to immediately expand ATEC's revenue base through the addition of EOS's revenue run rate, and create significant pull-through and cross-selling opportunities via an expanded sales network and combined customer base. The addition of EOS imaging will advance ATEC's AlphaInformatiX platform providing capabilities in surgical planning, patient-specific implants, intraoperative alignment reconciliation, and other intraoperative functionalities resulting in a platform distinctively equipped to address the requirements of spine surgery.
The Company expects the acquisition to be accretive to revenue, revenue growth, adjusted EBITDA and free cash flow in the first full year of operations following the transaction close.
With more than 500 scientific articles published in leading journals, EOS's technology has achieved widespread support and endorsement from the academic community and thought leaders worldwide. EOS's installed base of over 350 imaging systems encompasses 9 of the top 10 U.S. hospitals, and 20 of the top 251. Additionally, EOS's well-established international footprint will expedite ATEC's future ability to enter and penetrate key markets outside of the United States.
"We are very enthusiastic about the opportunity to join the complementary strengths and know-how of EOS imaging and ATEC," said Mike Lobinsky, Chief Executive Officer of EOS imaging. "I have no doubt that our organizations will be able to quickly create a highly differentiated end-to-end offering that will accelerate growth in the U.S. in the short term, while we continue to expand internationally, paving the way for the future global growth of the combined entity."
The Boards of Directors of both ATEC and EOS have approved the execution of a tender offer agreement (the "Tender Offer Agreement"), through which ATEC will launch a tender offer for all of the issued and outstanding shares and convertible notes of EOS imaging for a total purchase price of up to $122 million (the "Offer"). The Offer will consist of a cash tender offer for a price of EUR 2.80 per EOS share (the "Cash Offer"), or at the option of each EOS shareholder, an exchange tender offer whereby each EOS shareholder will receive 0.50 ATEC common shares per EOS share (the "Exchange Offer").
About EOS imaging
Based in Paris, EOS imaging develops and commercializes imaging systems (EOS and EOSedge systems) that provide a full-body evaluation of the patient in a standing position, resulting in a comprehensive understanding of how the patient is compensating in the hips, knees and ankles to maintain an upright posture. The measurements factor into a holistic approach to the development of customized surgical plans, which can then be integrated seamlessly into the operating room.
Utilizing advanced predictive analytics, EOS technology is uniquely capable of correlating preoperative and postoperative imaging to assure, from the operating room, the achievement of alignment, the most prognostic factor of long-term successful surgical outcomes. Compared to the conventional spine-imaging modalities, X-Ray and CT, the EOS systems significantly reduce radiation doses and exam times, producing unstitched, full-body, biplanar, high-quality images at lower cost.
About Alphatec Holdings, Inc.
Alphatec Holdings, Inc. (ATEC), through its wholly-owned subsidiaries, Alphatec Spine, Inc. and SafeOp Surgical, Inc., is a medical device company dedicated to revolutionizing the approach to spine surgery through clinical distinction. ATEC architects and commercializes approach-based technology that integrates seamlessly with the SafeOp Neural InformatiX System to provide real-time, objective nerve information that can enhance the safety and reproducibility of spine surgery.
About Perceptive Advisors
Founded in 1999 and based in New York, NY, Perceptive Advisors is an investment management firm with over $5 billion in assets whose activities are focused on supporting the progress of the life sciences industry by identifying opportunities and directing financial resources to the most promising technologies in healthcare.