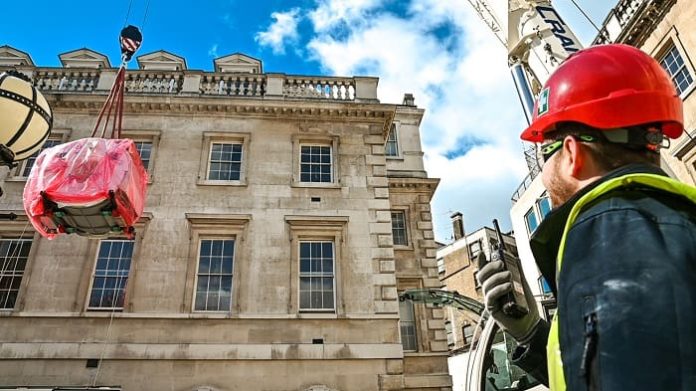 Nuffield Health, the UK's largest healthcare charity, has appointed Anthony Fitzgerald as the first Matron for its new hospital located at St Bartholomew's Hospital. It will be the City of London's only independent hospital, providing a single patient pathway via Nuffield Health's connected network of healthcare, fitness and wellbeing services. The new hospital, called Nuffield Health at St Bartholomew's Hospital, is set to open in the autumn.
Fitzgerald has responsibility for leading nursing care across cardiology, cardiac surgery, oncology and orthopaedics, the key clinical specialisms at the hospital. "It's a real privilege for me to take on the role of Matron. My role is that of a very 'traditional Matron', I'm responsible for the wellbeing of the nurse and clinician workforce who'll deliver outstanding care to our patients," says Anthony Fitzgerald.
"Our aim is to use our unique connected healthcare approach to offer our patients a complete pathway. For example, a patient could be referred by a Nuffield Health GP, receive treatment at our new hospital and then choose to receive rehabilitation at any at any one of our 113 fitness and wellbeing centre across the UK, including 21 within London," he explains.
Fitzgerald joins Nuffield Health at St Bartholomew's Hospital from Schoen Clinic where he was Chief Nurse. He has previously worked for Optegra Eye Health Care and the Harley Street Clinic as well as being a Clinical Advisor for the Care Quality Commission.
"I am fortunate to be part of an experienced Nuffield Health team that's working to create an environment and culture that provides the best possible care and treatment, from prevention to cure, in the City of London. Our ability to provide connected healthcare services and the fact that Nuffield Health is a charity enables us to attract the best nurses and clinicians in London. We want our nurses to come from a range of backgrounds, from the NHS and the independent sector, and to be passionate about delivering excellence to our patients. Our nurses and clinicians will have more time with patients, have opportunities to develop their careers and a good work-life balance," he said.
From January until March, Fitzgerald was seconded into the NHS COVID-19 vaccination team at St Bartholomew's Hospital, part of Barts Health NHS Trust. "I chose to support the NHS because there was an acute need for registered nurses to support care delivery on the NHS frontline," he says. "I'm proud to be a nurse and I was humbled by the opportunity to offer words of encouragement and to be able to administer the vaccine to NHS nurses and teams so that they can go on delivering care to our patients' day after day."
Maxine Estop Green, Hospital Director at Nuffield Health at St Bartholomew's, added: "Anthony's appointment is a key milestone on our journey to opening our new hospital this autumn. He has the experience and talent to build a team and create a culture where outstanding patient care can flourish."
"Our new hospital – Nuffield Health's first in London and 32nd hospital in the UK – will be a real differentiator for the London market. Building on Nuffield Health's 60 years of clinical care expertise, it demonstrates our purpose of investing in new, cutting-edge holistic patient services to build a healthier nation. We are proud to be working in partnership with Barts Health NHS Trust to extend the range of services offered to our patients. Both organisations have values of continually striving to help people throughout the different stages of their lives. Nuffield Health is proud to be building strong links with the NHS; our hospitals across the UK have treated over 285,000 NHS patients during the COVID-19 pandemic," she adds.
The new hospital is located on the campus of St Bartholomew's Hospital, the second largest heart hospital in Europe. Nuffield Health is leasing the former pathology and residential staff quarters buildings and is in the process of transforming them into a dynamic new hospital consisting of 55 beds, four of the most advanced digital operating theatres available, seven specialist intensive care beds, a full diagnostic imaging suite, an oncology day unit and 28 consultation rooms. The disused pathology building at Britain's oldest hospital developed cult status after its appearance in the second series of the television programme Sherlock.
About Nuffield Health
Nuffield Health is the UK's largest healthcare charity. For the last 60 years, Nuffield Health's experts have been working together to make the nation fitter, healthier, happier and stronger, all for the public benefit.  As an organisation with no shareholders, income is invested back into the vision to build a healthier nation.
During the COVID-19 pandemic, Nuffield Health has treated over 285,000 NHS patients in its UK network of hospitals. These NHS patients include Covid-19 positive patients, those needing intensive care or oxygen support, cancer treatment (shielding vulnerable patients from Covid-19), urgent surgery and palliative (end of life) care.
The Charity does this through its day-to-day services across 31 award-winning hospitals, 112 fitness and wellbeing clubs, healthcare clinics, and over 200 workplace wellbeing services, and through flagship programmes to support communities by widening access.  Through these flagship programmes, we aim to help to improve people's lives people who normally would not have access to Nuffield Health's services.
One of these flagship programmes is developing the UK's first specialist rehabilitation programme to support patients in their recovery after they have received medical treatment for COVID-19. The programme, which blends together physical therapy and mental health support, works with local NHS trusts and referrers is now running at 17 of our fitness and wellbeing centres across the UK, ahead of a larger rollout to over 40 sites by May.
Our patients work with a rehabilitation specialist for personalised advice and on a recovery plan, consisting of a six-week virtual programme of at home exercises, before moving to one of our fitness and wellbeing centres. We will share the outcomes with the NHS and other healthcare providers.
Nuffield Health delivers a sector-leading 94% of hospitals rated as Good or Outstanding by national regulators. With a breadth of expertise, Nuffield Health provides connected care spanning from personal training and health MOTs to supporting people on their fitness journeys, helping patients recover with physiotherapy or emotional wellbeing counselling, or providing hospital treatments for illness and serious conditions like arthritis or cancer.