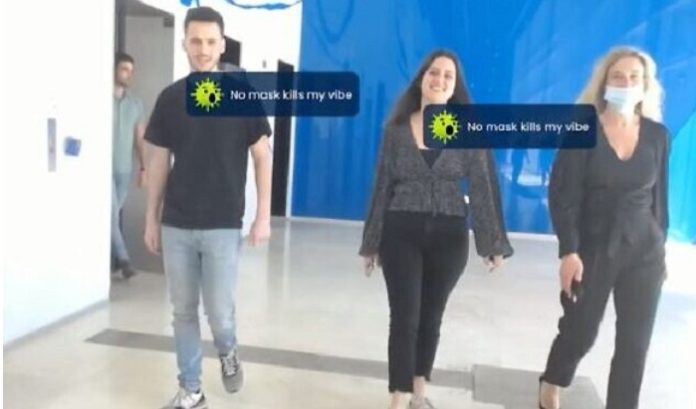 At Sheba Medical Center in Ramat Gan, Israel, AnyVision's biometric facial recognition technology uses hospital surveillance cameras to detect individuals who are not wearing masks and uses behavioral economics to force visitors to switch to the proper use of masks, The Times of Israel reports.
The software will send different messages on screens, depending on whether the person is wearing a mask or not, such as "No mask kills my vibe." People are not identified by name or reported, they will only receive "nudges" to build social pressure and be reminded to wear masks correctly in the facility.
"In a playful manner we increase awareness regarding masks," Alex Zilberman, chief operating officer at AnyVision, told the publication in a phone interview. According to Zilberman, airports, public transportation and public building operators have also expressed interest in the software.
At the request of the Health Ministry, the facial recognition system was initially deployed at the hospital to prevent the spread of COVID-19 among staff members and assist with medical investigations. To be part of the project and for their identity to be used, staff were requested for consent.
Zilberman explained the algorithm was trained to identify people based on visible features such as eyes, forehead and nose bridge. Recognition is not possible with sunglasses and a mask, but does deliver 99 percent accuracy if regular glasses and a mask are worn. Zilberman claims the algorithm was built to be non-biased.
In November 2019, AnyVision was audited on behalf of Microsoft by a team led by former U.S. Attorney General Eric Holder; the tech giant divested its stake in the startup in March. The audit, which was initiated following media reports that AnyVision's technology had been used by the military for surveillance in Palestinian territories, found no such activities.
Since 2015, AnyVision has secured $74 million from multiple investors, including Robert Bosch Venture Capital, Qualcomm Ventures and Lightspeed Ventures.
In July, Boon Edam integrated AnyVision's facial recognition and biometric liveness technology for access control with its security doors and optical turnstiles for enhanced security and a seamless entry experience.
Related Posts