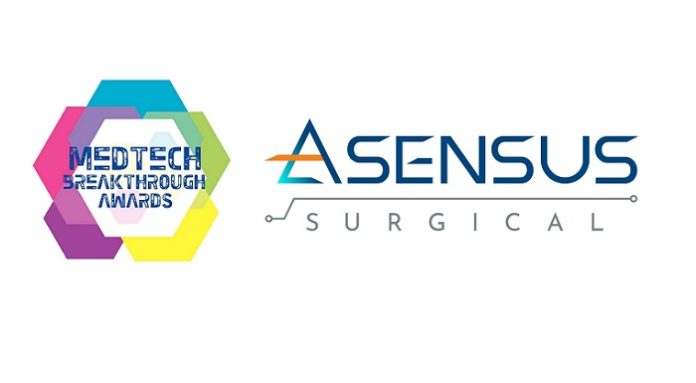 Asensus Surgical, Inc., a medical device company that is digitizing the interface between the surgeon and the patient to pioneer a new era of Performance-Guided Surgery™, announced that its Intelligent Surgical Unit™ (ISU™) has been selected as the winner of the "Best Overall Medical Device Product" award in the fifth annual MedTech Breakthrough Awards program conducted by MedTech Breakthrough, an independent market intelligence organization that recognizes the top companies, technologies and products in the global health and medical technology market.
Asensus Surgical's new Intelligent Surgical Unit (ISU) enables computer vision capabilities in surgery for the first time. These technologies record an image and apply intelligent algorithms to enhance the surgeon's ability to meaningfully use information from the surgical field in real-time.
By leveraging augmented intelligence and computer vision, Asensus' ISU provides critical benefits to physicians and operating room staff. The surgeon now has a digital twin that does not experience fatigue, alleviates cognitive burden by assuming simple tasks, and provides a platform for real-time clinical analysis, helping with critical decision making during surgery.
"Why is it that you have more connectivity, access and functionality at your fingertips in your cell phone, than a surgeon has access to during surgery? Our ISU solution is closing this digital divide," said Anthony Fernando, Asensus Surgical President and CEO. "The ISU adds $0 to per-procedure costs, but provides invaluable capability to the surgical team, helping make surgery less variable, more efficient, and available to all. We are thrilled to be recognized in the 2021 MedTech Breakthrough Awards program recognizing this achievement in the surgical space."
The mission of the MedTech Breakthrough Awards is to honor excellence and recognize the innovation, hard work and success in a range of health and medical technology categories, including Robotics, Clinical Administration, Telehealth, Patient Engagement, Electronic Health Records (EHR), mHealth, Medical Devices, Medical Data and many more. This year's program attracted more than 3,850 nominations from over 17 different countries throughout the world.
"Moving forward, augmented intelligence and computer vision will play an increasingly important role in reducing surgical variability," said James Johnson, managing director, MedTech Breakthrough. "Asensus is at the forefront in this capacity, leveraging robotic-assisted technology coupled with augmented intelligence to help surgeons ensure the best outcome for every patient every time. We extend our sincere congratulations to Asensus Surgical for winning our 'Best Overall Medical Device Product' award."
About Asensus Surgical, Inc.
Asensus Surgical, Inc. is digitizing the interface between the surgeon and patient to pioneer a new era of Performance-Guided Surgery by unlocking the Clinical Intelligence to enable consistently superior outcomes and a new standard of surgery. This builds upon the foundation of Digital Laparoscopy with the Senhance® Surgical System powered by the Intelligent Surgical Unit™ (ISU™) to increase surgeon control and reduce surgical variability. With the addition of machine vision, augmented intelligence, and deep learning capabilities throughout the surgical experience, we intend to holistically address the current clinical, cognitive and economic shortcomings that drive surgical outcomes and value-based healthcare. Learn more about Performance-Guided Surgery and Digital Laparoscopy with the Senhance Surgical System
About MedTech Breakthrough
Part of Tech Breakthrough, a leading market intelligence and recognition platform for global technology innovation and leadership, the MedTech Breakthrough Awards program is an independent program devoted to honoring excellence in medical and health related technology companies, products, services and people. The MedTech Breakthrough Awards provide a platform for public recognition around the achievements of breakthrough health and medical companies and products in categories that include Patient Engagement, mHealth, Health & Fitness, Clinical Administration, Healthcare IoT, Medical Data, Healthcare Cybersecurity and more.