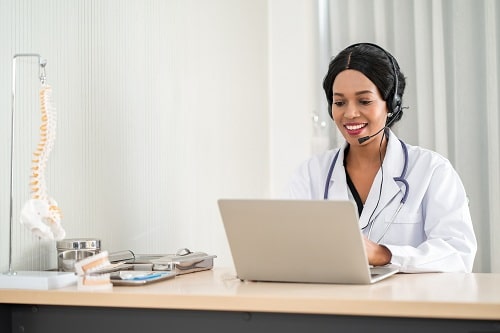 athenahealth, Inc., a leading provider of network-enabled software and services for medical groups and health systems nationwide, today announced the launch of its Telehealth Insights dashboard. Updated monthly, the dashboard gives providers, healthcare leaders, and patients across the U.S. an in-depth look at telehealth adoption rates by specialty area to understand where and why telehealth might have the most staying power – and to ultimately help practices increase the patient-provider connection and provide broader access to healthcare.
The COVID-19 pandemic sparked rapid growth in the use of virtual care channels nationally. Virus-related lockdowns made telehealth appointments an important option for many providers, and policy changes that relaxed reimbursement criteria for virtual visits made providing care at a distance financially viable.
The Telehealth Insights Dashboard utilizes de-identified data on 18.4 million appointments from 60,000 providers on the athenahealth network between 11/1/2020 and 1/31/2021. This resource reveals the percentage of appointments that have been held virtually by specialty over recent months. The overall specialty breakout includes:
Mental health: 33% of appointments held virtually
Primary care: 17% of appointments held virtually
Pediatrics: 9% of appointments held virtually
Cardiology: 7% of appointments held virtually
OB/GYN: 4% of appointments held virtually
For the period provided, the interactive dashboard also reveals insights into how providers and patients can take advantage of virtual care:
Patient convenience: Compared to in-person visits (4%), telehealth visits are more likely to occur after-hours or on weekends (7%).
Flexibility: Telehealth appointments are almost 2X as likely to be scheduled for the same day as compared to in-person appointments.
Engagement: Telehealth visits are most likely to occur with already-established patients (19%); but some providers are also starting relationships with new patients via telehealth (12%).
Shorter visits: Telehealth appointments are more likely to be under 15 minutes long (70%), compared to in-person visits (62%).
The Telehealth Insights Dashboard comes on the heels of athenahealth's first-ever native telehealth solution, athenaTelehealth, which was developed in eight weeks and immediately deployed to customers at scale. athenaTelehealth has contributed to 17 million telehealth sessions held—and a 10X increase in overall telehealth volume across the athenahealth network in 2020.
"The pandemic has necessitated a new era in medicine in which telehealth appointments are a core aspect of the patient-provider relationship. Our goal in providing this resource is to look at trends and insights associated with virtual care and to give providers actionable insights into their patients' virtual care needs," said Jessica Sweeney-Platt, vice president of research and editorial strategy at athenahealth. "Further, providers can learn from the experiences of other practices in their specialty area to increase their appointment volume, and ultimately their revenue."
About athenahealth, Inc
athenahealth partners with medical organizations across the country to drive clinical and financial results. Our vision is to create a thriving ecosystem that delivers accessible, high-quality, and sustainable healthcare for all, and we are pursuing this through our medical record, revenue cycle, patient engagement, and care coordination service offerings. Our expert teams build modern technology on an open, connected ecosystem, yielding insights that make a difference for our customers and their patients.