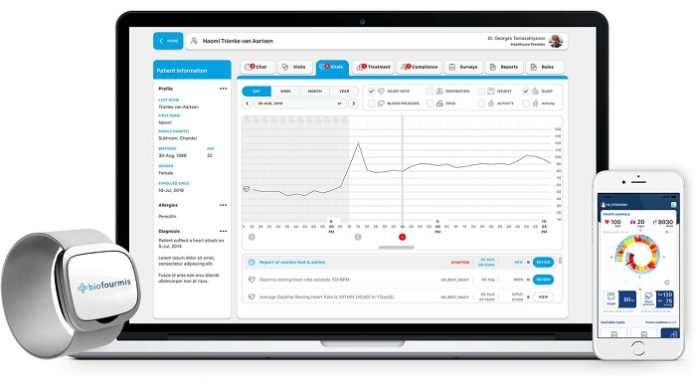 Biofourmis, a fast-growing global leader in digital therapeutics that powers personalized predictive care, has announced the completion of a $100 million Series C financing round led by SoftBank Vision Fund 2, with participation by existing investors Openspace Ventures, MassMutual Ventures, Sequoia Capital, and EDBI. This brings Biofourmis' total funding to $145 million, including the $100 million Series C, a $35 million Series B in May 2019, and $10 million Series A + seed/angel investments.
In addition, Biofourmis will use the funding for developing, validating, and commercializing several released and unreleased digital therapeutics solutions across cardiology, respiratory, oncology, and pain, with a focus on the United States and key Asian markets, including Asia Pacific, China, and Japan.
Predict and prevent costly medical events with a modular, user-friendly platform.
Founded in 2015, Biofourmis discovers, develops, and delivers clinically validated software-based therapeutics to provide better outcomes for patients, advanced tools for clinicians to deliver personalized care, technology to demonstrate the value of and complement pharmacotherapy, and cost-effective solutions for payers.
BiovitalsHF: prescription software to enable early detection of heart failure exacerbation and augment guideline-directed use of heart failure medications.
RhythmAnalytics: cloud-based software for automated detection of over 15 types of cardiac arrhythmias
Biovitals Sentinel: allows for the continuous remote monitoring of critical biovitals and patient reported symptoms using Everion, an innovative new multi-sensor armband wearable.
Painfocus: augments pain management by objective assessment of pain to guide personalized therapeutic decision-making
Biovitals Research: modularized digital trial platform empowers patients and drives engagement while capturing real-time study data anytime, anywhere, from dynamic apps and connected devices
Launch of New Business Structure
In conjunction with the Series C financing announcement, Biofourmis has announced an alignment of its internal operations to enable deeper integration with clients and partners and to support ongoing innovation. The new business structure will include two verticals:
Biofourmis Therapeutics: Focuses on pioneering an entirely new category of medicine, by developing clinically validated software-based therapeutics to treat and manage patients with unmet clinical needs. These digital therapies work independently or in conjunction with pharmacotherapies—thereby augmenting drug efficacy, reducing costs and resulting in better patient outcomes.
With Biofourmis Therapeutics' "beyond the pill" model, pharmaceutical companies prescribe the company's digital therapeutics solution as a companion therapeutic with high-value drugs to improve efficacy and to better manage and treat patients with complex chronic conditions.
Biofourmis Health: Focuses on virtual care models to manage patients remotely as they transition from acute to post-acute care. The company's AI-based Biovitals® Platform is layered with personalized care pathways to manage patients with heart failure, coronary artery disease, respiratory illnesses and cancer, especially those undergoing chemo/radiation therapy or CAR-T treatment.
Biofourmis Health's "home hospital" initiative leverages the company's AI-based remote monitoring to lower healthcare costs—through reductions in length of stay, readmissions and emergency department visits, among other measures—and to improve patient outcomes by enabling clinicians to remotely monitor patients and intervene up to 21 hours in advance of when a medical crisis would have otherwise occurred.