BIOTRONIK Launches its Smallest and Lightest MR-Conditional Pacemakers and a New Range of Quadripolar CRT-Ps in Europe.Edora Devices Feature MRI AutoDetect, BIOTRONIK Home Monitoring and Unique Physiological Rate Adaptation for Enhanced Patient Care.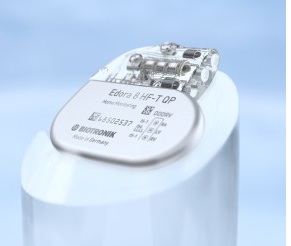 With the launch of the Edora series, BIOTRONIK brings the highest functionality to its smallest pacemakers as well as cardiac resynchronization therapy pacemakers (CRT-Ps). The new devices are equipped with features geared towards improving patient safety, therapy and comfort. Moreover, Edora pacemakers are significantly smaller and lighter than preceding models, achieving compactness and full functionality without compromising battery life.
"BIOTRONIK's new series of pacemakers fits well in the current age of smart technologies, with devices that are smaller, lighter and shorter while retaining longevity," stated Dr. Saravanan AL Krishinan, Hospital Sultanah Bahiyah, Alor Setar, Malaysia. "What's more, the devices offer simplified MRI access, which is often crucial for better patient care."
To facilitate patient access to MRI, Edora pacemakers and CRT-Ps are MR-conditional and feature BIOTRONIK's award-winning MRI AutoDetect functionality. This means that within a programmable window of up to 14 days, the device's built-in sensor can detect an MRI environment and automatically switch the system to MRI mode and then automatically switch back to its standard mode once the scan is complete. Since the device is only in MRI mode for the duration of the scan, the patient receives optimal therapy for the maximum amount of time.
Devices in the Edora series also support BIOTRONIK Home Monitoring® for remote long-term patient care with a streamlined workflow. BIOTRONIK Home Monitoring automatically collects cardiovascular data from the patient's device on a daily basis and transmits it remotely to the physician without the need for any patient interaction. This facilitates the early detection of arrhythmias, with clinical trial results demonstrating that BIOTRONIK Home Monitoring significantly reduces hospitalization for atrial arrhythmia and related stroke in pacemaker patients (COMPAS1).
"With our new series of pacemakers, we can confidently say that small size, excellent longevity and a full set of features are no longer mutually exclusive," commented Manuel Ortega, Senior Vice President at BIOTRONIK. "For both our pacemakers and our CRT-Ps, we have integrated the best of our technologies to offer patients a unique level of care."
Edora CRT-Ps are specifically tailored for individualized therapy through quadripolar technology for flexible pacing in the left ventricle (LV). This is complemented by a comprehensive LV lead portfolio, which caters for diverse patient anatomies.
About BIOTRONIK
A global leader in cardio- and endovascular medical technology, BIOTRONIK is headquartered in Berlin, Germany, and represented in over 100 countries. Several million patients have received BIOTRONIK implants designed to save and improve the quality of their lives, or have been treated with BIOTRONIK coronary and peripheral vascular intervention products. Since its development of the first German pacemaker in 1963, BIOTRONIK has engineered many innovations, including Magmaris, the first clinically-proven resorbable magnesium scaffold; BIOTRONIK Home Monitoring®; Pulsar, the world's first 4 F compatible stent for treating long lesions; Orsiro, the industry's first hybrid drug-eluting stent; and the world's first implantable cardioverter defibrillators and heart failure therapy devices with ProMRI® technology.For more information, visit:
https://www.biotronik.com