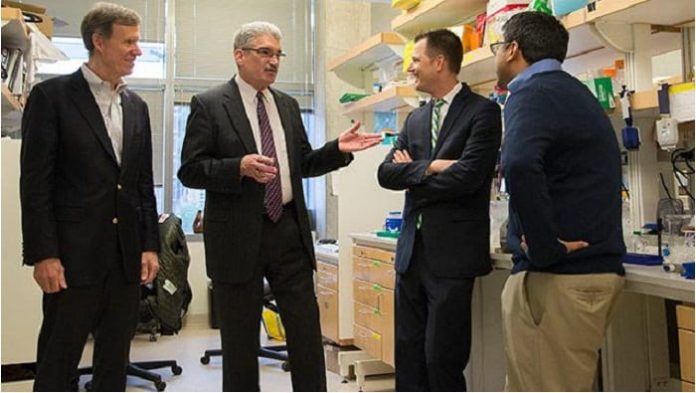 Jeffrey and Susan Brotman and Pam and Dan Baty have made a $50 million gift to create the Brotman Baty Institute for Precision Medicine that combines the research strengths and capabilities of UW Medicine, Fred Hutchinson Cancer Research Center and Seattle Children's. This gift is, in part, a legacy: Jeff Brotman, Costco co-founder and long-time business leader, died Aug. 1, 2017.

Precision medicine is an approach to research and patient care that uses information gained by genetic or molecular profiling to optimize diagnoses, treatments and therapies for the individual patient. Collaborations among the institute's three co-founding institutions will lead to new, personalized approaches to the prevention and treatment of diseases, both common and rare, that limit the lives of millions of people worldwide.
The gift, said Jeff Brotman's friend and business associate Dan Baty, will be a lasting tribute to Brotman's generosity and interest in furthering medicine to save lives and prevent disease and illness.
"What attracted Jeff to precision medicine is that it will be a total transformation of how doctors can treat and heal," said Baty, healthcare innovator and founder of private equity firm Columbia Pacific Management. "And what attracted all of us is that the three partner organizations have the expertise and the collaborative culture to make precision medicine a success."
Susan Brotman said Jeff thoroughly enjoyed his involvement with the University of Washington and UW Medicine. "He was excited about what precision medicine will accomplish in the prevention and treatment of diseases," she said. "We are proud to establish the Institute for Precision Medicine with the Batys."
Precision medicine was born out of groundbreaking international research that was completed more than a decade ago. The Human Genome Project essentially mapped the human genetic blueprint. For scientists, this discovery was the launch pad to understanding how greater knowledge about the functions of genes and proteins can radically change the field of medicine.
Jay Shendure, M.D., Ph.D, UW professor of genome sciences at UW Medicine and an investigator of the Howard Hughes Medical Institute, will direct the BBI Institute, which will create a network of research labs across UW Medicine, Fred Hutch and Seattle Children's.
"We have only begun to understand how the approximately 3 billion letters in the human genome actively code all of the complexity in a human body and the role they play in determining our health," said Shendure. "There are exciting revolutions going on right now that are leading us toward a future where the ways we interact with the healthcare system will be highly tailored to who we are as individuals, genetically and otherwise."
Researchers at the institute will focus on discoveries that will improve patient outcomes while minimizing the harmful side effects of treatments and therapies. Among the institute's first projects is an effort to catalog the roughly 60,000 estimated possible mutations of the BRCA1 and BRCA2 genes —to identify those that confer the greatest risk of breast cancer — to help young women make informed decisions about their health.
"A typical patient doesn't really exist, yet for more than a century, medicine has been focused on diagnosing and treating typical patients," Shendure said. "Precision medicine aims to use an individual patient's unique genetic code to more effectively diagnose and individually treat that person. Through both basic science and the translation of new advances to the clinic, the institute will accelerate this process."
"This tremendous investment in precision medicine is truly an investment in the health of our community," said Jeff Sperring, M.D., chief executive officer of Seattle Children's. "We are proud to collaborate with UW Medicine and Fred Hutch as we work to advance new discoveries and treatments to help every child live the healthiest and most fulfilling life possible."
Precision medicine research is gaining momentum because it leverages advances like the availability of inexpensive DNA sequencing technologies, the ability to effectively edit genomes, the ubiquity of mobile devices for capturing health information, the vast quantities of electronic health records and recent improvements in artificial intelligence, to name a few.
"Our collaborative effort is putting our region at the forefront of finding cures for cancer," said Gary Gilliland, M.D., Ph.D., president and director of Fred Hutch. "With the convergence of bioscience, technology and data science, the three of us — Fred Hutch, Seattle Children's and UW Medicine — are working together and with organizations across Washington to revolutionize cancer treatment. The vision and generosity of the Brotmans and Batys bring us closer to eliminating the suffering these and other diseases cause."
"This commitment from the Brotmans and the Batys is an act of tremendous generosity," said Paul G. Ramsey, M.D., CEO of UW Medicine. "It's also a strategic investment in the ability of our organizations to use data and research to improve lives here and globally. The work will have a lasting impact on the future of medicine."
For more information, visit:
Brotman Baty Institute: brotmanbatyinstitute.org
UW Medicine: uwmedicine.org
Fred Hutchinson Cancer Research Center: fredhutch.org
Seattle Children's: seattlechildrens.org
Media Contacts:
Susan Gregg,
UW Medicine,
sghanson@uw.edu;
206.616.6730
Tina Mankowski,
UW Medicine,
ochs@uw.edu;
206.685.3841