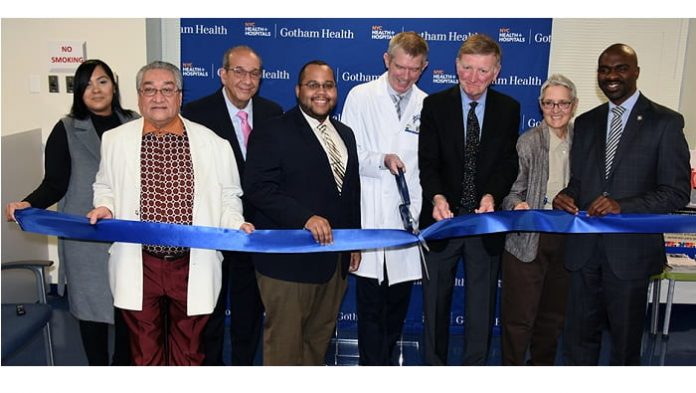 NYC Health + Hospitals held a ribbon-cutting ceremony to celebrate the recent upgrade of a health center in the East Tremont neighborhood of the Bronx.
Funded with $1.2 million through Mayor de Blasio's Caring Neighborhoods Initiative, the facility renovation reflects NYC Health + Hospitals' commitment to community-based ambulatory care, one of the chief strategies of the health system's transformation agenda.
The NYC Health + Hospitals/Gotham Health center in East Tremont provides a range of services, including family medicine and behavioral health care. The enhanced examination rooms and waiting area were designed with patient comfort in mind.
Located at 1826 Arthur Avenue in East Tremont, the health center is expected to provide care for 7,360 patients annually. The new layout includes 13 upgraded exam rooms, new medical equipment and furniture, and an uplifting décor to create a welcoming environment.
"We are pleased to continue addressing the challenge of ambulatory care access, one underserved neighborhood at a time," said Stanley Brezenoff, interim president and CEO of NYC Health + Hospitals. "Every New Yorker deserves equal access to health care, and now, if you wake up in East Tremont feeling under the weather, you don't need to travel to get health care. Quality care is right in East Tremont."
Launched in October 2015, Mayor Bill de Blasio's Caring Neighborhoods Initiative is a program to significantly increase primary care access for thousands of residents in underserved neighborhoods across New York City. Spearheaded by NYC Health + Hospitals and the New York City Economic Development Corporation, Caring Neighborhoods builds primary care capacity in communities where over a million New Yorkers have faced limited options for convenient and affordable health care services.
The refurbished Gotham Health center will provide services that reflect the needs of the community. The site will employ a nutritionist and a social worker to support behavioral health services.
"The new clinic is modern and welcoming," said John Maguire, MD, attending physician at the East Tremont location. "Environment matters, and our patients deserve the best."
"This investment in improving health care in our community means access to quality and convenient services for thousands of Bronxites," said Assembly Member Michael Blake. "No New Yorker or Bronxite should be faced with the choice of staying sick or traveling great distances for quality care. These hard-working families and their children will now have access to a health care system that works for them, not against them. I commend Mayor de Blasio and his administration for working to achieve this goal and look forward to working with his administration and my colleagues to continue #BuildingABetterBronx".
"One of the first steps toward building a healthy Bronx is assuring access to healthcare services is not determined by zip code, said Assembly Member Victor Pichardo."' I'm more than thrilled to see the NYC Health + Hospitals/Gotham Health Center at East Tremont open its doors right here in our neighborhood and help many families and children receive care. I commend the Mayor's efforts on combating healthcare access inequality. It is another example that when we work together, we can build a better Bronx."
The health center is open Monday through Friday, 8:00 a.m. to 4:30 p.m. The center's patients will also have 24-hour phone access to clinical advice. To make an appointment, patients can call 646-815-9700.
Contact: Chelsea-Lyn Rudder, 929-276-4961
About NYC Health + Hospitals
NYC Health + Hospitals is the largest public health care system in the nation serving more than a million New Yorkers annually in more than 70 patient care locations across the city's five boroughs. A robust network of outpatient, neighborhood-based primary and specialty care centers anchors care coordination with the system's trauma centers, nursing homes, post-acute care centers, home care agency, and MetroPlus health plan—all supported by 11 essential hospitals. Its diverse workforce of more than 42,000 employees is uniquely focused on empowering New Yorkers, without exception, to live the healthiest life possible. For more information, visit www.nychealthandhospitals.org