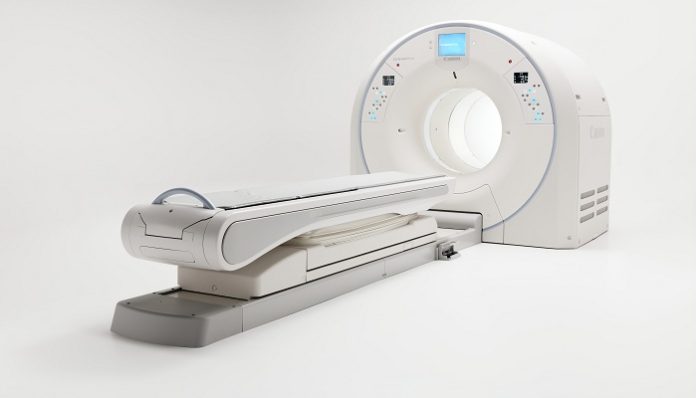 At this year's Radiological Society of North America (RSNA) annual meeting, Canon Medical Systems USA, Inc. is introducing the Cartesion Prime PET/CT system, a new premium Digital PET/CT scanner designed to help health care providers deliver more personalized care.
The Cartesion Prime Digital PET/CT system is comprised of Canon Medical's new premium SiPM PET detector and the AquilionTM Prime SP CT system for optimal PET/CT imaging and workflow with a patient and operator-centric design, along with innovative features to help clinicians guide their business with confidence, including:
Advanced silicon photomultiplier design with one-to-one coupling for increased clinical confidence.
Fast Time-of-Flight resolution for high quality images and increased productivity.
Large axial field of view to provide fast scans and a comfortable experience for patients. The large axial field of view also improves the scanner's sensitivity which can be used for dose efficiencies that can impact patients and operators.
Air-cooling technologies that support more attractive siting and long-term maintenance requirements compared to water-cooled systems.
"With our customers' needs in mind, we developed the Cartesion Prime Digital PET/CT with advanced features that can help clinicians chart the right course for their patients' care," said Tim Nicholson, managing director, Molecular Imaging Business Unit, Canon Medical Systems USA, Inc. "This advanced technology has led to image quality improvements, while optimizing dose efficiency to reduce patient risk and speeding up acquisition time for improved throughput. These innovations are part of Canon Medical's commitment to continually provide meaningful improvement for today's care, and for the future."
About Canon Medical Systems USA, Inc.
Canon Medical Systems USA, Inc., headquartered in Tustin, Calif., markets, sells, distributes and services radiology and cardiovascular systems, including CT, MR, ultrasound, X-ray and interventional X-ray equipment. For more information, visit Canon Medical Systems' website at https://us.medical.canon.
About Canon Medical Systems Corporation
Canon Medical offers a full range of diagnostic medical imaging solutions including CT, X-Ray, Ultrasound, Vascular and MR, as well as a full suite of Healthcare IT solutions, across the globe. In line with our continued Made for Life philosophy, patients are at the heart of everything we do. Our mission is to provide medical professionals with solutions that support their efforts in contributing to the health and wellbeing of patients worldwide. Our goal is to deliver optimum health opportunities for patients through uncompromised performance, comfort and safety features.
At Canon Medical, we work hand in hand with our partners – our medical, academic and research community. We build relationships based on transparency, trust and respect. Together as one, we strive to create industry-leading solutions that deliver an enriched quality of life. For more information, visit the Canon Medical website: https://global.medical.canon.