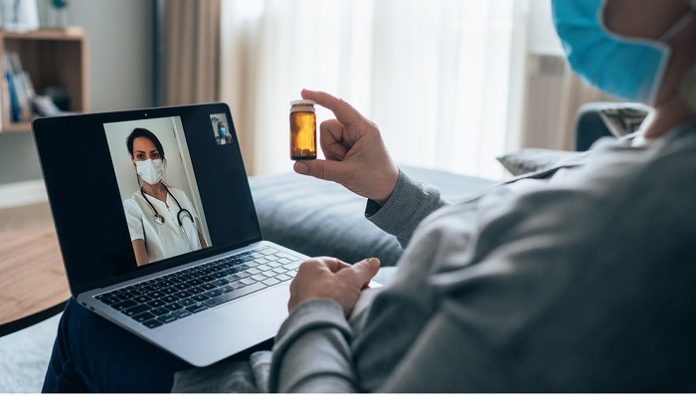 Six health systems across the country are expanding their telehealth platform to treat patients at home under a new program launched by the Centers for Medicare & Medicaid Services.
The Acute Hospital Care at Home program will give participating hospitals the ability to reduce inpatient volume by treating certain acute care patients at home through a telehealth platform that allows for daily check-ins and monitoring. The program builds off of CMS' Hospitals Without Walls program, which was launched in March 2020 to expand connected health programs to the home during the coronavirus pandemic.
"We're at a new level of crisis response with COVID-19 and CMS is leveraging the latest innovations and technology to help health care systems that are facing significant challenges to increase their capacity to make sure patients get the care they need," CMS Administrator Seema Verma said in a press release. "With new areas across the country experiencing significant challenges to the capacity of their health care systems, our job is to make sure that CMS regulations are not standing in the way of patient care for COVID-19 and beyond."
The program is designed for patients who would otherwise require hospitalizations for a broad range of acute conditions, including asthma, congestive heart failure, pneumonia and chronic obstructive pulmonary disease (COPD). To qualify for CMS waivers, participating hospitals would have to screen patients and their homes to assess compatibility, a process that would include an analysis of working utilities and broadband access, family issues and mobility concerns.
"The program clearly differentiates the delivery of acute hospital care at home from more traditional home health services," CMS said in the press release. "While home health care provides important skilled nursing and other skilled care services, Acute Hospital Care at Home is for beneficiaries who require acute inpatient admission to a hospital and who require at least daily rounding by a physician and a medical team monitoring their care needs on an ongoing basis."
The agency said qualifying patients will only be admitted into the program from the Emergency Department or in-patient care, with an in-person exam required prior to being sent home. Once situated there, the patient would be evaluated daily by a registered nurse – either in person or via telehealth – and two other daily in-person visits would be help with registered nurses or mobile integrated health (MIH) paramedics, based on the care needed.
Along with introducing the new program, the agency identified six health systems that have already been approved to use it: Brigham and Women's Hospital and Massachusetts General Hospital in Massachusetts, the Mount Sinai Health System in New York, Huntsman Cancer Institute in Utah, Presbyterian Healthcare Services in New Mexico and UnityPoint Health in Iowa.
"The home hospital approach has repeatedly demonstrated its enormous benefit and value as an important treatment option for patients," Mass General President Peter Slavin, MD, said in a separate release issued by CMS highlighting the six health systems. "This innovative model has made available safe, cost-effective hospital-level care to patients at home – a reassuring environment that is comfortable, familiar and healing. CMS' decision to cover home hospital care will not only make this program more viable but will also enable more patients and families to experience this high quality high-level of care in their own homes in their own communities."
CMS officials said they will "closely monitor the program to safeguard beneficiaries by requiring hospitals to report quality and safety data to CMS on a frequency that is based on their prior experience with the Hospital At Home model."